Comprising a historical sketch of the county, by Samuel T. Wiley, together with more than five hundred biographical sketches of the prominent men and leading citizens of the county.
On August 24, 1682 William Penn created the three counties which would originally comprise Pennsylvania: Bucks, Chester and Philadelphia. Chester County was drawn up from the land which had originally comprised the Pennsylvania portion of New Netherland and it's borders at that time stretched east to west from Delaware River to approximately the Susquenhanna River. Philadelphia County lay to the North, while the states of Delaware and Maryland lay to the South. From Chester County came the land which would later comprise Lancaster County and part of Berks County.
The manuscript contains 513 biographies of prominent men and leading citizens of Chester County.
Biographical Sketches of Chester County, PA
Biographical Sketches of Chester County, PA
| Surname | Given | Middle | Extra | Read |
| --- | --- | --- | --- | --- |
| Abraham | David | | | 383 |
| Ackenbach | William | | | 774 |
| Acker | Peter | | | 431 |
| Aiken | James | | M.D. | 420 |
| Alison | Francis | | D.D. | 617 |
| Allen | Edgar | | M.D. | 206 |
| Anderson | Isaac | | Hon. | 622 |
| Armor | Judson | | | 825 |
| Armstrong | G. | D. | M.D. | 221 |
| Ashbridge | George | D. | | 590 |
| Baldwin | William | | M.D. | 584 |
| Baldwin | Joseph | H. | | 838 |
| Baldwin | Caleb | | | 819 |
| Baltz | John | Daniel | | 771 |
| Barker | Matthew | | Capt. | 480 |
| Barnard | Isaac | D. | Hon. | 204 |
| Bartram | John | | | 337 |
| Batholomew | John | Cleaver | Dr. | 450 |
| Beale | Horace | A. | Capt. | 857 |
| Bean | Benjamin | Franklin | Capt. | 420 |
| Bean | Henry | | | 346 |
| Beaumont | Theodore | | | 571 |
| Beaver | George | H. | | 381 |
| Beaver | Frank | | | 795 |
| Beck | Lorenzo | | | 808 |
| Beitler | John | | Jr. | 853 |
| Bell | Thomas | S. | Hon. | 577 |
| Benjamin | Joseph | H. | | 266 |
| Benner | Daniel | | | 801 |
| Bennett | George | S. | | 828 |
| Bingham | Edward | Donaldson | | 626 |
| Bizallion | Pierre | | | 516 |
| Bliss | E. | W. | Rev., A.M. | 829 |
| Bolmar | Antoine | | | 563 |
| Bonzano | Adolphus | | | 342 |
| Boyer | Aaron | J. | | 513 |
| Branson | William | R. | | 652 |
| Bremerman | L | T. | A.M., M.D. | 363 |
| Brinton | Henry | L. | | 459 |
| Brooks | James | C. | Capt. | 613 |
| Brower | William | | M.D. | 320 |
| Brower | Isaac | Urner | Rev. | 252 |
| Brower | John | L. | | 714 |
| Brown | A. | Stanley | | 818 |
| Brownback | Jacob | C. | | 832 |
| Brownback | Lewis | C. | | 555 |
| Brownback | Garrett | Elwood | | 603 |
| Brownback | Harry | I. | | 860 |
| Buckwalter | John | Henry | | 862 |
| Buckwalter | John | | | 243 |
| Bull | Thomas | | Col. | 588 |
| Burling | William | | | 413 |
| Burns | W. | H. | | 787 |
| Buzzerd | Simeon | | | 546 |
| Cardwell | George | G. | | 600 |
| Carpenter | J. | T. | Capt. | 364 |
| Catanach | Adam | A. | | 608 |
| Chandler | W. | D. | | 848 |
| Christman | Henry | Evans | Capt. | 289 |
| Christman | Jacob | | | 359 |
| Cleaver | Isaac | A. | | 757 |
| Clemson | John | Baker | Rev., D.D. | 734 |
| Clower | Maxwell | | | 588 |
| Cochran | John | | Dr. | 580 |
| Cochran | Carlos | B. | Prof. | 265 |
| Cochran | Isaac | S. | | 236 |
| Cogan | David | | | 358 |
| Cohen | John | B. | | 331 |
| Colket | William | W. | | 609 |
| Cook | Charles | L. | | 616 |
| Cornog | John | | | 872 |
| Cornwell | Robert | Thompson | | 614 |
| Coryell | William | Price | | 373 |
| Cowan | Robert | | | 230 |
| Cox | Thomas | S. | | 676 |
| Croskey | Knowles | | | 858 |
| Cummiskey | Eugene | | | 706 |
| Cutler | Levi | | | 558 |
| Darlington | William | | Dr., L.L. D. | 207 |
| Darlington | Isaac | G. | | 560 |
| Darlington | John | H. | | 654 |
| Darlington | Frank | P. | | 197 |
| Darlington | Stephen | | | 248 |
| Davies | John | J. | | 812 |
| Davis | Jesse | B. | | 643 |
| Davis | John | H. | | 405 |
| Davis | W. | Latta | | 439 |
| Davis | H. | W. | | 827 |
| Davis | William | W. | | 722 |
| Davis | Mordecai | | | 411 |
| Davis | Thompson | | | 760 |
| Deery | Henry | | | 845 |
| DeHaven | Hugh | | | 492 |
| Denithorne | John | | Capt. | 366 |
| Derr | Calvin | | Rev. | 821 |
| Detwiler | David | | | 782 |
| Dewees | Thomas | B. | | 334 |
| Dewees | Jacob | H. | | 644 |
| Dickey | John | Miller | Rev., D.D. | 199 |
| Diehl | Henry | J. | | 673 |
| Dobson | John | Richesson | Gen. | 731 |
| Dotterer | Nathaniel | F. | | 290 |
| Downing | Samuel | Rhoads | | 618 |
| Downing | Thomas | | | 836 |
| Dunn | Thomas | D. | M.D. | 254 |
| Dutton | Isaac | L. | | 522 |
| Dyer | William | C. | | 794 |
| Eaches | John | T. | | 484 |
| Eachus | William | H. | | 520 |
| Eachus | Homer | | | 509 |
| Eastwood | James | B. | | 725 |
| Egolf | Samuel | H. | | 878 |
| Eicholtz | George | C. M. | Capt. | 783 |
| Eldridge | David | | | 463 |
| Ellicott | Richard | T. | | 245 |
| Ellis | Nathaniel | M. | Col. | 247 |
| Ellis | Jarvis | | | 851 |
| Emack | Frank | D. | M.D. | 299 |
| Emery | E. | Clifford | | 767 |
| Emery | William | W. | | 325 |
| Emery | Anthony | Wayne | | 631 |
| Entriken | John | C. | | 723 |
| Eppehimer | Henry | | | 255 |
| Evans | Lewis | H. | Capt. | 686 |
| Evans | William | | Hon. | 719 |
| Evans | John | King | M.D. | 750 |
| Evans | Joseph | S. | Rev. | 285 |
| Evans | Henry | L. | | 574 |
| Evans | Newton | | | 526 |
| Evans | William | | | 551 |
| Everhart | James | Bowen | Hon. | 627 |
| Everhart | William | | | 218 |
| Farley | Robert | | M.D. | 330 |
| Fetters | Abraham | | Capt. | 567 |
| Fetters | Isaiah | | Jr. | 584 |
| Finkbiner | Samuel | S. | M.D. | 454 |
| Finkbiner | David | | | 720 |
| Finkbiner | John | | | 213 |
| Fisher | Daniel | W. | | 793 |
| Fisher | Elwood | W. | | 675 |
| Fitzpatrick | James | | | 586 |
| Flint | John | | Rev. | 353 |
| Floyd | George | W. | | 761 |
| Francis | Casper | Snyder | | 376 |
| Francis | John | | | 803 |
| Frederick | Charles | N. | M.D. | 752 |
| Frick | Edwin | | | 768 |
| Frick | Montgomery | | | 246 |
| Friday | Washington | | | 661 |
| Fritz | William | H. | | 532 |
| Fronefield | Joseph | M. | | 742 |
| Fulton | William | T. | Hon. | 416 |
| Funk | Harry | D. | | 558 |
| Funk | Thomas | D. | | 835 |
| Funk | Jacob | L. | | 239 |
| Futhey | J. | Smith | Hon. | 767 |
| Futhey | R. | Agnew | | 313 |
| Futhey | James | L. | | 456 |
| Futhey | Robert | | | 654 |
| Gallagher | William | | Col. | 329 |
| Gallagher | Edward | | | 491 |
| Garrett | Jesse | H. | | 694 |
| Garrett | Joshua | L. | | 541 |
| Garrett | Harvey | S. | | 521 |
| Gause | Jonathan | | | 744 |
| Geiger | Jacob | H. | | 823 |
| Gheen | R. | C. | | 849 |
| Gheen | L. | W. | | 545 |
| Gilbert | Jacob | | | 515 |
| Gilfillan | John | | | 300 |
| Gilkyson | Hamilton | H. | Col. | 436 |
| Gilligan | Edward | L. | Capt. | 403 |
| Good | Abraham | | | 561 |
| Green | Francis | H. | Prof. | 834 |
| Green | Joseph | C. | | 279 |
| Green | Jesse | Cope | | 575 |
| Green | William | S. | | 777 |
| Griffen | George | S. | | 866 |
| Griffith | Wilmar | | | 809 |
| Grover | Thomas | D. | | 605 |
| Gunkle | George | Washington | | 414 |
| Guss | J. | Acker | | 804 |
| Gyger | John | | | 730 |
| Haddaway | Charles | M. | Rev. | 434 |
| Haines | Townsend | | Hon. | 560 |
| Halderman | Isaac | R. | | 315 |
| Hallman | Henry | S. | | 345 |
| Halteman | Benjamin | H. | | 799 |
| Hamill | Millard | F. | | 740 |
| Hannum | Curtis | Hoopes | | 593 |
| Harlan | Justin | Edward | Dr., D.D.S. | 610 |
| Harlan | Abram | Douglas | Hon. | 652 |
| Harley | Edwin | | | 813 |
| Harris | William | Smith | | 630 |
| Harris | Malachi | | | 607 |
| Harry | Joshua | P. | | 688 |
| Hart | Harry | C. | | 824 |
| Hartman | William | Dell | M.D. | 876 |
| Hartman | William | W. | Rev. | 356 |
| Hartshorne | Joshua | | Hon. | 674 |
| Hastings | John | M. | Rev. | 440 |
| Hause | J. | Frank E. | | 215 |
| Hause | Jesse | | | 544 |
| Hawley | Jesse | | | 693 |
| Heckel | Frederick | William | M.D. | 726 |
| Heistand | David | H. | | 633 |
| Hemphill | Joseph | | Hon. | 754 |
| Henderson | Robert | J. | | 371 |
| Henderson | Joseph | S. | | 759 |
| Henniss | John | A. | | 852 |
| Heron | Fred | | | 656 |
| Hibberd | Joshua | E. | | 737 |
| Hibberd | Walter | R. | | 552 |
| Hickman | John | | Hon. | 200 |
| High | Jacob | | | 273 |
| High | Samuel | | | 635 |
| Highley | Charles | C. | | 689 |
| Hills | George | Heathcote | Rev., M.A. | 204 |
| Himes | George | | | 794 |
| Hodgson | William | H. | | 680 |
| Hogue | Thomas | C. | | 208 |
| Holman | Isaac | | | 814 |
| Hoopes | Caleb | | | 379 |
| Hoopes | Josiah | | | 264 |
| Hoopes | Thomas | | | 355 |
| Hooton | Francis | C. | Col. | 287 |
| Horning | Charles | S. | M.D. | 226 |
| Hoskins | Percy | C. | M.D. | 259 |
| Howell | Charles | H. | | 494 |
| Hoy | John | L. | | 543 |
| Hurford | Eber | H. | | 442 |
| Ingram | Alexander | H. | Capt. | 741 |
| Ivison | Samuel | | Jr. | 225 |
| Jacobs | Joseph | | | 547 |
| Jacobs | Samuel | | | 479 |
| Janeway | John | L. | C. E. | 815 |
| Johnson | George | B. | | 789 |
| Johnson | Joseph | H. | | 386 |
| Jones | Jacob | K. | Prof. | 422 |
| Jones | T. | Franklin | | 582 |
| Jones | Addison | L. | | 227 |
| Jones | Franklin | | | 659 |
| Kaler | Levi | B. | Hon. | 711 |
| Kauffman | John | F. | | 606 |
| Kauffman | William | J. | | 807 |
| Keech | Frank | W. | | 562 |
| Keeley | Oliver | B. | | 796 |
| Keeley | William | P. | | 811 |
| Keeley | Davis | | | 517 |
| Keim | Jonathan | H. | | 530 |
| Keim | George | | | 272 |
| Kelton | Robert | C. | | 304 |
| Kephart | Jacob | F. | | 233 |
| Kepner | Solomon | | | 384 |
| Kerr | Edward | | M.D. | 383 |
| Knauer | Davis | | | 784 |
| Koller | Mahlon | S. | | 442 |
| Kulp | Jonathan | H. | | 296 |
| Kurtz | Henry | K. | | 236 |
| LaFayette | de Marquis | | | 337 |
| Lamborn | Wendell | P. | D.D.S. | 826 |
| Lancaster | Thomas | | | 839 |
| Landis | George | W. | | 308 |
| Latshaw | Enos | P. | | 632 |
| Latta | John | Y. | | 622 |
| Leary | Jonathan | | | 519 |
| Leopold | Jeremiah | S. | | 278 |
| Lewis | Walter | H. | | 598 |
| Lewis | Eli | J. | | 423 |
| Lippert | Moritz | George | C. E. | 471 |
| Little | Roger | M. | | 833 |
| Lobb | Preston | W. | | 498 |
| Long | Francis | Donleavy | A.M. | 579 |
| Ludwick | Frank | B. | | 781 |
| MacDonald | Walter | A. | | 199 |
| MacElree | Wilmer | W. | | 270 |
| MacFarland | David | McConkey | | 765 |
| MacFeat | Walter | | | 766 |
| Mackelduff | Samuel | C. | | 634 |
| Manger | William | R. | | 841 |
| March | S. | Robison | | 396 |
| Margerum | Cyrus | S. | | 478 |
| Marshall | William | P. | | 690 |
| Marshall | Thomas | W. | | 538 |
| Marshall | Humphrey | | | 559 |
| Marshall | Thomas | | | 854 |
| Massey | Isaac | | M.D. | 341 |
| Massey | Charles | D. | | 698 |
| Masters | James | W. | | 202 |
| Matlack | Jesse | | Hon. | 685 |
| Matlack | Joaquin | B. | | 736 |
| Matson | William | G. | | 425 |
| Maxwell | James | Rea | M.D. | 235 |
| May | Addison | | | 533 |
| McCauley | L. | G. | Maj. | 213 |
| McClure | James | | | 667 |
| McClurg | James | | | 293 |
| McCullough | Sanders | | | 212 |
| McDowell | Thomas | R. | Rev. | 433 |
| McKean | Thomas | | Hon., L.L. D. | 208 |
| Menkins | Henry | J. | | 493 |
| Menkins | Joseph | | | 470 |
| Mercer | Henry | | | 628 |
| Meredith | R. | T. | | 499 |
| Mewhinney | Jas. | Campbell | M.D. | 816 |
| Michener | Amos | | | 324 |
| Michener | Family | | | 547 |
| Miller | Enos | D. | | 703 |
| Miller | Joseph | K. | | 733 |
| Miller | Henry | R. | | 840 |
| Miller | Addison | | | 810 |
| Mintzer | J. | Bechtel | M.D. | 697 |
| Mock | William | | | 831 |
| Monaghan | Robert | Emmet | | 194 |
| Monaghan | Robert | Jones | | 636 |
| Montgomery | Thomas | H. | | 669 |
| Moore | Daniel | Foulke | Col. | 426 |
| Moore | William | | Hon. | 564 |
| Morris | Jonathan | | | 842 |
| Moses | O. | E. | | 712 |
| Mosteller | William | H. | M.D. | 869 |
| Mowrey | Joseph | I. | | 850 |
| Mowry | B. | Franklin | | 819 |
| Moyer | Jacob | W. | | 242 |
| Mullen | Alfred | | | 488 |
| Mullin | John | S. | | 662 |
| Myer | George | G. | | 258 |
| Needham | Benjamin | C. | Rev. | 624 |
| Newlin | Ellis | P. | | 769 |
| Oberholtzer | Levi | | M.D. | 369 |
| Opperman | David | | | 548 |
| Owen | William | O. | Rev | 360 |
| Painter | Henry | | | 791 |
| Parke | Samuel | D. | | 817 |
| Parke | Samuel | R. | | 504 |
| Parker | James | G. | | 868 |
| Paschal | Isaac | | | 523 |
| Patrick | Ellwood | | M.D. | 836 |
| Patterson | Robert | Mayne | Rev., D.D. L.L. D. | 718 |
| Paxson | William | L. | | 395 |
| Pearson | Isaac | M. | | 664 |
| Pechin | Robert | W. | | 599 |
| Pennock | Samuel | | | 665 |
| Pennypacker | Matthias | J. | M.D. | 640 |
| Pennypacker | Wilmer | E. | | 412 |
| Pennypacker | James | M. | | 454 |
| Peters | George | D. | | 231 |
| Philips | George | Morris | Ph.D. | 474 |
| Philips | E. | Vinton | | 333 |
| Phipps | James | S. | | 234 |
| Piersol | Lewis | | | 704 |
| Potter | W. | Atlee | | 503 |
| Pratt | John | Marshall | | 457 |
| Price | Joseph | T. | | 598 |
| Prizer | John | | | 780 |
| Prizer | Harman | | | 310 |
| Prizer | Henry | | | 806 |
| Pugh | Harold | B. | | 241 |
| Ralston | William | | | 518 |
| Ramsey | Samuel | D. | | 201 |
| Randall | Frederick | William | Rev. | 578 |
| Rapp | George | W. | | 612 |
| Raynor | James | B. | Dr. | 224 |
| Read | Thomas | Buchanan | | 702 |
| Reavey | John | W. | | 490 |
| Reel | Ida | Virginia | M.D. | 585 |
| Rees | John | | | 786 |
| Reese | John | | | 846 |
| Reid | Alfred | P. | | 211 |
| Reiff | William | E. | | 274 |
| Reinhart | Nathan | E. V. S. | | 648 |
| Rennard | William | M. | | 715 |
| Rennard | Henry | | | 542 |
| Rhoads | George | | | 512 |
| Richard | J. | Howard | | 260 |
| Rickabaugh | Jacob | | M.D. | 700 |
| Rinehart | Joshua | | | 268 |
| Ringwalt | H. | E. | | 683 |
| Robb | George | S. | | 651 |
| Roberts | Charles | J. | M.D. | 678 |
| Roberts | Hiram | | | 370 |
| Roberts | Jacob | | | 529 |
| Rothrock | Joseph | T. | M.D. | 446 |
| Rupert | Alfred | | Col. | 864 |
| Rupert | George | M. | Maj. | 277 |
| Russell | Slater | B. | | 400 |
| Ruth | H. | Morgan | | 789 |
| Ruth | Gideon | T. | | 481 |
| Savage | Frank | N. | | 280 |
| Saylor | John | C. | | 392 |
| Saylor | William | H. | | 432 |
| Schofield | Harry | Benner | | 569 |
| Sellers | James | C. | | 305 |
| Shaffer | Vosburg | Newton | | 535 |
| Sharpless | William | | | 713 |
| Shoemaker | Kersey | | | 554 |
| Sigman | Isaac | K. | | 489 |
| Sleichter | John | | | 261 |
| Sloyer | Henry | | | 844 |
| Smale | John | E. | | 480 |
| Smedley | John | G. | | 410 |
| Smedley | Oliver | H. | | 430 |
| Smith | Persifor | Frazer | Hon. | 222 |
| Smith | David | L. | Hon. | 699 |
| Smith | George | | Jr. | 390 |
| Smith | John | H. | Prof. | 739 |
| Smith | A. | Thomas | Prof. | 232 |
| Smith | William | Brinton | | 663 |
| Snyder | William | Preston | Hon. | 326 |
| Snyder | William | H. | Prof. | 216 |
| Soule | Jacob | B. | Rev. | 262 |
| Spackman | Isaac | | | 229 |
| Spratt | George | R. | M.D. | 401 |
| Stauffer | Frank | H. | | 572 |
| Stauffer | Henry | M. | | 483 |
| Steen | Hugh | J. | | 492 |
| Stem | Thomas | W. | | 595 |
| Sterrett | Thomas | K. | | 298 |
| Stiteler | A. | M. F. | | 679 |
| Stiteler | William | H. | | 425 |
| Stiteler | I. | Newton | | 524 |
| Stiteler | George | R. | | 516 |
| Stockton | William | R. | Rev., D.D. | 343 |
| Stout | D. | B. | | 707 |
| Stubbs | Theodore | K. | Hon. | 351 |
| Supplee | Millard | F. | | 511 |
| Sweney | Benjamin | H. | Capt. | 317 |
| Talbot | D. | Smith | Hon. | 747 |
| Taylor | William | S. | M.D. | 802 |
| Taylor | William | Carroll | | 462 |
| Taylor | David | M. | | 649 |
| Templeton | John | | | 668 |
| Tencate | Fred | A. | | 315 |
| Thomas | Francis | A. | | 256 |
| Thomas | R. | Newton | | 237 |
| Thomas | Frank | P. | | 473 |
| Thomas | John | P. | | 508 |
| Thomas | J. | Preston | | 500 |
| Thomas | Charles | T. | | 497 |
| Thomas | George | | | 527 |
| Thomas | Mordecai | | | 394 |
| Thompson | Nathan | G. | M.D. | 374 |
| Torbert | Benjamin | J. | | 207 |
| Townsend | Washington | | Hon. | 770 |
| Townsend | William | P. | | 596 |
| Townsend | Mark | | | 244 |
| Tripp | Isaac | | | 562 |
| Tustin | Isaac | J. | | 276 |
| Tutton | Alexander | P. | | 581 |
| Urner | Eli | | | 306 |
| Urner | Family | | | 467 |
| Waddel | James | | Rev., D.D. | 490 |
| Waddell | William | Bell | Hon. | 191 |
| Wagoner | William | J. | | 327 |
| Wagoner | Christian | W. | | 846 |
| Waitneight | Henry | P. | | 250 |
| Walker | William | H. | Prof. | 695 |
| Walker | Joseph | R. | | 583 |
| Walker | Thomas | U. | | 587 |
| Walters | Louis | R. | Capt. | 875 |
| Walters | Horace | W. | | 863 |
| Walters | George | | | 406 |
| Walton | George | R. | | 800 |
| Walton | George | W. | | 404 |
| Warner | Levi | E. | | 380 |
| Warrington | Thomas | | | 549 |
| Watson | James | J. | | 633 |
| Way | Marshall | S. | | 778 |
| Wayne | Anthony | | Gen. | 192 |
| Webb | Edward | | Rev. | 340 |
| Webster | Samuel | L. | | 483 |
| Webster | Elwood | | | 482 |
| Weeks | Albert | | M.D. | 253 |
| Weidal | Lincoln | Washington | | 542 |
| Weigel | William | A. | | 775 |
| Weldin | John | L. | | 861 |
| Wells | David | G. | | 281 |
| Wells | Oliver | | | 269 |
| Wells | Peter | | | 841 |
| Wersler | George | | | 646 |
| West | Wilmar | W. | | 271 |
| West | Benjamin | | | 336 |
| Whann | William | E. | | 870 |
| Wheeler | Henry | | Rev., D.D. | 219 |
| Wheeler | Mary | Sparkes | | 319 |
| White | Robert | | Rev. | 360 |
| Whitson | Samuel | | | 382 |
| Wickersham | James | Pyle | LL. D. | 193 |
| Wilds | John | | | 443 |
| Williams | William | | Jr. | 705 |
| Williams | Harry | E. | M.D. | 460 |
| Williams | B. | Franklin | | 452 |
| Williams | Andrew | J. | | 282 |
| Williams | Granville | | | 444 |
| Wilson | A. | L. | Rev. | 657 |
| Wilson | Amos | G. | | 822 |
| Wilson | Harry | R. | | 528 |
| Wilson | Winfield | Scott | | 748 |
| Wilson | Addison | | | 553 |
| Wilson | James | | | 803 |
| Wilson | Nathan | | | 716 |
| Windle | David | C. | | 338 |
| Wintzer | Antoine | | | 753 |
| Woodward | Charles | E. | | 238 |
| Woodward | William | Marshall | | 830 |
| Worrall | John | Hunter | Prof. | 251 |
| Worthington | Wilmer | | Hon., M.D. | 556 |
| Wynne | Samuel | | | 502 |
| Yarnall | Nathan | W. | | 463 |
| Yeager | Allison | E. | | 843 |
| Yeager | Joseph | | | 776 |
| Yerkes | Jonathan | P. | | 523 |
| Young | John | | | 589 |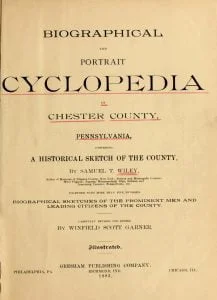 ---