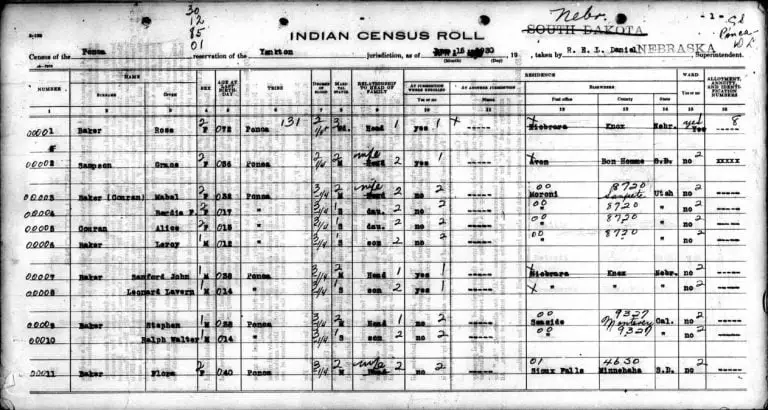 Free US Indian Census Rolls Online 1885-1940 – While not searchable, the 692 rolls of the National Archives Publication M595 are now online for free. For the most part, these rolls dated after 1900 were done in alphabetical order and were typewritten – this should help make finding your ancestor much easier. The earlier ones though were often done in handwriting and the film quality can be very poor at times. Beginning in 1930, the rolls also showed the degree of Indian blood, marital status, ward status, place of residence, and sometimes other information.
Name (Indian and or English
Gender
Age
Birth date
Relationship to head of family
Martial Status
Tribe name
Agency and reservation name
[box]Previously these rolls could only be found on paid genealogy sites such as Ancestry and Fold3 and you had to pay for access. These rolls are still available at those sites and are completely searchable from there. For more information see:
[/box]
Free US Indian Census Rolls by Jurisdiction
Since most Indians were not recognized as citizens until 1924 and not represented in Congress, the United States Government did a special census enumerating the Native Americans who lived on reservations. These census rolls were submitted annually by the reservations' agent/superintendent as required by an act of July 4, 1884. Before 1930 the census provides information on the person's name, date of birth, gender, and relationship to the head of the family. After 1930 the census provided information on the individual's degree of Indian blood, marital status, ward status, place of residence, and also included miscellaneous commentary. Two major problems related to the Indian census are that they only recorded those who possessed a formal affiliation with a tribe, and that it did not consistently cover every tribe annually.
The Native American census were taken by Indian Agents assigned to specific agencies within the administration of the BIA. Each agency had jurisdiction over specific tribal areas which usually contained more then one specific tribe. The links below have been assigned to the specific agency with which the roll was taken. If you need to access the rolls by tribe then view the specific tribe link from the tribal pages.
Absentee Shawnee Agency
Albuquerque School (Pueblo and Navajo Indians)
Bay Mills School (Chippewa Indians)
Birch Cooley Agency (Mdewakanton Sioux Indians)
Bishop Agency (Paiute and Other Indians)
Blackfeet Agency
Bloomfield Seminary (Chickasaw)
California Special

1907-1911 California Special Census
(Agua Caliente, Anahuac (Inaja), Augustine, Cabazon, Cahuilla, Campo, Capitan Grande, Concow, Cuyapipe, Digger, Guyapayia, Hoopa, Hupa, Inaja, Klamath River, La Jolla, La Mesa, La Piche, La Posta, Laytonville, Little Lake, Los Conejos, Los Coyotes, Lower Klamath River, Luiseno, Malka, Manzanita, Mesa Grande, Mission, Mission Pauma, Morongo, Nomeleckie, Paiute, Pala, Palm Springs, Pauma Mission, Pechanga, Pitt River, Protrero, Red Wood, Rincon, San Felipe, San Ignacio, San Jacinto, San Manuel, San Pasqual, San Ysidro, Santa Rosa, Santa Ynez, Santa Ysabel, Sherwood, Soboba, Syquan, Torres, Tule River, Volcan, Wailaki, and Yuki Indians.)

Camp McDowell Agency (Mohave-Apache, Tonto-Apache, Yuma-Apache Indians)
Camp Verde Agency (Apache-Mojave Indians)
Campo Agency (Mission Indians) – See also Phoenix, Pima, and Salt River.
Canton Asylum Agency
Cantonment Agency (Cheyenne and Arapahoe Indians)
Carlisle School Agency
Carson Indian Agency (Chiefly Paiute, Shoshoni, and Washo Indians) – See also Fallon, Fort McDermitt, Lovelocks, Nevada, Pyramid Lake, Reno, and Walker River
Carter Agency (Potawatomi Indians) – See also Laona
Eastern Cherokee Indian Agency
Cheyenne and Arapahoe Reservation
Cheyenne River Agency (Sioux Indians)
Choctaw Indian Agency (Mississippi)
Coeur d'Alene Agency – (Coeur d'Alene, Kalispel, Kutenai, Nez Percé and Spokan Indians) See also Colville, Flathead and Spokane Agencies
Colorado River Agency (Mohave, Chemehuevi, and Walapai Indians)
Colville Agency
Consolidated Chippewa Agency
Consolidated Ute Agency
Crow Agency
Crow Creek Agency (Lower Yanktonai Sioux and Lower Brulé Sioux Indians)
Cushman Agency
Devils Lake Agency (Sioux and Chippewa Indians)
Digger Agency
Eastern Navajo
Eastern Navajo Reservation
Fallon Agency (Paiute Indians)
Flandreau Agency
Flathead Agency
Fond Du Lac Agency
Fort Apache Agency (White Mountain Apache Indians)
Fort Belknap Agency (Grosventre and Assiniboin Indians)
Fort Berthold Agency (Arikara, Grosventre, and Mandan Indians)
Fort Bidwell Agency (Paiute, Pit River, and Digger Indians)
Fort Hall Agency (Shoshoni and Bannock Indians)
Fort Lapwai Agency (Nez Perce Indians)
Fort Lewis Agency (Southern Ute Indians)
Fort McDermitt Agency (Paiute Indians)
Fort Mojave Agency (Mohave and Chemehuevi Indians)
Fort Peck Agency (Sioux and Assiniboin Indians)
Fort Shaw School
Fort Totten Agency (Devils Lake Sioux and Turtle Mountain Chippewa Indians)
Fort Yuma Agency (Yuma and Cocopah Indians)
Goshute Agency (Goshute, Shoshoni, Paiute, Kanosh, and Pahvant Indians)
Grand Portage Agency (Chippewa Indians)
Grand Rapids (Winnebago Indians of Wisconsin)
Grand Ronde Agency
Great Lakes Agency (Chippewa and Potawatomi Indians)
Great Sioux Reservation
Green Bay Agency (Menominee, Oneida, and Stockbridge and Munsee Indians)
Greenville Agency (Digger and Other Indians)
Haskell Agency (Potawatomi, Kickapoo, Iowa, and Sauk and Fox Indians)
Havasupai Agency
Hayward Agency (Lac Courte Oreilles Chippewa Indians)
Hoopa Valley Agency: (Hupa or Hoopa and Klamath Indians)
Hopi Agency
Hopi and Navajo Indians
Hualapai Agency (Walapai or Hualapai and Havasupai Indians)
Jicarilla Agency
Jicarilla Apache Indians
Kaibab Agency (Paiute and Goshute Indians)
Kaw Agency (For earlier rolls of Kansas or Kaw, see Osage. For later rolls see Ponca and Pawnee.)
Keshena Agency
Kickapoo Agency (Kickapoo, Iowa, and Sauk and Fox of The Missouri Indians; Potawatomi Indians For 1920)
Kiowa Agency  (Kiowa, Comanche, Apache, Caddo, and Wichita and affiliated Indians)
Klamath Agency
La Pointe Agency
Lac Du Flambeau Agency (Chippewa Indians)
Laguna Pueblo Agency
Laona Agency
Leech Lake Agency (Chippewa Indians)
Lemhi Agency (Shoshoni, Bannock, and Sheepeater Indians)
Leupp Reservation (Navajo Indians)
Lovelocks Agency (Paiute Indians)
Lower Brule Agency
MacKinac Agency (Chippewa Indians)
Malki Agency (Augustine, Cabuson, Martinez, Mission Creek, Morongo, Palm Springs, San Manuel, Torres Indians)
Mescalero Agency (Mescalero and Jicarilla Apache)
Mexican Kickapoo Agency (Mexican Kickapoo and Big Jim Band of Absentee Shawnee Indians)
Mission Agency
Mission Tule River Agency
Moapa River Agency (Paiute Indians)
Moqui Agency
Navajo Agency (Moqui Pueblo, or Hopi, and Navajo Indians)
Navajo Springs Agency
Neah Bay Agency (Makah, Ozette, Quileute, and Hoh Indians)
Nett Lake Agency (Bois Fort Band of Chippewa Indians)
Nevada Agency (Paiute Indians)
New York Agency
The following census MAY cover the following tribes: Cayuga, Oneida, Onondaga, Seneca, St. Regis and Tuscarora Indians

Nez Percé Agency
Nisqually and Skokomish Agency (Puyallup, Skokomish, Nisqualli, Squaxon, Sklallam, and Chehalis Indians)
Northern Idaho Agency (Coeur Dalene, Kalispel, Kutenai, and Nez Perce Indians)
Northern Navajo Agency
Northern Navajo Reservation
Northern Pueblo Agency
Oglala Sioux Indians
Omaha Agency
Oneida Agency
Osage Agency
Otoe Agency (Oto and Missouri Indians)
Paiute Agency (Paiute, Goshute, and Ute Indians)
Paiute and Ute Indians

1940 Paiute and Ute Indians Census
1912-1944 Paiute and Ute Indians Census

Pala Agency (Mission Indians)
Pawnee Agency
Phoenix Agency
Pima Agency
Pine Ridge Agency
Pipestone Agency (Mdewakanton Sioux Indians)
Ponca Agency (Ponca, Oto and Missouri, Pawnee, and Tonkawa Indians)
Potawatomi Agency
Pueblo Bonito Agency (Navajo Indians)
Pueblo Day Schools (Pueblo and Navajo Indians)
Pueblo Agency
Puyallup Agency (Chehalis, Clallam or Sklallam, Nisqualli, Puyallup, Quinaielt, Skokomish, Squaxon, and other Indians)
Pyramid Lake Agency (Paiute Indians)
Quapaw Agency (Eastern Shawnee, Miami, Modoc, Ottawa, Peoria Quapaw, Seneca, and Wyandot Indians)
Quinault Agency (Quinaielt and Other Indians)
Red Cliff Agency (Chippewa Indians)
Red Lake Agency (Red Lake and Pembina Chippewa Indians)
Red Moon Agency (Cheyenne Indians)
Reno Agency (Paiute Indians)
Rocky Boy Agency (Chippewa and Cree)
Rosebud Agency (Brulé and Other Bands of Sioux Indians)
Roseburg Agency(Shasta, Klamath, Pit River, Wintu, and Other Indians)
Round Valley Agency (Concow, Little Lake, Redwood, Pit River, Potter Valley, Yuki, Wailaki, and Nomelaki Indians)
Sac and Fox, Iowa
Sac and Fox, Oklahoma
Sacramento Agency
Sauk and Fox Agency
Salem Agency (Indians of Grande Ronde and Siletz Reservations and Non-reservation Indians)
Salt Lake Special Agency (Paiute Indians)
Salt River Agency (Camp McDowell, Lehi, and Salt River Indians)
San Carlos Agency (Apache, Mohave, and Yuma Indians)
San Jacinto Agency (Mission and Other Indians)
San Juan Agency (Navajo Indians)
San Xavier Agency (Papago Indians)
Santa Fe Agency (Pueblo Indians)
Santee Agency
Seger Agency (Cheyenne and Arapahoe Indians)
Sells Agency (Papago Indians)
Seminole Agency (Florida)
Seneca Agency (Eastern Shawnee, Miami, Modoc, Ottawa, Peoria Quapaw, Seneca, and Wyandot Indians)
Shivwits Agency (Kaibab, Paiute, Southern Utah, Uintah and Ouray)
Shoshoni Agency (Shoshoni and Arapahoe Indians)
Siletz Agency
Sisseton Agency (Sisseton and Wahpeton Sioux Indians)
Soboba Agency

1916-19 Soboba Agency Census (Cahuilla, Inaja, Los Coyotes, Mesa Grande, Santa Rosa, Santa Ynez, Soboba, Volcan Indians)
1920 Soboba Agency Census (Augustina, Cabazon, Cahuilla, Martinez, Mission Creek, Morongo, Palm Springs, San Manuel, Santa Rosa, Santa Ynez, Soboba, Torres Indians)

Southern Navajo Agency
Southern Navajo Reservation
Southern Pueblo Agency
Southern Utah Agency (Shivwits OR Shebits and Kaibab Indians)
Southern Ute Agency
Spokane Agency
Standing Rock Agency (Sioux Indians)
Taholah Agency (Quinaielt, Chehalis, Nisqualli, Skokomish, and Squaxin Island Indians)
Tomah Agency (Winnebago Indians)
Tongue Agency River (Northern Cheyenne Indians)
Truxton Canon Agency (Walapai and Havasupai Indians)
Tulalip Agency (Lummi, Muckleshoot, Port Madison, Swinomish, and Tulalip Reservations)
Tule River Agency
Turtle Mountain Agency (Chippewa Indians)
Uintah Agency and Ouray  Agency (Uintah, Uncompahgre, and White River Ute Indians)
Umatilla Agency (Cayuse, Umatilla, and Walla Walla Indians)
Union Agency (Choctaw Indians Only)
United Pueblos Agency
Ute Mountain Agency (Ute Indians)
Vermillion Lake Agency (Bois Fort Band of Chippewa Indians)
Walker River  Agency (Paiute Indians)
Warm Springs Agency
Western Navajo Reservation
Western Navajo Agency (Hopi Indians and Navajo and Paiute Indians For 1929)
Western Shoshone Agency (Shoshoni and Paiute Indians)
White Earth Agency (Chippewa Indians)
White Earth Reservation
Wind River Agency (Shoshoni and Arapahoe Indians) (Supplemental Rolls)
Winnebago Agency
Wittenberg Agency (Winnebago Indians of Wisconsin)
Yakima Agency
Yankton Agency
Zuni Agency
---