The full manuscript contains a condensed history of the state of Iowa, a number of biographies of distinguished citizens of the state of Iowa, a descriptive history of Story county and numerous selected biographical sketches of the citizens of Story County, Iowa.
In 1846 the boundaries of Story County were created. The county comprised 576 miles of mostly prairie land. Story County is named after Joseph Story, a United States Supreme Court justice, in 1853. The first settlers in Story County came mainly from Indiana, New York, and Pennsylvania. Later, many Norwegians, Germans, and Danes came directly from overseas and inhabited the area. The first large population influx occurred during the 1850s.
The manuscript contains 229 biographies of prominent men and leading citizens of Story County, Iowa.
Biographical Sketches of Story County, Iowa
Biographical and Historical Memoirs of Story County, Iowa
| Surname | Given | Extra | Read |
| --- | --- | --- | --- |
| Addison | Edwin H | | 276 |
| Alderman | Theodore Elihu | | 458 |
| Allen | Charles W | Dr. | 276 |
| Apland | Oley | | 278 |
| Aplin | Arthur D | MD | 279 |
| Arrasmith | Wesley | | 280 |
| Arrasmith | William | | 281 |
| Ashford | Oliver G | | 282 |
| Baldwin | Frank M | | 285 |
| Ballard | Russell W | | 285 |
| Banks | Ambrose K | | 286 |
| Barnes | George M | | 287 |
| Barnes | Ira | | 287 |
| Bates | Elnathan | | 288 |
| Bates | William O | | 289 |
| Beckley | Lemuel Holmes | | 289 |
| Bigelow | D A | | 290 |
| Boardman | Homer C | | 291 |
| Boardman | William K | | 292 |
| Bowen | Jesse | | 292 |
| Boyd | George W | | 293 |
| Boyd | Knud P | | 293 |
| Briley | Elisha | | 294 |
| Buck | A H | | 295 |
| Budd | J L | Prof. | 294 |
| Bump | Martin V | | 296 |
| Bunce | Densmore J | Dr. | 296 |
| Burkhart | John C | | 297 |
| Campbell | Charles E | | 297 |
| Chamberlain | W I | Dr. | 299 |
| Chamberlin | H Dewey | MD | 300 |
| Chamberlin | Oliver | | 298 |
| Chandler | Alphonso | | 301 |
| Christian | Charles | | 302 |
| Christian | John | | 302 |
| Clift | Nathaniel R | | 303 |
| Coggshall | Eugene | | 303 |
| Confare | Falcon M | | 305 |
| Confare | Norman H | | 304 |
| Cook | Charles | | 307 |
| Cook | Charles W | | 308 |
| Cook | James W | | 306 |
| Cook | John | | 306 |
| Coyle | Campbell | Rev. | 309 |
| Cramer | Frank Bertis | | 309 |
| Dakins | S W | | 310 |
| Danskin | George | | 311 |
| Davis | John E | | 312 |
| Dickey | Charles H | | 313 |
| Dodds | Robert | | 313 |
| Duea | Jonas | | 314 |
| Dunahoo | Andrew | | 315 |
| Dunahoo | John | | 314 |
| Dunkelbarger | Nathan | | 316 |
| Dunkelbarger | Orra L | | 317 |
| Dyer | George W | | 317 |
| Eagleburger | Jacob | | 318 |
| Earl | James | | 318 |
| Erickson | Michael | | 319 |
| Ersland | Anfen | | 319 |
| Ersland | Knute A | | 320 |
| Fatland | Brit. O. | | 321 |
| Ferner | James D | | 322 |
| Fetterhoff | Jacob R | | 322 |
| Finch | Francis M | | 323 |
| Fitchpatrick | Joseph A | | 323 |
| Fitton | Jonathan H | | 327 |
| French | John O | | 327 |
| Fry | Edward R | | 328 |
| Funson | Hugh M | | 328 |
| Furnas | Elwood | | 329 |
| Gates | William | | 329 |
| Gifford | E W | | 330 |
| Golly | John M | | 331 |
| Golly | William H | | 330 |
| Gossard | M W | | 331 |
| Gossard | Sarah J | Mrs | 332 |
| Gossard | Thomas M | | 332 |
| Grafton | William Hill | MD | 333 |
| Graves | A J | | 335 |
| Grimm | A H | | 337 |
| Groseclose | John | | 337 |
| Grove | Joshua B | | 335 |
| Grove | Mons C | | 336 |
| Hainline | Andrew J | | 338 |
| Hall | Thomas | | 340 |
| Handsaker | William | | 340 |
| Hanks | DeWitt Clinton | | 342 |
| Hanks | George R | | 341 |
| Haverly | Charles E | | 343 |
| Hawthorn | James | Hon. | 344 |
| Hemstock | George W | | 345 |
| Hesson | John P | | 346 |
| Holmes | Henry D | | 347 |
| Hopkins | Peter W | | 347 |
| Hostetter | John I | Dr. | 348 |
| Hoyman | George W | | 348 |
| Hunt | Leigh S J | | 349 |
| Hunter | Andrew J | | 350 |
| Hutchison | James | | 350 |
| Hyden | G | | 351 |
| Illingworth | M D | | 351 |
| Jarvill | Thomas | | 353 |
| John | John W | | 354 |
| Johnson | Edwin | | 355 |
| Johnson | Elias | | 355 |
| Jones | Albert | | 356 |
| Jory | John | | 357 |
| Kellogg | George Albert | Hon. | 359 |
| Kimble | Richard | | 363 |
| King | Jay A | | 363 |
| Knapp | Seaman Asahel | LLD | 364 |
| Kyle | William Vance | | 365 |
| Lamb | Daniel | | 366 |
| Lande | Amos A | | 367 |
| Lang | David L | | 367 |
| Langland | Ole C | | 368 |
| Lash | George | | 368 |
| Lee | Jacob C | | 369 |
| Livingston | Michael D | | 370 |
| Lockridge | William | | 371 |
| Lovell | J C | | 372 |
| Mackey | D H | | 380 |
| Martin | J Francis | | 381 |
| Martin | William D | | 380 |
| Mauser | Martin L | | 382 |
| Maxwell | Angeline | Mrs | 384 |
| Maxwell | George M | Hon. | 383 |
| Maxwell | J W | | 385 |
| May | Richard | | 385 |
| McCall | Thomas Clifton | Hon. | 375 |
| McCarthy | C G | Hon. | 376 |
| McKee | Thomas James | | 376 |
| McLain | Frank A | | 377 |
| McLain | Howard P | | 378 |
| McNichols | Michael | | 379 |
| McWherter | Aaron | | 379 |
| Michaelson | Samuel J | | 386 |
| Miller | Jefferson | | 386 |
| Miller | William A | | 387 |
| Mills | J A | | 388 |
| Mitchell | Rotheus Hayward | | 388 |
| Morse | C M | | 390 |
| Neasham | John William | | 390 |
| Nelson | Oley | Hon. | 390 |
| Nernes | Ole | | 392 |
| Netterfield | Miami (Hanks) | Mrs | 393 |
| Norton | Isaac B | | 395 |
| O'Neil | John | | 397 |
| Olinger | James M | | 396 |
| Olson | Abel | | 397 |
| Olson | Ole J | | 396 |
| Page | C P | | 398 |
| Patridge | Lyman | | 398 |
| Payne | William P | Prof. | 399 |
| Peck | John | | 400 |
| Pettenger | Joseph | | 401 |
| Porch | Thomas | | 402 |
| Ray | Judiah | | 402 |
| Reed | J Fred | Prof. | 403 |
| Reid | Isaiah | Rev. | 403 |
| Reid | Samuel | | 405 |
| Rich | John | | 405 |
| Rich | Samuel | | 406 |
| Richardson | Edward G | | 407 |
| Richardson | Robert | | 406 |
| Ringheim | I A | | 408 |
| Robinson | Henry Harrison | | 409 |
| Robison | Robert Alexander | | 408 |
| Roe | Ole O | | 410 |
| Ross | T J | | 410 |
| Rygh | John C | | 411 |
| Sawtell | Joseph C | | 412 |
| Scott | John | Col. | 412 |
| Shearer | Elias W | | 419 |
| Sheldahl | Erik | | 420 |
| Sheldon | Dwight D | | 423 |
| Sheldon | Parley | | 421 |
| Silliman | Rothmer J | | 423 |
| Smay | William | | 424 |
| Smeltzer | Thomas B | | 425 |
| Smith | I L | Capt. | 426 |
| Smith | James S | | 428 |
| Smith | Lee H | | 427 |
| Smith | Levi | | 426 |
| Smith | Robert D | | 427 |
| Sowers | George W | | 429 |
| Spring | William Waitt | | 429 |
| Stanton | E W | Prof. | 430 |
| Stark | Jacob M | | 431 |
| Statler | Sam S | | 431 |
| Stevens | J L | Hon. | 432 |
| Stevens | William H | | 432 |
| Stewart | John R | | 433 |
| Stitzell | George | MD | 434 |
| Stole | Osmond O | | 435 |
| Templeton | George | | 435 |
| Templeton | H M | Dr. | 437 |
| Tendeland | M A | | 437 |
| Thatcher | Thomas | | 438 |
| Thompson | Frank D | | 439 |
| Thompson | James | | 439 |
| Thompson | John | | 440 |
| Thompson | Lorenzo D | | 440 |
| Thurston | James | | 441 |
| Tichenor | Martha | Mrs | 441 |
| Torry | John W | | 442 |
| Twedt | John | | 443 |
| Underwood | George A | | 443 |
| Utterback | William W | | 444 |
| Vanscoy | Jesse E | | 444 |
| Veneman | William J | | 445 |
| Vinje | David J | | 446 |
| Walker | Isaac | | 446 |
| Ward | Orris (Morgan) | Mrs | 447 |
| Warren | John | | 448 |
| Webb | Milton P | | 449 |
| Welch | A S | Dr. | 450 |
| Wells | John M | | 451 |
| Wherry | Andrew D | | 452 |
| Whitaker | Thomas | | 452 |
| Will | John W | | 453 |
| Wilson | Henry | Jr. | 453 |
| Wilson | Orpheus W | | 454 |
| Wood | Curtis A | | 457 |
| Wood | Jesse R | | 457 |
| Wood | William K | Hon. | 456 |
| Wortman | A | | 449 |
| Young | Solomon | | 458 |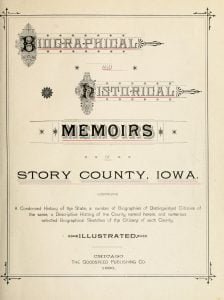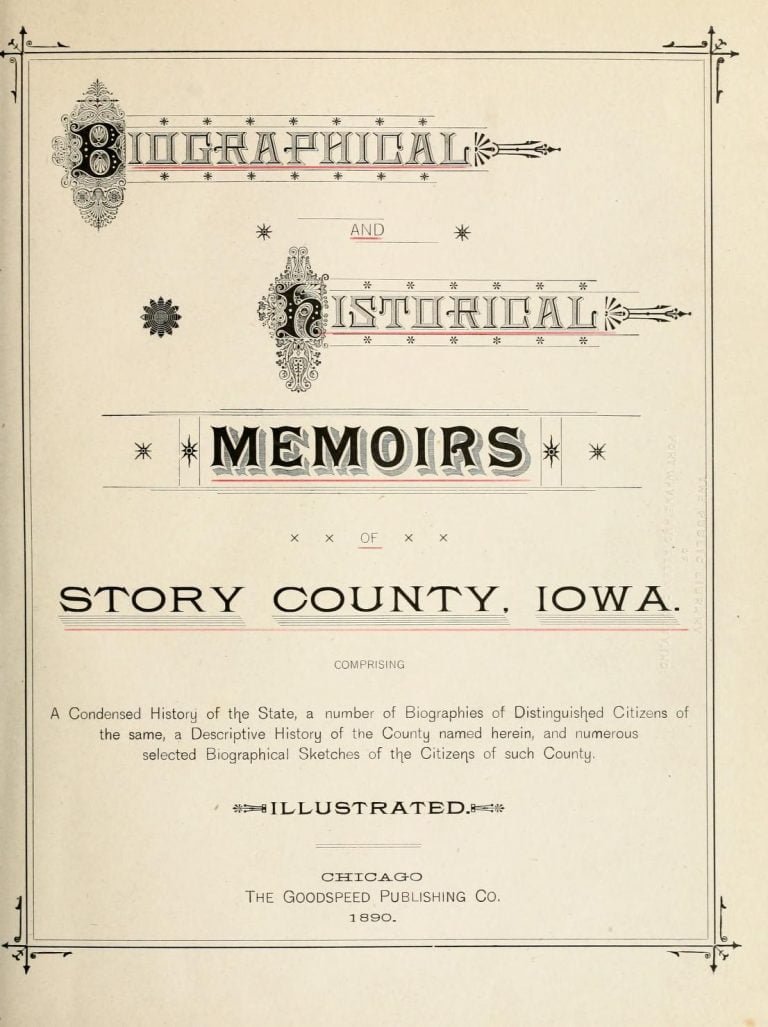 Gallery of Photos
[box type="info"] Source: Biographical and Historical Memoirs of Story County, Iowa: A Condensed History of the State, a number of biographies of Distinguished Citizens of the same, a Descriptive History of the County names herein and numerous selected Biographical Sketches of the Citizens of such County. Illustrated. Chicago: The Goodspeed Publishing Company. 1890.[/box]
---