Peter Olcott had a store near his residence at the Center, in the time of the Revolutionary War. Abel Curtis was for a time associated with him in this business. Stephen Burton, eldest son of Elisha Burton and a graduate of Dartmouth College in 1790, was probably the first to open trade at Norwich Plain, prior to the year 1800. Ichabod Marshall of Hanover, also a Dartmouth graduate in 1790, is understood as having been engaged in mercantile business in Norwich (possibly in partnership with Stephen Burton) for several years. Both these young men emigrated to the West early in the century, Burton to central New York where he died in 1812, and Marshall to Ohio in the year 1818. George Woodward kept store before 1799 in the building now occupied by Mrs. Gardner Davis as a dwelling.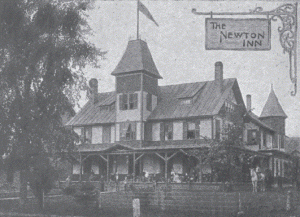 Oliver Hatch was in trade on the corner where F. W. Hawley is in business. In 1801 or 1802, he was succeeded by William Little, who came from Strafford and bought the store building and prosecuted business there till about 1816, part of the time in company with Jona Lovejoy from Boston. They dissolved partnership in 1809. About this time a store was kept by Charles Hutchins from Concord, N. H., in the building that in later years became the residence of the late Jas. S. Currier, just north of "Newton Inn." Little and Lovejoy were succeeded by Waterman Ensworth and Rufus Hatch, Cyrus Partridge, not long after, becoming a member in place of Mr. Hatch.
Capt. Ethen Burnap was a merchant in Norwich from about 1817 to 1828 or '29, first at Union Village and later at Norwich Plain. About this time Elias Lyman, Jr., came in possession of the corner store at the Plain, where he did an extensive trade for several years, covering the period (1824-1834) pretty nearly, perhaps.
Following Elias Lyman was George Lyman, with whom Mr. Franklin L. Olds was associated, first as clerk and afterwards as partner, the firm finally becoming Lyman, Olds and Burton (Harvey Burton). Contemporary with this latter firm was Baxter B. Newton (1841-1845), his place of business being in the building where Henry Lary now lives. During the decade immediately preceding 1842, William Smith Burton was engaged in trade in the building now the residence of Edward W. Olds. L. S. Booth took a hand at merchandising (1847-1859), part of the time in company with John L. Courier, who continued the business alone for two or three years.
A Union store ("N. E. P. U., No. 236") was established at Norwich Village about 1853, in the house where Mr. Harry Russ resides, with E. M. Lewis as agent for several years; then the place of business was changed to where Henry Lary lives, with J. S. Gordon as agent, who was succeeded by Harry Russ. After a short existence, the enterprise went the way of nearly all cooperative ventures.
In the year 1842 the mercantile firm of F. L. and E. W. Olds was formed, and maintained until 1874. The business was continued by Edward W. Olds at the old corner store until its destruction by fire on the night of the 4th of August, 1875; after that date, in the brick store built by John Wright, Esq., about 1828, until that was destroyed by fire December 29, 1899; since then in the new building on the site of the one last destroyed, where Mr. Olds is still waiting upon customers and serving the United States and our townspeople as postmaster.
In the summer of 1886, a handsome and commodious building was erected by Josiah T. Morrison and Fred W. Hawley on the site of the old corner store. This partnership was continued until 1889, when Mr. Hawley assumed the whole business and is still in trade there.
Edward M. Lewis sold more or less groceries since 1857, having his place of business during the first few years at the village and since then at his home near the railroad station. Harry Russ and Myron D. Gibbs were similarly employed at the village, 1866-1874. Beginning in 1868, J. G. Stimson dealt largely in flour and feed, but relinquished the business to his son, Charles, who keeps his goods in a building in the rear of his residence on Main Street.
In 1891, L. K. Merrill moved to town and opened a general store in the south end of the Barstow block, where he remained in business until 1895, when he disposed of his stock of goods to Merrill and Smith, who have continued the business ever since.
In the '40's, S. & H. Moore kept store at Beaver Meadow. H. & E. Morgan were in trade there from 1841 to 1858. About 1854 a union store was established there.
---