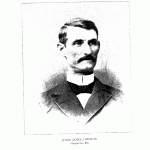 There is no man better known throughout the Ozark region than Judge James J. Gideon, the subject of this sketch. Born on the soil and reared among the descendants of the pioneers, he is one of those self-made sons of Missouri, who, while he has distinguished himself as a lawyer and jurist, has a far greater claim to the respect of the people in his sturdy integrity of character and his lifelong course as a friend of justice. He springs from a sterling Irish-Scotch ancestry of Colonial American stock.
James Gideon, the great-grandfather of our subject, was the founder of this branch of the family in America. He came from Dublin, Ireland, with his brothers, Reuben and Edward, bringing his wife, Nancy. His sons were: Edward, William, Isham, James and John. They all settled on land in Southwest New York. Edward, brother of James, was killed in battle during the Revolutionary War. All of the family moved to North Carolina about 1781 and settled on the Yadkin River. James Gideon moved to what is now Hawkins County, Tennessee, in 1821, where he settled on land. He took with him the apple trees with which to plant his orchard. Several members of the Gideon family went with him besides his own immediate family. He was a substantial farmer and lived to be an aged man, passing the remainder of his days in Tennessee.
William Gideon, his son and the grandfather of our subject, was born in New York State in 1789, and went to North Carolina with the family. He married there Matilda Wood, and to them were born: James H., Burton A., William C., Francis M., Woodson T., Green B., John A., Minerva and Elizabeth. Mr. Gideon moved to Tennessee in 1821 and settled on land. He was a hatter by trade and also a farmer. He was a member of the Baptist Church and an elder in his church for forty years. In his old age he became a Universalist. In the spring of 1836 he settled north of Ozark, Missouri, two miles and entered 200 acres of land which is now known as the William P. Cox farm. He died in 1868, aged seventy-nine years. He was a well-known pioneer citizen, a man of sterling worth and had no enemies and was highly respected in his community.
William C. Gideon, his son and father of our subject, was born in Hawkins County, Tennessee, February 15, 1824, received the common education of his day and was but twelve years of age when he came with his father to Missouri, and was reared among the pioneers of this State. He married at the age of twenty-one years, Melinda, daughter of James Byrd, and to them were born eight children: Thomas J., James J., Francis M., William W., John N., Martin V., George B. and Matilda, all of whom are now living. Mr. Gideon settled on a farm in what was then Taney County, now Christian County, Missouri, and during his life settled on several farms in this section, and before the breaking out of the war he had 480 acres of land in Christian County. Mr. Gideon was a typical pioneer citizen and cleared up several farms. During the war he was obliged to remove his residence to this county, settling four miles south of Springfield, on account of the depredations of the guerrillas. He served during the Civil War in Missouri Union Home Guards, three months under Capt. Jesse Galloway, and on March 5, 1862, he enlisted in Company F, Missouri State Militia, and was mustered into United States service. He was promoted to sergeant and detailed as recruiting officer at Springfield, Missouri, for Robbs' Battery, having been transferred to the Eighth Missouri State Militia. While in this service he was killed by a band of guerrillas in Christian County, at the home of his father, on December 16, 1863. He was aged thirty-nine years. He was in the battle of Ozark, and on January 8, 1863, at the battle of Springfield when Marmaduke made his raid, and also in another battle. In religion he was a Methodist. He was a man whose judgment was respected by the people, and he was justice of the peace four years. In politics he was a Douglas or War Democrat and after the breaking out of the war became a Republican. He was a man of quiet and peaceful disposition, was honorable in character, and had the confidence of the community in which he lived.
Judge James J. Gideon, son of above, and our subject, was born on his father's farm in Christian County, Missouri, December 11, 1846. He received a common-school education, and when a boy, being fired with the patriotism of the youth of this country during the war, he ran away from school at the age of sixteen years, and on June 20, 1863, enlisted at Springfield, in Battery A, First Arkansas Light Artillery. He served a short time in this battery and then reenlisted in Company L, Sixth Missouri Rangers, which service was also short. He then reenlisted in Company H, Sixteenth United States Cavalry, serving twenty months. While in this regiment he was in the fight at Boonville against Price, at the battle near Jefferson City, at Big Blue, where Gen. Marmaduke was captured, and in the Newtonia fight and many skirmishes. He was promoted to corporal and honorably discharged July 1, 1865. During his service he was neither wounded nor imprisoned. At the close of the war he was elected captain of Company E, Ninety-ninth Regiment Missouri Militia, but saw no active service. After this he returned home, attended school and farmed, and on December 29, 1868, married Mary S., daughter of Capt. Jackson and Elizabeth (Keltruer) Ball.
To Judge and Mrs. Gideon have been born four children: Percy P., Frederick F., Nora (deceased at thirteen years) and Kate M. After marriage Judge Gideon settled on a farm near Ozark, but having an active mind and possessing a desire for a more ambitious career, he combined his agricultural pursuits with the study of Blackstone with such perseverance and ability that he was admitted to practice at the bar in the State of Missouri in January, 1872. He immediately began the practice of his profession at Ozark, where he continued until 1886, establishing a successful business. During this time he won the confidence of the people of his county and filled the office of public administrator and prosecuting attorney for eight years. He also represented his county in the State Legislature one term and was elected to the State Senate from the Nineteenth Senatorial District in 1884 and served one term. On July 26, 1886, he moved to Springfield, where he resides at present, and where he was successful in the practice of his profession from the start and his ability recognized, in 1888, by his election as prosecuting attorney for one term, and in the following year by his election as judge of the Criminal Court, which important office he now fills to the general satisfaction of the people. It is said that under his administration the business of the Criminal Court has been dispatched expeditiously, and that wisdom has accompanied his judgments, which are tempered with mercy.
Judge Gideon is widely known through southwest Missouri as a successful politician. He has never been defeated before a convention or at the polls as a candidate for any office for which he has seen fit to run. Socially he is a member of the Solomon Lodge of Masons, of Springfield, and at Ozark held all the offices of Friend Lodge No. 352. He is also an Ancient Odd Fellow. He is a member of the G. A. R., Capt. John Matthews Post, Springfield. Judge Gideon is one of those citizens of Southwest Missouri who has risen from the humble position of a farmer's boy to occupy a place of great responsibility and trust. A soldier at sixteen years of age, he served his country faithfully, and as a citizen he is today one of those whose integrity stands without reproach. In politics he is a stanch Republican.
---