(I) John Read, supposed son of William and Lucy (Henage) Read, was born in 1598, and it is said came to America with the great fleet in 1630. He is of record in 1637 in Weymouth, was in Dorchester the next year, and went from there to that part of Braintree now Quincy. In 1643 or 1644 he accompanied Rev. Mr. Newman and his church society to Rehoboth, where his name appears the third on the list of purchasers of the town. He was a man of large property for those times, and held the office of constable, which was the chief executive office in town. He lived in that part of Rehoboth now Seekonk, and was a prominent and leading man; he kept a public house. He died Sept. 7, 1685, aged eighty-seven years. The Christian name of his wife was Sarah, and their children were:
Samuel,
William,
Abigail,
John,
Thomas,
Ezekiel and
Zachariah (twins),
Moses,
Mary,
Elizabeth,
Daniel,
Israel and
Mehetabel.
(II) Samuel Read, son of John, joined the colonists of Braintree in the settlement of Mendon, Mass. He married in 1661 Hopestill Holbrook. He was constable of Mendon in 1681. From him have descended the Mendon, Uxbridge, Northbridge, Milford, Oxford and Charlton Reads. His children were:
Mary,
Samuel,
Ebenezer,
John,
Sarah,
Josiah.
The mother of these died Jan. 12, 1706, and he married again, the Christian name of his wife being Hannah. She died Jan. 24, 1717. His will is dated April 5, 1717.
(III) Ebenezer Read, son of Samuel and Hopestill, married Feb. 7, 1704, Sarah Chapin, who lived to the advanced age of ninety-five years, dying at Uxbridge, Mass., May 16, 1773. The children of Ebenezer and Sarah were:
Lydia, born May 15, 1706 (died that same year);
John, Aug. 3, 1707;
David, Aug. 19, 1709;
Ebenezer, Feb. 27, 1711;
Hannah, March 19, 1714;
Abigail, March 15, 1717;
Mary, Feb. 4, 1721; and
Josiah, Jan. 24, 1723 (probably killed by Indians at Housac Fort, Sept. 15, 1746)
(IV) Ebenezer Read (2), son of Ebenezer, born Feb. 27, 1711, in Mendon, Mass., married (first) June 26, 1736, Esther Webb, of Braintree. He also married a second time, the Christian name of his wife being Hannah. His children were:
John;
Benjamin, born Jan. 21, 1740;
Ebenezer, born Aug. 24, 1741;
Esther, born Aug. 24, 1743.
(V) Deacon Ebenezer Read, son of Ebenezer (2), born Aug. 24, 1741, married Feb. 23, 1763, Mary Chapin. Deacon Read lived for many years on what later became known as the Ira Cleveland place in Milford, Mass. His homestead was a fine one on the apex of old Magomiscock Hill. He and his wife became members of the Milford Congregational Church in 1767, and he was chosen deacon in 1786. They were dismissed to the church in Worcester, Mass., in February, 1796. Their children were:
Hannah, born May 1, 1764;
Ichabod, Jan. 27, 1766 (died in that same year);
Abigail, June 1, 1767;
Mary, July 30, 1769 (died May, 1770);
Sylvia, July 18, 1771;
Martha and Sarah (twins), March 4, 1773;
Samuel Torrey, Oct. 17, 1774;
Mary (2), Dec. 16, 1776;
Ebenezer, May 1, 1779;
Benjamin, May 1, 1781;
Ruth, Feb. 14, 1784; and
Alexander, July 10, 1786.
(VI) Dr. Alexander Read, son of Deacon Ebenezer and Mary (Chapin) Read, was born July 10, 1786, in the town of Milford, Mass. In his boyhood his father and the family removed to Worcester. He was graduated with honors from Dartmouth College in 1808. He studied medicine under the direction of Dr. Greene, of Worcester, and of Nathan Smith, M.D., and began practice in New Bedford in 1811. He soon acquired the reputation of a skillful and attentive physician, and received the patronage of a numerous circle of intelligent and wealthy citizens. A course of lectures prepared and delivered by him on chemistry and botany with great acceptance was a happy introduction to the youthful portion of the more intelligent population, and many of the attendants were ever after his ardent friends. He possessed by nature a sanguine temperament, and by cultivation and intercourse with good society refined tastes which made him a conspicuous and welcome figure in the circle in which he moved. His ruling passion was to promote the well being of those with whom he associated. Hence as a physician he was ardent in the pursuit of knowledge, careful in his observation of the changing phases of disease, kind in his deportment, courteous in all the relations of life, and skillful to perceive and minister to the necessities of his numerous patients.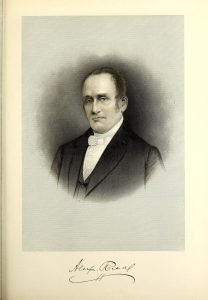 Dr. Read received the degree of M.D. at New Haven in 1816. He was a skillful surgeon as well as a physician and his advice was much sought and highly valued by his professional brethren. He published but little. His remarks on the mode of preparation and uses of datura stramonium are a model of simplicity and directness in medical communications. Dr. Read was an ardent and devoted Christian, having the most reverent regard for the Bible.
On April 16, 1818, Dr. Read married Sarah Willis, daughter of Samuel, of Bridgewater, and the union was blessed with children:
Mary,
William A. (died young),
Sarah,
William A. (2) and
Elizabeth T.
Dr. Read was known as a good husband, kind father, beloved physician and in every relation eminently a good man. His fatal disease was hsematuria 1, followed by chronic disorganization and protracted suffering. He died at his home in New Bedford, Mass., Nov. 20, 1849, aged sixty-three years. His wife Sarah (Willis), who was born April 23, 1794, survived him many years, dying Dec. 25, 1874, aged eighty years.
---

Citations:
hematuria[↩]