The Ames surname is of early English origin, and the family living at Bristol bore the following coat of arms: Argent, on a bend cotised sable, three roses of the field. Motto: Fama Candida rosa dulcior. Crest: A white rose.
(I) John Ames was buried at Bruton, Somersetshire, England, in 1560.
(II) John Ames (2), son of John, died in 1583; married Margery Crome. Children:
John Ames
Launcelot Ames
William Ames
(III) John Ames (3), son of John (2), born in 1560, died in 1629, married Cyprian Browne. Children:
William Ames.
John Ames, went to New England, settling first at Duxbury, where his name was on a list of those able to bear arms in 1643; removed to Bridgewater, and married Oct. 20, 1645, Elizabeth Heyward; died and left his estate to his brother's heirs.
(IV) William Ames, son of John (3), born in 1605, came to New England and settled in Braintree as early as 1638. He was admitted a freeman May 26, 1647. The Christian name of his wife was Hannah. After his death, which occurred Jan. 1, 1653-54, she married (second) April 6, 1660, John Heiden (Hayden). Children:
Hannah Ames, born May 12, 1641
Rebecca Ames, born in October, 1642
Lydia Ames, born in 1645
John Ames, born March 24, 1647
Sarah Ames, born March 1, 1650
Deliverance Ames, born Feb. 6, 1653
(V) John Ames (4), son of William, born March 24, 1647, married Sarah, daughter of John Willis. He settled in West Bridgewater, Mass., as early as 1672. He served in King Philip's War. He died about 1726, when his estate was settled. Children:
John Ames, born in 1672
William Ames, born in 1673
Nathaniel Ames, born in 1677
Elizabeth Ames, born in 1680, married in 1697, Capt. John Field
Thomas Ames, born in 1682
Sarah Ames, born in 1685, married in 1706 Daniel Field
David Ames, born in 1688
Hannah Ames, born in 1689, married in 1712 David Packard
(VI) Thomas Ames, son of John (4), born in 1682, in West Bridgewater, Mass., married in 1706 Mary, born in 1685, daughter of Joseph Hayward. Children:
Thomas Ames, born in 1707
Solomon Ames, born in 1709
Joseph Ames, born in 1711
Ebenezer Ames, born in 1715
Mary Ames, born in 1717, married Seth Howard
Susanna Ames, born in 1720, married Thomas Willis
Nathan Ames, born in 1722
Sarah Ames, born in 1724, married Capt. Jacob Packard
Betty Ames, born in 1727, married James Ames
(VII) Thomas Ames (2), son of Thomas, born Feb. 6, 1707, married in 1731 Keziah, daughter of Jonathan and Sarah (Dean) Howard. He died Nov. 27, 1774, aged sixty-seven years; she died Nov. 20, 1773. Children:
Keziah Ames, born in 1732, married in 1751 David Howard
Susanna Ames, born in 1734, married in 1752 Josiah Snell
Thomas Ames, born in 1736
John Ames, born April 7, 1738
Mehetabel Ames, born in 1740, married in 1759 Eliab Fobes
Silvanus Ames, born in 1744
(VIII) Capt. John Ames, son of Thomas (2), born April 7, 1738, married in 1757 Susannah, born 1735, daughter of Ephraim Howard. Children:
David Ames, born in 1760, who was the founder of the famous Springfield Armory under commission of President Washington and his Secretary of War, General Knox
Keziah Ames, triplet, born in 1762, died bef. 1764
Abigail Ames,  triplet, born in 1762, died bef. 1769
Susanna Ames, triplet, born in 1762, married Joseph Fobes
Keziah Ames, born in 1764, married (first) Elijah Packard and (second) Benjamin Robinson
Huldah Ames, born in 1768; married Isaac Willis
Abigail Ames, born in 1769, married Joseph Lazell
Cynthia Ames, born in 1772
John Ames, born in 1775, who established a knife shop in the northeast part of the town of Easton
Oliver Ames, born in 1779
Capt. John Ames was a pioneer iron manufacturer in New England and proprietor of one of the nail and slitting mills condemned by the iron manufacturers of Great Britain, as the competition of American manufacturers endangered their monopoly, and they asked the government to abolish the American mills, declaring them a nuisance. Thereafter he took up the manufacture of shovels at his forge in Bridgewater, in 1773, and with heavy, clumsy implements, including a trip hammer weighing about eighty pounds, and a common hammer and anvil, he produced a shovel which compared favorably with those subsequently manufactured by his son Oliver, who succeeded him in the business. In the American Revolution he was the gunmaker of the Province of Massachusetts. He was captain of a company of minute-men at Bridgewater, and was repeatedly called into active service on "alarms" in Rhode Island and elsewhere. Toward the close of the Revolutionary war he was commissioned major of his regiment. Captain Ames died at West Bridgewater July 17, 1805. His wife survived him until Jan. 11, 1821.
(IX) (Hon.) Oliver Ames, son of Capt. John and Susannah (Howard) Ames, was born April 11, 1779, in West Bridgewater, Mass., He received but an ordinary common school education, which with practical experience in the blacksmith shop of his father furnished him the ground work of a sober judgment, industrious habits, and a stable and energetic character. At the age of eighteen he went to Springfield, Mass., where his elder brother, David, then resided, to learn the trade of gunsmith. Oliver Ames continued there until the close of his brother's term as superintendent of the Armory, in 1802, and then returned to Bridgewater and engaged with his father in the manufacture of shovels. At the very beginning of the nineteenth century, and very soon after his marriage, he removed from Bridgewater to the town of Easton, and began the manufacture of shovels and hoes. On Aug. 1, 1803, he purchased the Shovel Shop pond privilege and moved to Easton the following year, building the first factory for the manufacture of the famous Ames shovels. After three years there he moved to Plymouth to manufacture shovels for Messrs. Russell, David & Co. However, he retained his property and business in Easton, carrying on there the manufacture of hoes and shovels, and was also one of the partners in the cotton factory managed by Col. David Manley. He returned to Easton in 1811. In those early days he was beset with embarrassments and difficulties that would have disheartened and defeated anyone but a man of persistent energy and great ability. The effect upon business of the war of 1812 was still felt; the cotton factory had been burned; he was endeavoring to restore the business of his father to a prosperous condition, and had made great outlays in getting established in Easton. But his credit was good and his courage strong; his character and ability alike inspired unlimited confidence, and he worked steadily on a sure and lasting success. His business in time be-came by far the largest and most prosperous shovel business in the world. He never would permit any work to be sent to the market that was imperfect, and he thus laid the foundation for the great reputation which the Ames shovel has borne and which it continues to bear. In 1844 he retired from active business, transferring the active management to his sons Oakes and Oliver, under the firm name of Oliver Ames & Sons.
Mr. Ames was a man of strong and resolute will, of great force of character, indomitable energy, and persevering industry. He possessed a splendid physique, and easily bore off the palm in all feats of strength and skill, especially in wrestling, of which he was very fond. His manly and dignified bearing gave all who saw him the impression that they looked upon a man of mark. Born of the people, he was always very simple in his tastes, as well as democratic in his feelings and principles. He was equally decided in his likes and dislikes; but his judgment of persons was based upon what he believed to be the real worth of anyone, with-out reference to station or condition. He was consequently greatly respected and beloved by his neighbors and townsmen.
Mr. Ames was no lover of office, being ambitious alone to have the charge of the highways of his town intrusted to him; yet he was a number of times honored by his fellow townsmen, being elected in 1828, 1833, and 1834 to the Massachusetts Legislature, and served with marked ability upon the committee on Manufactures. Contrary to his desires he was elected in 1845 and by a large vote to the Massachusetts Senate.
In his religious faith Mr. Ames was a decided Unitarian, and the founder of the Unitarian Society of Easton, and he was liberal in his aid to religious institutions. He gave largely to charities.
In April, 1803, Mr. Ames married Susan Angier, who was born March 8, 1783, daughter of Oakes Angier (Harvard, 1763), an eminent barrister of his day. Through her maternal grandfather, Edward Howard, she was a direct descendant of John Winslow, a brother of Gov. Edward Winslow and uncle of Gov. Josiah Winslow; John Winslow married Mary Chilton, of "Mayflower" stock. She was a great-great-granddaughter of Rev. Urian Oakes, president of Harvard College, 1675-81, a direct descendant of Rev. Dr. William Ames, the eminent divine, author, theological controversialist and professor in the University of Francker, in Friesland. Dr. Ames's daughter, Ruth, after his death came with her mother and brother to New England, where she married Edmund Angier, of Cambridge, and their son, Rev. Samuel Angier, married Hannah Oakes, daughter of President Urian Oakes, of Harvard. Their son, Rev. John Angier, was the grandfather of Susan. Thus by the marriage of Oliver Ames and Susan Angier were united on the shores of New England two of the chief branches of the great English family of Ames.
Mr. Ames died Sept. 11, 1863, at North Easton. His wife died March 27, 1847, and the remains of both now repose in the Ames family lot in the village cemetery near Unity Church, in North Easton. Their children were:
Oakes Ames, born Jan. 10, 1804
Horatio Ames, born Nov. 18, 1805, who died Jan. 28, 1871
Oliver Ames, Jr., born Nov. 5, 1807
Angier Ames, born Feb. 19, 1810, who' died Jan. 21, 1811
William L. Ames, born July 9, 1812, who died Feb. 8, 1873
Sarah Angier Ames, born Sept. 8, 1814, who died June 5, 1888, married Nathaniel Wetherell, of Bridgewater, born 1811, died Aug. 16, 1848
John Ames, born April 18, 1817, who died May 14, 1844
Harriet Ames, born Sept. 12, 1819, married Asa Mitchell, of East Bridgewater, and died Dec. 29, 1896. Their son:

Frank Ames Mitchell, born June 27, 1841, died Dec. 13, 1900.
(X) (Hon.) Oliver Ames, son of Hon. Oliver and Susan (Angier) Ames, was born Nov. 5, 1807, in Plymouth, Mass. By his father's removal to Easton in 1813 he became a resident of that town, which place was afterward his home. In his youth his time was divided between attending school and employment in the shovel works. He became an expert and thorough workman in every branch of shovel manufacturing. He also showed great aptitude for study, and in 1828, being disabled for actual labor by a severe fall, he entered an academy at North Andover, Mass., intending to prepare for college, and ultimately to study law, for which pursuit his talents peculiarly fitted him; but after spending a year and a half at the academy he entered as a law student the office of William Baylies, Esq., of West Bridgewater. The confinement of the office, proving unfavorable to his health, together with the increasing demands of business at home, led him to cast in his lot with that of his father and his brother Oakes. In 1844 he entered into co-partnership with them, forming the house of Oliver Ames & Sons, and becoming the efficient co-laborer of his brother in the management of their great business. As early as 1826 he was much interested in the temperance movement, supporting the cause of total abstinence, of which from that time he was a consistent and earnest advocate, serving it actively, contributing to it largely, and being the first man in Easton to sign the total abstinence pledge.
Mr. Ames was a member of the Whig party, and at its dissolution joined the Republican party, taking a lively interest in its principles and measures. In 1852 he was elected to the Senate of Massachusetts by the Legislature,, there being no choice by the people, and did excellent service upon several important committees. He was elected to the same office in 1857 by popular vote. In some of the campaigns he made effective speeches upon the issues of the hour. In the year 1855 the Messrs. Ames built the Easton Branch railroad, and after this became interested in those important railroad enterprises in which the two brothers were so deservedly famous. Though Oakes Ames with characteristic courage took the initiative in constructing the Union Pacific railroad, yet the prosecution and completion of this magnificent undertaking was owing to the united efforts of the two brothers. In 1866 Oliver Ames was elected president of that railroad, an office he held with signal ability until March, 1871. During this time the road passed through some of its stormiest days and severest, trials. His sound judgment, great business capacity, and inflexible integrity were of immense service in carrying this great enterprise safely through difficulty and peril to final success. At Sherman, Wyo., the highest point reached by the Union Pacific railroad, the company erected a monument in memory of Oakes and Oliver Ames.
Oliver Ames held many positions of trust and responsibility. Besides his service as State senator he was a trustee of the Taunton Insane Asylum for some twenty years; was president of the National Bank of Easton, of the Ames Plow Company and the Kinsley Iron & Machine Company; a director of the Union Pacific, Atlantic & Pacific, Kansas Pacific, Denver Pacific, Colorado Central, Old Colony and Newport, and other railroads; also of the Bristol County National Bank, and other corporations. His public spirit led him to take great interest in enterprises of education, philanthropy and reform. He was identified with agricultural, historical and other societies, and willingly served for years on the board of school committee of Easton. He was always interested in the Unitarian Churches of Easton and North Easton, was very constant in his attendance upon religious services, and for several years was a Sunday school superintendent.
Mr. Ames stood among the foremost in his reputation for manly and unblemished character and for business ability — a reputation he well deserved. No one could be with him without seeing that he was a strong, substantial, able and honorable man. His name was felt to be a sufficient indorsement of 'the worth and promise of any enterprise.
Business cares were not allowed to engross all of Mr. Ames's attention. He continued to the last his interest in literature, kept himself familiar with the great questions that agitate thought and life, enjoyed the society of cultivated persons, and often surprised them by the clearness and comprehensiveness of his carefully formed opinions. In his character there were blended an admirable simplicity and a most cordial fellow feeling with a real dignity and refinement. He was noted for his generosity. No help was denied any object that commanded his confidence; but he shrank from all publicity in his benefactions. He had a high sense of honor, that was prompt to rebuke any-thing mean and dishonorable. He was not only a philanthropic but also a deeply religious man. Many of his benefactions have not been disclosed, but those he was known to have bestowed were most wisely made, and are doing a good that is incalculable. He gave a fund of $50,000 each for the schools, the roads and a free public library. He built and gave a beautiful church to the Unitarian Society. Besides these may be mentioned his gift of the Village cemetery, of Unity Church parsonage, and two other bequests to keep the church, parsonage and cemetery in repair.
On June 12, 1833, Mr. Ames married Sarah, born Sept. 23, 1812, daughter of Hon. Howard and Sally (Williams) Lothrop, of Easton. She died Feb. 28, 1890. Their children were:
Frederick Lothrop Ames, born June 8, 1835
Helen Angier Ames, born Nov. 11, 1836, who died Dec. 13, 1882
Oliver Ames died March 9. 1877, at North Easton, Massachusetts.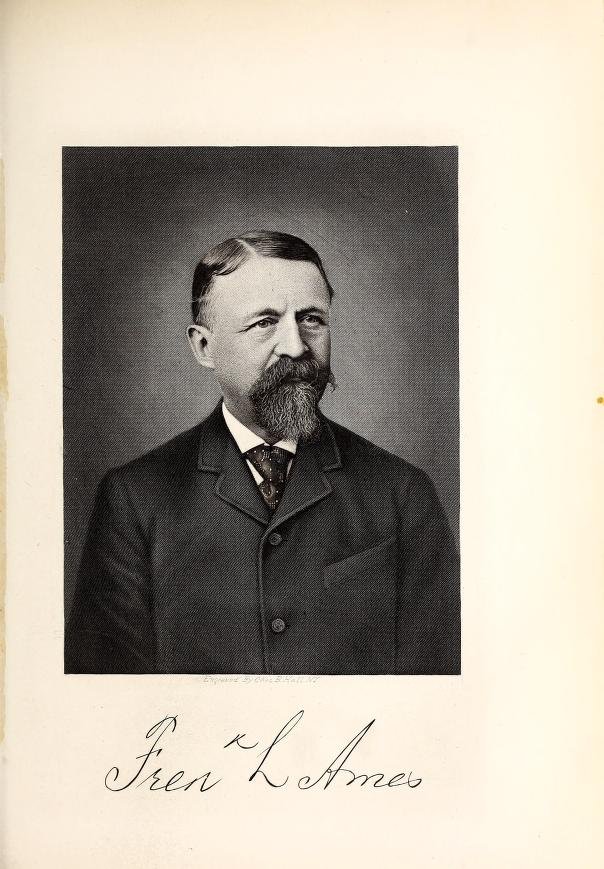 (XI) Frederick Lothrop Ames, A. B., son of Oliver and Sarah (Lothrop) Ames, was born June 8, 1835, in North Easton, Mass. He acquired wholesome home training and at the start laid the groundwork of his scholastic education in the neighborhood schools of Easton. He then for a time studied in a school at Concord, Mass., and later fitted for college in the famous preparatory school at Exeter, N. H., Phillips Academy. He passed from that institution to Harvard College, and graduated in 1854. At his graduation his inclination was to the study of law. But there was a call for him in the large family business. Yielding his own preference to his father's wishes, he took his place with his older kinsmen, and engaged at once in the service of the company at North Easton, making himself acquainted with their already widely extended and still extending business enterprises. He became a member of the firm in 1863, and its treasurer in 1876, when the reorganization took place. This office he continued to fill to the end of life. His advance as a man of business was from the first steady and sure, soon carrying him beyond the limits of the manufacturing plant at North Easton. Among the many New England men who have distinguished themselves and their section of the country by building up an exceptional prosperity, he had few equals in the capacity for seeing with a clear judgment and grasping with a firm hand the conditions of success. The construction of railroads in all parts of the country was developing its resources and these resources as they were developed demanded additional facilities for transportation and travel. Vast capabilities for opening and improving unoccupied regions presented them-selves to farseeing men. And now the country, plunged suddenly into civil conflict for its existence, had desperate need of expeditious communication between the Atlantic and Pacific oceans. But such enterprises involved extraordinary risks. Among the most sagacious of those who comprehended both the magnitude and the importance of these enterprises, and at the same time the risks, were the brothers Oakes and Oliver Ames. Patriotic observers all over the land welcomed their aid, applauded and indorsed their leadership. Frederick L. Ames was of the same blood. Not rashly but boldly he entered this field, took on himself with rare coolness and confidence heavy responsibilities in undertakings the results of which even the sanguine scarcely ventured to predict. His expectations were justified. And so conspicuously was his ability manifested, so approved his foresight by events, that his cooperation was sought at all points by those who had large, complicated and difficult projects of this nature in hand, till he held directorships in about threescore railroad companies, among them the Union Pacific, Chicago & Northwestern and Old Colony (afterward the New York, New Haven & Hartford). He was also president of the First National Bank of Easton, North Easton Savings Bank, Hoosac Tunnel, Dock & Elevator Company, director of the New England Trust Company, Old Colony Trust Company, Bay State Trust Company, all of Boston, Mercantile Trust Company, of New York, General Electric Company and many others.
It did not take men of discernment long to conclude that a man who had a head for the management of such far-reaching and intricate organizations was a desirable adviser and assistant in any sort of affairs requiring these qualities. Naturally he was solicited to become associated with many and varied corporate bodies. To some of these solicitations widely away from the transactions of business Mr. Ames lent a sympathetic ear, accepting official trusts and responsibilities in educational, charitable and religious organizations, in which he took a sincere interest, bringing to them the clear head so necessary as the complement to the warm heart. He was president of the Home for Incurables, a trustee of the Children's Hospital, of the Massachusetts General Hospital, of the McLean Insane Asylum, and of the Kindergarten for the Blind, a director of the Museum of Fine Arts in Boston, and "was very constant and faithful in his duties to those institutions." He was a fellow of the Corporation of Harvard College from 1888, till his death, and as a loyal son was devising liberal things for her benefit, the fulfillment of which only his death prevented. His greatest diversion from the engrossing cares of a busy life was in horticulture. Through his liberality the Arnold Arboretum and the botanical department of Harvard University were enabled to greatly extend their usefulness. For nearly thirty years Mr. Ames was an active member of the Massachusetts Horticultural Society, and for a long time one of its vice presidents and a member of the finance committee. He was also a trustee of the Massachusetts Society for the Promotion of Agriculture. In his country home at North Easton he had at the time of his death one of the finest collections of orchids in the world. Mr. Ames was a loyal son of his native town, devoting much time to its interests. The railroad station, built by Richardson, was his gift. With his mother and sister he largely increased his father's bequests to build the public library. He was a stanch upholder of his church, and both Unity Church in North Easton and the First Church in Boston had his reverent affection and support.
Mr. Ames was as far as possible from a devotee to the accumulation and dispensing of wealth. As his most intimate friends describe him, there were in him not only the elements of the naturalist and the artist, but of the student of literature and disciple of science; these had a developed life in him and leading influence with him. In the thick of the busiest engagements they claimed a just portion of his time and his care, showing their ruling presence in his conversation and in his character. He not only let the accomplished architect build for him, he meditated and studied the structure for himself. He not only bought and placed the picture that others approved and admired, he, too, admired it and knew wherein it was admirable. His books not only ornamented his shelves, ha had them down and read them. When he came home he left his business outside, not seeming merely to have turned in for rest and refitting for the next campaign among the competitors for fame or fortune. He was a man of strict integrity, sound judgment, strong and cultivated intellect, a self-poised, self-respecting, vigorous character, conversant with and interested in all the great questions of the day, with decided literary and intellectual tastes, a lover of the beautiful in nature and art. Mr. Ames was a politician in the best sense, in that he loved his country, studied its institutions and policies, and put himself in its service in any place where he was needed. His preference was for a private life. He died Sept. 13, 1893.
On June 7, 1860, Mr. Ames was married to Rebecca Caroline, born Dec. 30, 1838, only child of James Blair, of St. Louis, Missouri. She died Jan. 20, 1903. Six children were born to them, of whom five survive the father, namely:
Helen Angier Ames, who married Robert C. Hooper, of Boston, and died Feb. 13, 1907
Oliver Ames
Mary Shreve Ames
Frederick Lothrop Ames
John Stanley Ames
Henry Shreve Ames, born March 20, 1861, died Oct. 18, 1861
(XII) Oliver Ames (2), son of Frederick Lothrop and Rebecca Caroline (Blair) Ames, was born Oct. 21, 1864, in North Easton, Mass. He acquired his education at Adams Academy, Quincy, Mass., at George C. Noble's school, Boston, Mass., and in Harvard University, from which latter institution he was graduated in 1886. Soon after the latter event he entered the Oliver Ames & Sons Shovel Works, then a corporation, at North Easton, Mass., and has ever since been actively identified with the extensive business of that concern. After his father's death, in 1893, he became one of the trustees of his estate and is director of many railroad and trust companies. He was married Dec. 3, 1890, to Elise Alger West, of Boston, and their children are:
Elise Ames, born Aug. 14, 1892
Olivia Ames, Nov. 18, 1893
Oliver Ames, Jr.. April 8, 1895
Richard Ames, Aug. 27, 1896
(XII) Frederick Lothrop Ames, son of Frederick Lothrop and Rebecca Caroline (Blair) Ames, was born in North Easton July 23, 1876, was educated at the Groton School and Harvard College, graduating in 1898. He has extensive interests. On May 13, 1904, he was married to Edith Callender Cryder, daughter of Duncan Cryder, of New York. They have two children:
Frederick Lothrop Ames, Jr., born May 1, 1905
Mary Callender Ames, born Sept. 20, 1908
(XII) John Stanley Ames, youngest son of Frederick Lothrop and Rebecca Caroline (Blair) Ames, was born at North Easton Feb. 15, 1878, and received his education in the Hopkinson School, Boston, and Harvard College, graduating from the latter in 1901. He was married April 17, 1909, to Anne McKinley Filley, daughter of Oliver W. Filley, of St. Louis, Missouri. They have one son:
John Stanley Ames, Jr., born March 26, 1910
---