NOBLE PARKER SWIFT died July 15, 1911, at his home in Sagamore, Barnstable Co., Mass., where he had resided all his life. The last of a large family, several of whom made the name of Swift famous in the commercial world as beef packers, he was himself one of the most successful business men of his section, an extensive land owner, engaged in cattle dealing, butchering and cranberry culture, and active through his long lifetime. Mr. Swift lived in the town of Bourne. He was a descendant of one of the oldest and best known families of Cape Cod, and was born in what is now Sagamore, in the town of Bourne (then West Sandwich), Sept. 5, 1830, son of William Swift.
William Swift, the founder of the family on Cape Cod, was a native of Bocking, County of Essex, England, and came to New England in 1634, stopping first at Watertown, of which he was a proprietor in 1636. He sold his property there in 1637 and removed to Sandwich, where he spent the remainder of his life and where he died about 1641. His wife Joan bore him two children, William and Hannah, and after the death of her husband she married Daniel Wing, Nov. 5, 1642. She died Jan. 31, 1664.
William Swift (2), son of William, born in England, came to the New World with his parents and settled at Sandwich, Barnstable county. He represented his town in the General Court, 1673, 1674, 1677 and 1678. He died in the latter part of 1705. To him and his wife Ruth were born the following children:
William, born Aug. 28, 1654
Ephraim, born June 6, 1656
Mary, born April 7, 1659
Samuel, born Aug. 10, 1662
Josiah
Jireh
Temperance
Esther
Dianah
William Swift (3), son of William (2), born Aug. 28, 1654, was a carpenter by occupation and made his home at Sandwich, where he died in 1701. To him and his wife Elizabeth were born children as follows:
William, Jan. 24, 1679
Benjamin, 1682
Joseph, November, 1687
Samuel, December, 1690
Joanna, March 9, 1692 (married Thomas Gibbs, of Sandwich)
Thomas, December, 169-
Elizabeth (married John Gibbs in November, 1716)
Thankful (married Benjamin Morey, Nov. 3, 1715), twins, Jan. 11, 1696
Josiah
Ebenezer
Joseph Swift, son of William (3), born at Sandwich in November, 1687, made his home there. His first wife was named Mercy, and on March 4, 1730-31, he married (second) Mrs. Rebecca Clark Ellis Morton, a widow. Seven children were born to the first union:
William, Feb. 26, 1711
Joan, Dec. 4, 1713 (married in 1743 Joseph Glover, of Wareham)
Joseph, Jr., Sept. 4, 1716
Joshua, Feb. 14, 1717-18
Martha, May 4, 1719
Mercy, March 16, 1721-22
Thomas
Thomas Swift, son of Joseph, was born in the town of Sandwich, where he made his home. He married there Abigail Philips, on Nov. 15, 1752, and their children were born as follows:
William, Sept. 4, 1753 (died young)
Clark, Sept. 22, 1755
Rebecca, Feb. 12, 1760 (married Seth Swift, in 1777)
Joseph, June 30, 1762
Nathaniel, Dec. 31, 1764
Maria, April 27, 1767 (married Jonathan Beale, of Braintree, Mass.)
Thomas, May 13, 1772
William (2), May 11, 1777
Levi, May 13, 1780
Nathaniel Swift, son of Thomas, born in what was then the town of Sandwich, Dec. 31, 1764, grew to manhood there. He made farming his occupation, and became a rather extensive land owner at Scussett, being able to give a farm to each of his sons. His homestead adjoined the late Noble Parker Swift's place. He died March 25, 1843, and is buried in what is now the Sagamore cemetery. He gave the lot on which the old Methodist church was built, on condition that after the church was discontinued there the property was to revert to the family. On Nov. 24, 1785, he married in the town of Plymouth, Elizabeth Ellis, and they had children as follows:
Ellis, born Sept. 12, 1786
Maria, born Oct. 19, 1788, who married Jan. 27, 1808, Bartlett Ellis
Rebecca Phillips, born June 18, 1791, who married Dec. 24, 1811, Samuel Savery, of Wareham
Clark, born Sept. 3, 1793, who married Experience Gibbs
William, born Sept. 20, 1795
Nathaniel, born June 30, 1800, who died in 1818
Levi, born Sept. 20, 1803, who married July 29, 1837, Hannah N. Burgess, and had eight children, three of whom are still living

Hannah (wife of H. E. Crowell)
Rebecca M.
Mary B., both the latter unmarried (he was engaged in the meat business, also kept store and farmed).
William Swift, son of Nathaniel, was born on the old homestead Sept. 20, 1795, and settled upon the farm given him by hie father. He became a pioneer in the dressed beef business, buying his cattle in the Brighton Market and driving them to West Sandwich, where he slaughtered them, selling the dressed meat to the Cape butchers. It was he who laid the foundation of the dressed meat business as now conducted and his sons who succeeded him in that line have made the Swift name known all over the world. Mr. Swift made his home in what is now Sagamore, where his whole life was spent, and left a name worthy of the respect and honor it received. He died at his home and is buried, in Sagamore cemetery. On Dec. 20, 1818, Mr. Swift married Aurilla Parker, who died without issue, and he married (second) June 9, 1822, Sally Sears Crowell. She was the mother of the following children:
Aurilla Parker, born Feb. 22, 1823, married April 2, 1839, William Price
William, born Dec, 22, 1824, married Sarah B. Handy, Nov. 24, 1853, and was engaged in the meat business in Boston, where he died
Edmund Crowell, born June 20, 1826, was lost at sea in 1839, at the age of thirteen years
Noble Parker was born Sept. 5, 1830
Adaline A., born Sept. 29, 1832, married Francis D. Handy, May 6, 1850
Caroline B., born April 9, 1835, married May 5, 1853, Josiah B. Hallett
Nathaniel, born June 29, 1837, became engaged in the meat business in Chicago (he married Celia Cornish)
Gustavus F., born June 24, 1839, also a meat packer of Chicago, married Annie M. Higgins, of Eastham
Sarah E., born Oct. 17, 1841, died young
Edmund Crowell, born Sept. 24, 1844, died Sept. 30, 1845
Edwin Carleton, born Aug. 15, 1846, died in infancy
Edwin Carleton (2), born March 18, 1849, engaged in the meat business in Boston, Mass. (he married Florence A. Bailey April 18, 1872). All this family are now deceased.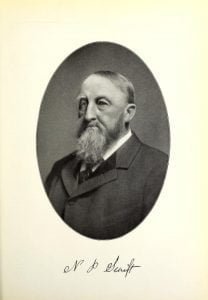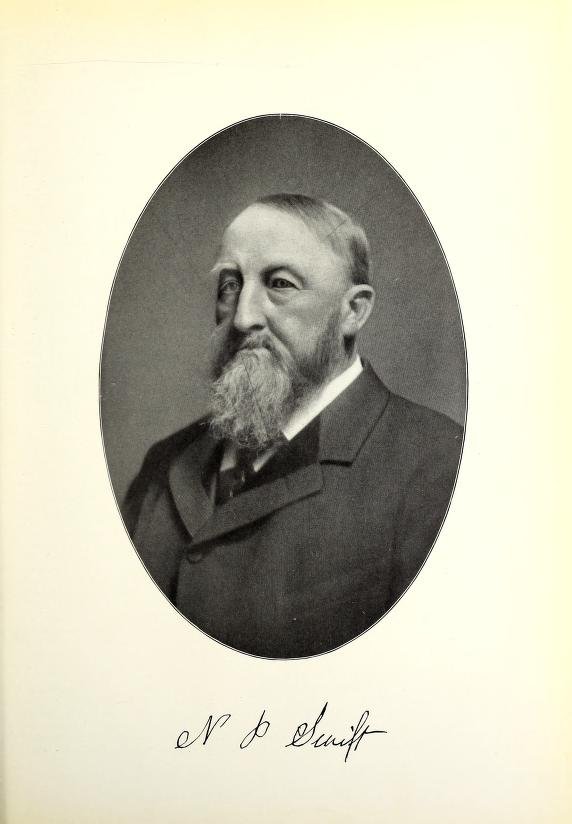 Noble Parker Swift, son of William, obtained his education in the local school. At an early age he began to assist his father in the cattle and meat business, driving cattle, sheep and hogs from Brighton to West Sandwich either with his father or uncle Levi. The cattle were butchered and dressed and sold to the meat dealers along the Cape, and from this beginning grew the great packing industry which has made the Swifts so widely known. He was associated with his brothers when they started in the dressed meat business and gave them financial assistance, and later he held an interest in the Chicago business. He always remained at the old home, however, giving his who e time and attention to his business affairs. He became one of the largest land owners in his section of the Cape. He continued to follow the cattle and butchering business there for many years, making a success of his enterprise.
A man little given to display, he went along in the easy tenor of his way unassumingly, quietly, but showing the force of his character in anything to which he gave his attention. Through his keen foresight and business sagacity he accumulated a fortune. He was interested largely in farming and owned many cattle, and he also engaged in cranberry culture.
Mr. Swift was a man of fixed ideas, conservative, independent in action, doing what he thought was right and not afraid to speak his mind when he considered it necessary, whether in town meetings or anywhere else. In political sentiment he was a Republican, but he took no active part in party affairs and filled no office. He was the last surviving member of his generation.
On Nov. 30, 1854, Mr. Swift married Sarah Elizabeth Hallett, daughter of Deacon Ezekiel and Patience (Smith) Hallett. She died Sept. 16, 1862, and was buried in Sagamore cemetery. Mrs. Swift left three children:
Henry Noble, born July 18, 1856, married Oct. 30, 1878, Lottie E. Howes, and resides in Newark, N. J., engaged in the meat business. Mr. and Mrs. Swift have two children, Ralph and Noble Parker (2d).
Nathan Smith, born Dec. 4, 1859, died Feb. 1, 1881.
Clara Williams, born Jan. 14, 1862, married Jan. 3, 1882, Albert K. Lovell, by whom she had one child, Elsie Hallett, born March 23, 1883, who married Ralph L. Small, of Dennis Port, Mass., and died July 17, 1905, leaving one child, Hazel Geneva. For her second husband Mrs. Lovell married April 20, 1893, Elmer H. Marang, a native of Ellsworth, Maine, son of Clark and Frances (Remick) Marang, of that place. Mr. Marang was engaged in the cooper business and is now managing the estate of his father-in-law. Mr. and Mrs. Marang have had three children:
Hazel Geneva, born Jan. 24, 1895, who died Jan. 23, 1901
Edith Elizabeth, born July 16, 1897
Elmer Natie, born April 12, 1900
Mrs. Marang was only an infant when her mother died, and she was a devoted daughter, looking after her father's home comfort to the end of his life.
---