SEABURY – variously spelled Sebury, Saberry, Saberrey and Sabury. The American ancestor of the Seaburys of New Bedford was
(I) John Seabury, of Boston, who died before 1662. He married Grace, and had two sons – John (who went to Barbados) and Samuel (born Dec. 10, 1640) – and several daughters.
(II) Samuel Seabury, son of John, born Dec. 10, 1640, died Aug. 5, 1681. He married at Weymouth Nov. 9, 1660, Patience Kemp, who died Oct. 29, 1676. He married (second) April 4, 1677, Martha Pabodie, daughter of William and Elizabeth (Alden) Pabodie and granddaughter of John and Priscilla (Mullins) Alden of the "Mayflower." His children were:
Elizabeth, born Sept. 16, 1661, who probably removed from the town, as in her mother's will she was given a negro girl Jane and a cow "if she returns";
Sarah, born Aug. 18, 1663;
Samuel, born April 20, 1666;
Hannah, born July 7, 1668;
John, born Nov. 7, 1670;
Grace and Patience, twins, born March 1, 1673 (all born to the first marriage);
Joseph, born June 8, 1678; Martha, born Sept. 23, 1679;
John, who married Elizabeth Alden on Dec. 9, 1697 (to the second marriage).
Samuel Seabury, the father, was a physician and removed to Duxbury, Mass. His will gives to his son Samuel his landed property in Duxbury; to son Joseph "those great silver buttons which I usually wear"; to son John "my birding piece and musket. I will that my negro servant Nimrod (valued at twenty-seven pounds) be disposed of either by hier or sale in order to bring up my children, especially the three youngest now born."
(III) Joseph Seabury, son of Samuel, removed to what is now Little Compton, R. I., and there married Sept. 25, 1701, Phebe Smith. He died Aug. 22, 1755, and she April 21, 1715. Their children were:
Samuel, born June 5, 1702;
Martha, Feb. 7, 1704;
Joseph, Dec. 2, 1705;
Benjamin, Jan. 20, 1708 (died March 11, 1773);
Sion, March 17, 1713;
Mary, April 17, 1715.
(IV) Sion Seabury, son of Joseph, born March 17, 1713, married in Tiverton, R. I., Anna Butts, born March 28, 1709. He died Aug. 10, 1801. They became the parents of six children:
Aaron, born Aug. 6, 1733;
Joseph, June 20, 1736;
Philip, Dec. 6, 1740;
Alice, Dec. 8, 1742;
Peleg, June 13, 1745;
Dorcas, Jan. 9, 1748.
(V) Philip Seabury, son of Sion, born Dec. 6, 1740, married Sarah, and became the father of:
David, born May 31, 1767;
Cornelius, May 2. 1769;
George, July 27, 1771;
Pearce, Jan. 1773;
Mary, April 6, 1777;
Job, June 23. 1781.
(VI) Cornelius Seabury, son of Philip, born May 2, 1769, married in Tiverton, R. I., in 1795, Mary Gray, daughter of Col. Pardon and Mary Gray and a descendant of Edward Gray, who was brought over on the "Mayflower" by Governor Winslow when eighteen years of age and became a rich merchant; he married Mary Winslow, daughter of John Winslow, who was a brother of the Governor. From (I) Edward and Mary (Winslow) Gray. Mrs. Seabury's line was through (II) Edward and Mary (Smith), (III) Philip and Sarah, (IV) Philip and Deborah (Bailey) and (V) Pardon and Mary.
To Mr. and Mrs. Cornelius Seabury were born – all in Tiverton – the following children:
Pardon Gray, born March 28, 1796, married Sarah Borden;
Jane Gray, born Oct. 7, 1797, married Andrew Corry;
Harriet, born Nov. 9, 1799, married Frederick Almy;
Joseph was born Feb. 5, 1802;
Nancy, born Sept. 29, 1804, married Rev. Jared Reed;
Alexander Hamilton, born Nov. 28, 1806, is mentioned below;
Cornelius, born July 9, 1808, married;
Mary, born Jan. 28, 1810, married Oliver Hicks;
Maria Mary, born May 14, 1815, married Gideon Durfee;
Sarah, born Jan. 27, 1818, married Frederick Slocum;
Benjamin Franklin, born Nov. 24, 1819, married Emily Manchester;
Cornelia, born Sept. 6, 1821, married Lewis P. Mead.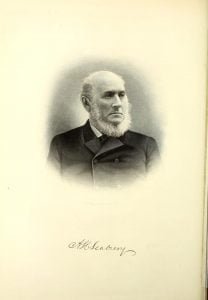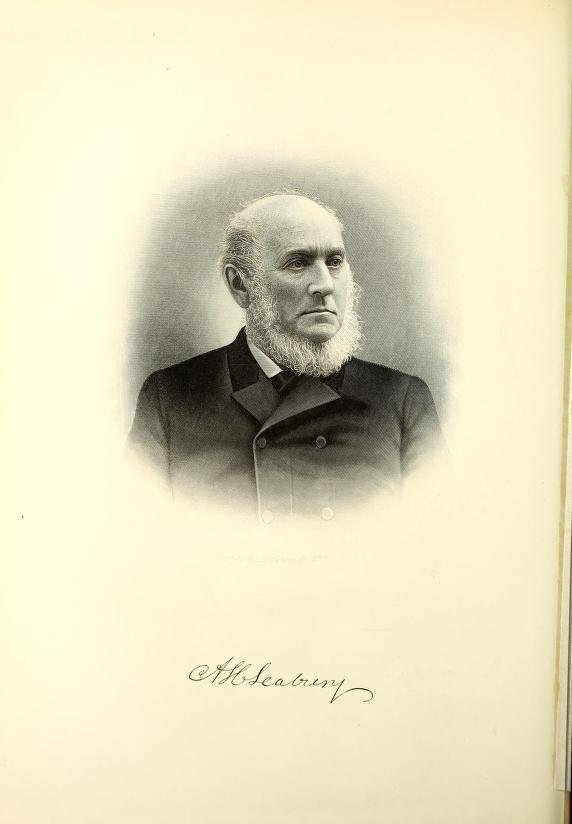 (VII) Alexander Hamilton Seabury, son of Cornelius and Mary, who died in New Bedford July 17, 1887, in the eighty-first year of his age, was one of the most prominent business men of that place. When a mere lad he commenced his business career in a grocery store, of which he eventually became proprietor – an early evidence of the remarkable business ability which he exhibited in the management of larger interests in later years. When twenty-seven years of age he came to New Bedford and opened a grain and provision store, which he conducted for twenty-five years, having as partners, from time to time, his brother, Pardon G. Seabury, Joseph C. Ricketson and (from 1845 to 1857) his nephew, Albert G. Corry. In the year 1857 William Baylies and Nathaniel S. Cannon were admitted into the firm, and upon the death of Mr. Corry the active management was taken by them, although Mr. Seabury still retained an interest and gave the firm the benefit of his advice and experience. For many years he successfully conducted various other enterprises. He established packet lines to New York and Albany, and his vessels brought large quantities of grain and flour to this market. He also became heavily interested in the business of packing beef and pork in association with men in Indiana. Much of this product was used in fitting out New Bedford whalers. He was agent from 1836 to 1841 for five whale ships, and later became an extensive owner of whale shipping. He also engaged in stock raising and in real estate enterprises near the city of Lafayette, Ind. Mr. Seabury was one of the leading spirits in the development of the city of New Bedford as a manufacturing center, having invested in nearly every industrial concern started in the city. He was one of the chief promoters of the Mount Washington Glass Works and the Pairpoint Manufacturing Company; he was one of the incorporators of the Five Cents Savings Bank, and for many years its vice president; a director of the First National Bank, and of a number of cotton manufacturing corporations of New Bedford and Fall River.
On Aug. 23, 1830, in Taunton, Mr. Seabury married Louisa Crandall (see Crandall family), a native of Tiverton, R. I., and a member of a prominent Rhode Island family. She died in New Bedford March 7, 1887. One daughter and one son were born to them: Louisa B., who married Edward Haskell, of New Bedford; and Alexander Hamilton, who died young. Mr. Seabury was a man of strong personality and possessed an indomitable will. He was a most public-spirited man, and his name will go down as one who aided materially in the development of New Bedford.
(IV) Benjamin Seabury, born Jan. 20, 1708, son of Joseph and Phebe (Smith) Seabury, married in 1733, Rebecca Southworth, born Dec. 22, 1708, daughter of Edward and Mary. He died March 11, 1773. Their children were:
Mercy, born Aug. 13, 1734; Mary, Jan. 25, 1736;
Rebecca (twin to Mary), Jan. 25, 1736;
Ruth, Nov. 26, 1739; Benjamin, Jan. 24, 1743;
Fobes, March 29, 1745 (died June 4, 1746);
Gideon, March 1, 1747 (died Oct. 29, 1827);
Constant, June 19, 1749;
Isaac, Nov. 3, 1751.
(V) Constant Seabury, son of Benjamin and Rebecca, born June 19, 1749, married Susanna Gray. He died in January, 1807. His children were as follows:
Hannah, born March 19, 1772, died in 1776.
Phebe, born April 17, 1774, died in 1776.
Isaac, born March 19, 1776, died Oct. 20, 1850. On Dec. 15, 1797, he married Abigail Simmons.
Phebe born May 13, 1778, married George Seabury Nov. 2, 1800.
William, born May 22, 1780, is mentioned below.
Hannah, born July 29, 1782, married Josiah Wilcox.
Bridget, born Sept. 14, 1784, married Isaac Cook.
Ichabod, born Nov. 18, 1786, married Hannah Lowry, and went to Galway, N. Y.
Robert Gray, born July 10, 1789, married Caroline Woodman, daughter of Edward and Priscilla Woodman.
Elizabeth, born Nov. 16, 1792, married Daniel Wilcox.
(VI) William Seabury, son of Constant, born May 22, 1780, married April 12, 1807, Rhoda Woodman, who was born Dec. 11, 1786, daughter of Edward and Priscilla Woodman. She died Jan. 2, 1833, and he married (second) Feb. 16, 1834, Sally Woodman, born April 15, 1785, a sister of his first wife; she died Nov. 19, 1874. His children, all by the first union, were:
Otis, born Sept. 1, 1808, married Caroline Amelia Bailey.
Edward Woodman, born Jan. 3, 1810, married Martha Thurston Heath.
Louisa, born Nov. 10, 1811, married Benjamin Cushman, and died Nov. 3, 1895.
William Harrison, born Nov. 15, 1813, married Lydia A. Brownell, and died Jan. 27, 1897.
Julia Ann, born May 19, 1815, died Jan. 12, 1892.
Humphrey Woodman, born June 28, 1817, died June 28, 1891. He married (first) Mary B. Wilcox and (second) Susan M. Gifford.
Charles Pinckney, born Aug. 16, 1820, married Sarah Wilcox, and died Dec. 21, 1890.
Jason, born Nov. 2, 1822, was lost in the Arctic ocean in 1853.
Andrew Jackson, born May 17, 1826, died Sept. 22, 1826.
---