THOMAS ROTCH RODMAN died in New Bedford Dec. 18, 1905. In writing of his influence and character William L. Sayer most aptly summed up the real achievement of his life as follows: " 'What is it ?' asked a discriminating Englishman, 'what is it to be a gentleman? Is it to have lofty aims, to lead a pure life, to keep your honor virgin; to have the esteem of your fellow citizens and the love of your fireside; to bear good fortune meekly; to suffer evil with constancy; and through evil or good to maintain truth always?' This was Mr. Rodman, brave, courteous, loyal, the living example of the genuine Christian citizen, patriot, friend and man."
The Rodman family was early settled in Massachusetts. The first of the name of whom there is authentic record was John Rodman, who died on the island of Barbadoes some time between Sept. 16 and Dec. 4, 1686. Rutty's "History of the Quakers in Ireland" says of him:
"In the year 1655, for waring his hat on in the Assizes in New Ross, was one John Rodman committed to Gaol by Judge Laneler, kept a prisoner for three months and then banished the country."
Banishment no doubt followed because he refused conscientiously to purge himself of the contempt of court. It is probable that he went at once to Barbadoes. His will was made and approved there, where he had become a planter of prominence. His wife's name was Elizabeth, and their children were:
Thomas Rodman, born Dec. 26, 1640
John Rodman, born in 1653; Annie
Katharine Rodman
Thomas Rodman, son of John, born Dec. 26, 1640, came to Newport, R. I, from the island of Barbadoes in 1675, with William Edmundson, a "Friend," who was on a religious visit to Barbadoes. He (Thomas) was a prominent member of the Society of Friends, and was clerk of the monthly, quarterly and yearly meetings for thirty years. He was also the first clerk of the New England Yearly Meeting, which position he held until 1718, He was an eminent physician and surgeon. His death occurred Jan. 11, 1728. He was three times married, but the name of his first wife is unknown. On June 7, 1682, he married (second) Patience Malines, widow of Robert Marines (who died Aug. 31, 1679) and daughter of Peter and Ann Easton. Mrs. Patience Rodman died Nov. 21, 1690, and Thomas Rodman married (third) Nov. 26, 1691, Hannah Clarke, daughter of Gov. Walter Clarke, of Rhode Island. The children of the second marriage were:
Thomas Rodman, born Nov. 11, 1683
Anne Rodman, born Nov. 16, 1686
By the third marriage there were:
Hannah Rodman, born Nov. 29, 1694
Clarke Rodman, March 10, 1699
John Rodman, Sept. 29, 1701
Samuel Rodman, July 23, 1703
Patience Rodman, June 5, 1706
William Rodman, Nov. 12, 1708
Samuel Rodman, son of Thomas, born July 23, 1703, was elected justice of the peace of Newport, R. I., in May, 1739. At Flushing, R. I., May 16, 1723, he married Mary Willetts, daughter of Col. Thomas Willetts. He died Feb. 27, 1749, and his widow passed away May 21, 1756. Their children were:
Thomas Rodman, born Feb. 29, 1724
Hannah Rodman, Sept. 12, 1725
Anna Rodman, 1727
Charity Rodman, Jan. 25, 1728
Samuel Rodman, March 31, 1730
William Rodman, March 18, 1732
Elizabeth Rodman, May 28, 1736
Mary Rodman, in 1738
John Rodman, 1740
Thomas Rodman, son of Samuel, born Feb. 29, 1724, was lost at sea on the passage from Honduras Nov. 16, 1766. On April 5, 1750, he married Mary Borden, daughter of Abraham and Elizabeth (Wanton) Borden, of Newport, granddaughter of Mathew Borden and great-granddaughter of Richard Borden. She was born in May, 1729, and died Feb. 19, 1798. They were the parents of eight children:
Elizabeth Rodman, born March 2, 1752 (died young)
Samuel Rodman, Nov. 11, 1753
Mary Rodman, May 18, 1757
Elizabeth Rodman, March 3, 1759
Anna Rodman, June 24, 1761
Sarah Rodman, April 20, 1764
Hannah Rodman April 20, 1764 (married S. R. Fisher)
Charity Rodman, Oct. 31, 1766
Samuel Rodman, son of Thomas, born in Newport, R. I., Nov. 11. 1753, died at New Bedford, Mass., Dec. 24, 1835. His father perished at sea, leaving the widowed mother with seven children, of whom Samuel, then thirteen years old, was the eldest. His early life was spent in a counting room in Newport, but after his marriage he established himself at Nantucket, becoming in succession a member of the two firms of William Rotch & Sons, the latter being organized to carry on the Dunkirk whale fishery. On the dissolution of the partnership Mr. Rodman was thereafter in business by himself, engaged largely in whale fishing, first at Nantucket and later at New Bedford, to which town he removed with his family in 1798. He left a large estate, the accumulation of which was in a great degree due to his trained mercantile ability. He was a man of great intelligence, of education superior to that of most of his contemporaries, of upright and benevolent character and endowed with physical perfection. On June 1, 1780, he married Elizabeth Rotch, born Dec. 9, 1757, daughter of William and Elizabeth (Barney) Rotch. She died Aug. 2, 1856. She was
"admirable in all the relations of life and was regarded by children, grandchildren and great-grandchild, by remote kindred and by friends, with reverent affection."
The children born of this marriage were:
Mary Rodman, born June 14, 1781
Eliza Rodman, Sept. 24, 1782
Thomas Rodman, June 21, 1784
William Rotch Rodman, April 4, 1786
Anna Rodman, Nov. 5, 1787
Lydia Rodman, Sept. 15, 1790
Samuel Rodman, March 24, 1792
Sarah Rodman, Oct. 31, 1793
Benjamin Rodman, Nov. 25, 1794
Samuel Rodman, son of Samuel and Elizabeth, born in Nantucket March 24, 1792, died Aug. 1, 1876, at New Bedford, where he had become a leading merchant and manufacturer. The present leading industry of New Bedford is the manufacture of cotton goods, and the success in this line may in some degree be attributed to Mr. Rodman and his son Thomas R., in turn, for their valuable meteorological observations and records, begun by Samuel in 1812, and carried on daily by him throughout his life, and continued by his son. The data they collected showed the peculiar adaptability of the local atmospheric conditions to the processes of weaving and spinning. Samuel Rodman was a birthright member of the Society of Friends, and was active in the work of the meetings. He was an ardent worker in the Antislavery cause and in temperance work. All local charitable and educational movements found in him a warm supporter and friend, and he was largely instrumental in the establishment of the Free Public Library, and for sixty-three years a trustee of the Friends' Academy. On Nov. 2, 1819, he married Hannah Haydock Prior, born Sept. 11, 1794, who died Dec. 5, 1876. Their children were:
Mary Rodman, born Dec. 20, 1820 (died in 1821)
Mary Rodman, Jan. 18, 1824
Edmund Rodman, Jan. 18, 1824
Thomas Rotch Rodman, Sept. 27, 1825
Francis Rodman, July 27, 1827
Susan Emlen Rodman, Aug. 19, 1829
Charles Rodman, Aug. 6, 1831
Ellen Rodman, Oct. 16, 1833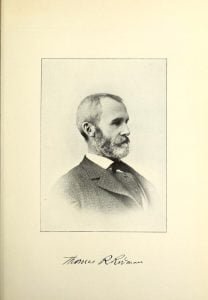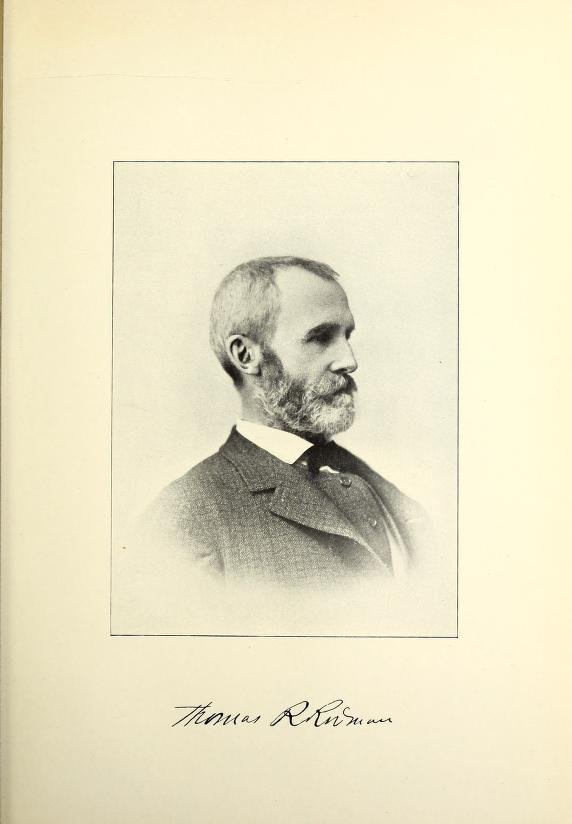 Thomas Rotch Rodman, son of Samuel and Hannah, was born at New Bedford Sept. 27, 1825. He acquired his education in the Friends' Academy, New Bedford, Haverford College and Harvard College, graduating from the latter institution in 1846, and having as his classmates and lifelong friends such men as George F. Hoar, United States senator, Prof. Charles Eliot Norton, Prof. George M. Lane, Prof. Francis J. Child, and others whose names rank among the distinguished men of the nation. In the years that followed his school days Mr. Rodman never lost his love for study, and through all the changes of his daily life, the cares of business and the strife of war he retained his keen sense and appreciation of the best in classical and modern literature, the advance of science and the progress of all movements for the betterment of social and civic conditions. In 1845 he was one of fourteen young men who formed a literary society known as the Blue Club, whose meetings continued for many years to be of great interest. He was a supporter of the New Bedford Lyceum, at one time its vice president, and often on its lecture committee, while he himself was a lecturer of no mean ability. From 1899 until his death he was vice president of the Brooks Club. From 1856 until his death he was a trustee of the Friends' Academy, in the establishment and management of which the Rodmans had always played an active part. From 1857 to 1860 he was a member of the school board, and again in 1878 and 1879, by virtue of his position as president of the common council. After the close of the Civil war Mr. Rodman lived in the West for several years, and while there became interested in the cause of the Indian, and he afterward devoted much time to the Association for the Uplifting and Relief of the Indians of the United States, of which he was president. Many philanthropic movements received his aid.
Through Mr. Rodman's interest in local history much of the earlier history of his community has been preserved. He gathered much data that proved valuable to local historians, and he was ever ready to assist in the preservation of the tales of those early days. He was a charter member of the Old Dartmouth Historical Society, and its vice president from the time of its organization until his death.
Above all was Mr. Rodman a lover of his country. Though nurtured with all a Quaker's abhorrence of war, with his own tastes leading him along the lines of study, he responded to the call of patriotism, and in the summer of 1862 he assisted his cousin, William Logan Rodman, to organize Company H, 38th Mass. V. I., and was mustered into service Aug. 21, 1862. His cousin having been made major, he was himself commissioned captain of the company, and after only ten days in camp was ordered to the front, where he served until transferred to the quartermaster's department. He engaged in the battle of Bisland, and in the siege of Port Hudson, during which there were two unusually severe engagements, his cousin, Lieut. Col. William Logan Rodman, giving up his life in the second, May 27, 1863. A comrade thus described Captain Rodman:
"In the midst of battle he regarded not self, and while there was a pallor on his face, indicating the realization that at any moment the whizzing bullet or the screaming shell might cut off suddenly his life, with compressed lips and face to the enemy he unflinchingly performed his full duty. In one of our battles during the siege of Port Hudson I remember he stood erect when everybody else was lying down, for we were close to the enemy's breastworks, and not until some of us pled with him did he change his position. Under his leadership, no matter what the risk, his men obeyed his orders, and he never demanded more of them than he himself was ready to do… He was ever solicitous of the comfort of his men, and the encouraging words spoken to them in hospital were inspiring and helpful. He was tender and considerate when a comrade died and the sad information to the comrade's friends conveyed by him was couched in words of sympathy which were of real comfort to those bereaved."
Captain Rodman would have wished to remain always with his company, but his ability was recognized by superior officers, and he was detached, Sept. 28, 1863, and until the close of the war served on special staff duty. On July 14, 1865, at the old railroad station on Pearl street, he again welcomed "his boys," and then as they marched through the home streets he with characteristic courtesy and humility re-fused to lead them, falling back into the ranks, since, although their captain, for two years they had marched under another's leadership. The ties of comradeship thus engendered were ever afterward the strongest interests of his life. At an early date he joined Post No. 1, G. A. E., and in 1888 became a member of Richard A. Pierce Post, No. 190, and in 1891 and 1892 was its commander — the only comrade of the post to serve two consecutive years in that office. He also served as commander of the Bristol County Grand Army of the Republic Association. To the comrades he was ever the firm friend and ready helper. He was faithful in attendance at camp fires and reunions.
After the war he went to Colorado, where he was in charge of certain gold mining operations for several years, and he later purchased a farm near Lawrence, Kansas, where he lived until about 1871. When he returned to the East he was associated with William J. Rotch and Leander Plummer for a time, and then entered the employ of the Wamsutta Mills, in April, 1880, continuing there until April, 1890, when he retired from active business life.
While his ancestors were so conspicuous in the Society of Friends, and he himself was reared in that faith, he later became a devout member of the Protestant Episcopal Church, and was an earnest supporter of the faith of his adoption, serving as vestryman and as senior warden of Grace Church in New Bedford, and for many years representing the parish in the diocesan conventions. He preserved, however, to the last the traits of spirituality and simplicity which characterize the Friends. He uncompromisingly adhered to what he thought was right, he hated trickery and hypocrisy, and he was a man of high ideals and strong prejudices. Because of all these to some he appeared cold and stern, but to a worthy call he was all tenderness, to his friends he was genial and kindly, and in his home a wise and loving father.
Mr. Rodman at his death left three children, namely:
Julia W. Rodman is a resident of New Bedford.
Effie Rodman married George W. Goethals, then a lieutenant in the engineer corps of the United States army and at present lieutenant colonel and chief of commission (chairman and chief engineer) in the construction of the Panama canal. They have two sons

George Rodman (a graduate of West Point Military Academy, and now a lieutenant in the engineer corps, U. S. A.)
Thomas Rodman

Samuel Rodman was formerly in the United States army.
---