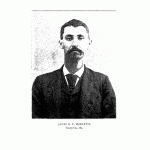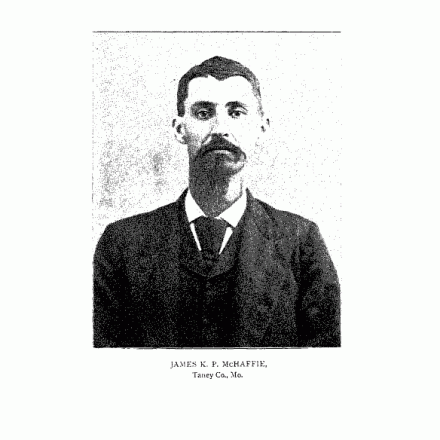 Among the early families to come to this State and carve out homes for themselves in the then almost unbroken forest, were the McHaffies, who settled in the Ozark Mountains, where they identified themselves with progress and development. They were of that moral and personal integrity which go to make up the model American citizen, and were valuable acquisitions to the region in which they settled, which was then in need of honorable, substantial and permanent residents.
David McHaffie, the father of our subject, was one of the early pioneers and came to the Ozark region with two brothers, John and Hugh McHaffie, and David McHaffie. He took up land in what is now Christian County. Hugh, who had a wife and child, died many years ago. John died in 1887. He reared a family and one of his sons is living on the old homestead, first settled by the father. David McHaffie was born in the grand old State of Virginia, November 4, 1806, and was a son of Andrew McHaffie, one of the pioneers of Virginia. David was a young man, twenty-eight years of age, when he started to the far West, and he made the trip by wagon from Knox County, Tennessee, where he had lived from the time he was five years of age, his father having moved from Virginia to Tennessee, when David was that age. The latter learned the tanner's trade in Tennessee and was married in Knox County, a few years before coming to Missouri. He selected his wife in the person of Miss Catherine Sherrid. and this ambitious young couple were many weeks on the road, and after reaching Missouri took up a claim in Springfield. This claim consisted of 160 acres, but a year later he gave this up and moved to the old farm in what is now Christian County. His reason for leaving the claim was that he could not get the bark necessary for tanning, and his new claim was the first taken up in that country. He followed his trade the principal part of his life, and the old tan yard is still standing as a monument to his industry. He took up a large tract of land and became a wealthy man. In political matters he was a Democrat up to the late war and then became a strong Republican and was a strong Union man during the war. He never aspired for office, but was justice of the peace many years and was commonly known as Squire. In connection with his trade he also carried on farming and stockraising and was a man of sound judgment and excellent business acumen. His death occurred August 5, 1893, when eighty-seven years of age. For sixty years he had been a resident of the county, making his home in the same, except the first year, and at the time of his death was probably its oldest pioneer. He was a man universally respected and could have held any office in the county.
Mrs. McHaffie was a native of Tennessee, born in 1812, and a daughter of Simon Sherrid, who was a pioneer in Tennessee. Two children, Andrew and Jane, were born to Mr. and Mrs. McHaffie while living in Tennessee and eight more after coming to Missouri. Catherine, the next in order of birth, was born in Springfield and the remainder were born on the old homestead in Christian County. Andrew is now living in Christian County, about one mile from the old home farm, where he is engaged in farming. He is one of the influential and representative men of the county. He was a soldier in the Civil War; Jane, single, died in 1863; Catherine, was the wife of Alexander Kissee and died January 15, 1876; Elizabeth, married Sylvanus Kissee and died May 14, 1868; Simon, resides one mile from the old home place in Christian County, is married and has a family. He also served in the Rebellion; James K. P., our subject; George is married and resides on the old home place; Julia A., is the wife of J. J. Hyde of Christian County; Mary J., is the wife of John E. Stone of Linden, Christian County. The mother of these children died February 6, 1863, after having been a life-long member of the Methodist Episcopal Church. She was a true pioneer woman and for many years spun, wove and made the clothing for her large family. The father often shot deer from his cabin door and was considerable of a hunter. He taught his four sons his trade and left a large estate, all the children owning property bought by him. His youngest son owns the old home place.
The subject of this sketch was born in Greene County, Missouri, about twenty miles southeast of Springfield, in what is now Christian County, March 17, 1846, and is known by all in this part of the State. He grew to mature years on the home place and attended the subscription schools of his day, receiving but a limited education. At an early age he was taught habits of industry and perseverance by his father, and following his precept and example has become one of the leading business men of the country. He remained at home until twenty-seven years of age; in 1873 went to Taney County, Missouri, and locating at Kissee Mills he engaged in merchandising in company with Alexander Kissee. Three years later he sold out to his partner and located on the farm where he now lives, on Beaver Creek, where he owns 500 acres of rich bottom land. He has a good modern residence and substantial out-buildings, etc., and in connection with farming is interested in raising stock. He has made a success in a business way and is probably the wealthiest man in the county. Aside from this, he is president of the Taney County Bank at Forsyth, and is possessed of excellent business qualities. In politics he is with the Republican party, and in 1885 was elected by that party to the office of sheriff and collector. So ably and satisfactorily did he fill that position that he was reelected in 1887 and served four years in all.
Mr. McHaffie selected his wife in the person of Miss Amanda S. Laughlin and their union was celebrated January 18, 1877. Her parents, James M. and Lucy (Onstote) Laughlin, were among the early pioneers of Taney County, the father coming originally from Kentucky and the mother from Illinois. Mr. and Mrs. Laughlin were married in Taney County and for many years they lived on Beaver Creek, near where Mr. McHaffie is now residing and there both died in 1877. They reared eleven children: Harvey, died in the Confederate Army during the war; Margaret, died in 1889; Elizabeth, is the wife of W. A. Pumphrey of Kansas; Emeline, the widow of L. W. Yandell, of Kansas; Eliza, wife of S. J. William, died in 1892; Amanda, wife of our subject; Cubine, the wife of Mr. Gayhart, of Kansas; Ellen, the widow of Robert Burns; William, living in Kansas and John, Henry and Thomas died when about grown to manhood. Mrs. McHaffie was born in Taney County, near where she now lives.
To Mr. and Mrs. McHaffie have been born four children, only two of whom are now living: Columbus, a young man still at school and D. C., who is also in school. The two deceased were named Hester P. and Aggie J. They are members of the Christian Church, and the former is a member of the Masonic order, Forsyth Lodge No. 453. Mr. McHaffie is a man of influence, and the family is one of the leading ones of the county.
---