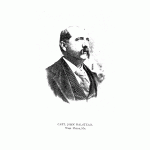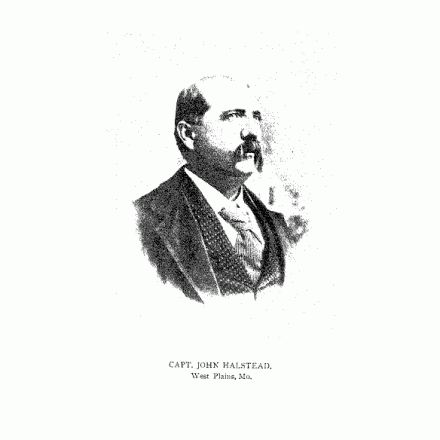 This gentleman is regarded as one of the most influential and worthy citizens of Howell County, and it is a pleasure to here chronicle the events that mark his life as one of usefulness. Capt. John Halstead, whose name was originally spelled with two L's, was born in Pickaway County, Ohio, October8, 1841. In tracing back the genealogy of this family we find that it originated in England, and that the first immigrants to this country settled on Manhattan Island, where they were among the pioneers.
Alabartis Halstead, father of our subject, was born in the Empire State in 1808. His father, Abraham Halstead, was a native of New York State, born at Harlem June 12, 1783. The latter married Miss Magdaline Scribner, and these children were born to them: Alabartis, John, Isaac, Catherine and Hallstead. Abraham Halstead was a son of John and Sarah (Myer) Halstead. This worthy couple reared these children: Abraham, John, Isaac, James Sarah, Elliott and Catherine. John Halstead was a son of Thomas Halstead, who was born in 1825. The latter married Phoebe Bogardus and passed his entire life in the Empire State, dying there in 1808. He reared these children: John, Edward, Elizabeth, Jacob, Margarite, Isaac, Jonas and Phcebe A. The Halstead family lived in New York State until the grandfather of Capt. Hal-stead moved to Ohio and settled in Pickaway County, where he died. The members of this family were large land owners in New York State.
The father of our subject, Alabartis Halstead, came to Pickaway County, Ohio, with his parents, and was married to Miss Altkire, who bore him the following children: Eliza J., Phoebe A., Benjamin F., Sophia A., Elliott, George W., Edson B., Alburtis, Sarah and John. The father of these children was an upright, earnest farmer and an excellent citizen. His death occurred in Knox County, Indiana, in 1867. His wife is also buried in that State.
John Halstead, now Capt. John Halstead, was reared in the Hoosier State, and in Green County, that State, he met and married Miss Lavinia Bogard. Three children were born to them: Luther F., George and John B. Mrs. Halstead died in Indiana, and Miss Louisa Plummer became Mr. Halstead's second wife. Four children were born to the second union: Nellie, Thomas, Charles and Maggie. Capt. Halstead attended the subscription schools of Indiana in his youth and assisted on the home farm. When twenty years of age he started in business in Knox County, and the same year, 1861, he enlisted in Company K, Eightieth Indiana Volunteer Infantry, under Col. Brooks, as a private, and was promoted to the rank of corporal, then to lieutenant, and finally to captain of his company. He served up to the battle of Perryville, Kentucky, when he was taken sick and went home on furlough. He continued ill and was discharged in the spring of 1863. The principal engagements in which he participated were Perryville, but he was in numerous skirmishes and on many scouting expeditions. At one time he was wounded in the left leg and is troubled with the same to this day. He was in charge of 100 men who went to Harrisburg, Kentucky, where they captured 105 prisoners.
Following the war Capt. Halstead engaged in shipping and handling stock and continued this a number of years, making his home in Knox County, Indiana From there he moved to Green County, Indiana, and still engaged in the stock business, living there till 1880, when he came to this county and engaged in the real estate business in West Plains. This he has since continued, and has met with good success, being the owner of real estate in West Plains and land in Howell County. He has handled most of the additions to West Plains and is the leading real estate man in that city. In politics Capt. Halstead is a Democrat and a strong supporter of his party. He was mayor of West Plains four years, a member of the council two years, and has done much to build up the town of West Plains. He is a master Mason, a member of the chapter, and he was a charter member of the K. of P. lodge at West Plains. Mr. Halstead has a lovely home in the town and is one of the leading men of the county.
---