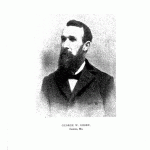 Among the many prominent eastern families who at an early day migrated westward with a view to bettering their fortunes was the Moore family, an honored and respected member of whom, now residing in Stone County, is the subject of this sketch.
His father, James M. Moore, was born in North Carolina May 13, 1811, and when about five years of age moved with his parents to Tennessee; where they remained until 1829. There James M. grew to mature years and married Miss Rachel W. Patton, a native of Tennessee, born in 1817, and the daughter of John and Sarah Patton, both Tennessee people, who came to Missouri as early as 1830, or near that time, settling in Lawrence County, where they passed the remainder of their days. In 1829 James M. Moore moved to Lawrence County, Missouri, and there remained for thirty-six years, becoming, one of its respected and highly-esteemed citizens. In 1861 he moved to Stone County and made his home here until his death, which occurred in Jefferson City, March 5, 1873, while a member of the Twenty-sixth General Assembly. Previous to the war he was a Democrat in politics, but during that eventful period he became a Republican, and ever after remained a stanch supporter of that party. In 1862 he was made captain of a company in the Enrolled Missouri Militia and served in that capacity for fifteen months, when he was promoted to major of the Fifty-second Regiment. He Was often detached for duty with the Fifteenth Missouri Volunteer Cavalry, and was very active during the war, much of his fighting being with the guerrillas in southwest Missouri. Down to the time of his death he carried scars received in his battles with them. His principal occupation in life was farming, and he owned a fine tract of land in the north part of Stone County on Crane Creek, also a farm in Lawrence County. He and wife held to the Baptist faith, and he was an officer in that church. Fraternally he was a Mason, and a member of the Advance Guard of America. Although he made a good property, he lost much during the war. He was deeply interested in all public enterprises, and held a number of local offices, such as presiding justice of the County Court, sheriff, and, as before mentioned, represented the counties of Lawrence and Stone several times in the Legislature. His marriage resulted in the birth of nine children, as follows: John P., a farmer residing in the northern part of Stone County, who was a soldier during the war; William A., single, died in the service; George W., subject; Irene C., wife of William Neece, resides at La Porte, Colo.; Mary J., deceased, was the wife of Calvin McCullah; Henry J. resides on a farm in Stone County; and Sarah; Rachel and an infant died young. The wife and mother died at Marionville, Missouri, about the 12th of March. 1893.
Capt. George W. Moore was born in Marionville, Missouri, July 25, 1842, and was reared in Lawrence and Stone Counties. In 1857 he went overland with his father to California and remained there until 1860. Returning to the East he enlisted in the Home Guards before he was eighteen years of age and served three months. He then entered the volunteer service, Company B, Sixth Missouri Cavalry, and served one year in that company, being promoted to the rank of captain of Company M, in the Second Arkansas Cavalry under Col. John E. Phelps. He remained with this company until the close of the war, and was a stirring officer in the field, and a faithful soldier. He was wounded at Spring River Swamps and was disabled for some time. He helped to recruit the Second Arkansas Cavalry, and led an active life as a soldier.
After the war he located at Marionville, Missouri, remained on a farm until 1866, and then started to school in Springfield. Later he attended the Allegheny College at Meadville, Penn., and then went to Lorain County, Ohio. There he engaged in the stone quarry business, which he conducted until 1876. Previous to that, in 1876, he was married in Pennsylvania to Miss Ida M. Barton, daughter of Charles W. and Harriet B. (Smith) Barton, both natives of the Keystone State. The Mother died in 1864, but the father resides on a farm in Crawford County, Penn. Mrs. Moore was born in Crawford County, Penn., September 18, 1845, and was one of a family of seven children, of whom four are living: Emma, wife of George L. Campbell; Arcilla, wife of C. S. Allen; Martha A., wife of Eli Ingraham; Mrs. Moore; and the three that died were Mary N., Rose C. and Devilla.
Our subject moved from Ohio to Stone County, Missouri, locating on James River, near the White River, where he farmed up to 1887. He then came to his present place of residence, about one mile from Galena where he has 216 acres of well-improved land. He also owns a farm of eight acres north of this in Stone County. Mr. Moore is a good business man and annually raises a large amount of stock. He was first elected to office in 1888, holding the position of county treasurer of Stone County for four years. In 1892 he represented his county in the General Assembly and holds that position at the present time. In politics he has always been a Republican, and his first presidential vote was cast for Abraham Lincoln. He is a member of the G. A. R., Post No. 223, at Galena, and his wife holds membership in the Methodist Episcopal Church. Six children have been born to their marriage, as follows: Frank A.; C. W., who died in infancy; Chester H.; Louis W.; Ida M.; and Hattie R. The Captain and family are highly respected and are leaders in the county.
---