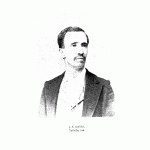 Prominent among the names which give strength and importance to the town of Powell, Arkansas, as a thriving trade center, is that of J. F. Davis, well known as a successful dry goods merchant. He has by his energy, honesty and close attention to business, built up a large trade and is regarded as a leader in his line in Marion County. An average stock of goods valued at $2,000 is carried, and is well selected to meet the demands of the public, and an annual business of from $9,000 to $10,000 is done. He was born in the Palmetto State, November 17, 1855, a son of P. R. Davis, a North Carolinian of Irish descent, who was born February 2, 1833. The latter attained manhood in the State of his birth, but in 1856 moved to Georgia, and in 1869 became a resident of Marion County, Arkansas He engaged in farming in the vicinity of Powell, and was a successful tiller of the soil. At the opening of the Civil War he very naturally espoused the cause of the South, and became a member of the Eighth Georgia Battery, and was at Mission Ridge, Jackson, Miss., and many other battles, and proved a faithful and efficient soldier. He was married in North Carolina to Miss Eliza McLean, a daughter of Lauchlin and Sarah McLean, and like her husband she was born in North Carolina. To this worthy couple a family of eleven children were given, nine of whom are living (two twins having died in infancy) and are honorable and useful members of society: J. F., the subject of this sketch; Dr. Alexander B., of Powell; Sallie J., wife of John T. Gillie, a successful teacher; Eliza is the wife of J. H. Davenport, a very successful farmer and resides in Prairie Township; William L. is a farmer and school teacher; R. L. is a school teacher of Texas; Stell is a physician of Indian Territory; Oscar is a teacher of Wise County, Tex.; and Anna is the wife of Floyd Magness, of Powell. All the sons are married with the exception of the doctor in Indian Territory. P. R. Davis has ever been a Democrat. He is now retired from the active duties of life, and he and his wife have long been devoted members of the Protestant Methodist Church.
The paternal grandparents of J. F. Davis were Rollin Davis and Lauchlin McLean, the former of whom was born at Chapel Hill, N. C., and died while serving in the Mexican War. The maternal grandparents were Sarah Davis and Sarah McLean, the latter of whom was of Scotch descent.
J. F. Davis, the subject of this sketch, passed his early boyhood and manhood in Georgia and Arkansas, and he was fortunate enough to secure a good education in the common schools and the high schools of Marshall and Valley Springs, Arkansas When first starting out to fight the battle of life for himself, it was as a farmer and school teacher, and as an educator and disciplinarian he acquired an excellent reputation. After a time he located on a farm in Prairie Township, and after tilling it successfully for some five years, he, in October, 1885, established himself in the mercantile business in Powell, a place which owes much of its growth and prosperity to his push and enterprise. He was first associated in business with T. W. Milum for some five years, and Mr. Milum was succeeded by G. W. Young, who was Mr. Davis' partner in business for two years. Since that time Mr. Davis has been in business alone, and the steady increase of his patronage has shown this move to have been a decided success. He is a man who has wisely profited by what experience has shown him, and one whose quick perception and good judgment have made a thorough business man of him, as well as a valuable member of society, and a credit to the community in which he resides. In the course of events he has taken advantage of opportunities favorable to himself, and is now the owner of some valuable farming and mining land, besides his stock of general merchandise. He has ever been an active worker for the Democratic party, and has taken a deep interest in the cause of education. He has given his children good educational advantages. Both himself and wife are worthy and respected members of the Protestant Methodist Church. The maiden name of Mrs. Davis was Mary Ellen Stanley. She is a daughter of James D. Stanley, who is living on Clear Creek in Prairie Township, Arkansas Mr. and Mrs. Davis have five children: Alexander Waldo, Henry Ward B., Frank Blaine, Vida, and Clay King.
---