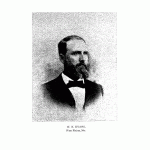 Judge W. N. Evans, of the Twentieth Judicial District of Missouri, makes his home in the northwestern part of West Plains, where he has a handsome residence on Garfield Avenue. He is a native of Owsley County, Kentucky, born September 1, 1849, and the son of W. N. and Elizabeth (Hurst) Evans. The grandfather, John Evans, was a native of Wales, who came to this country at an early day and settled in old Virginia. Later he moved to east Tennessee and there passed the remainder of his days. He had but three children, two sons and a daughter. The father of our subject was born in east Tennessee in 1824, and his early life was spent on a farm. There he married and resided until 1849, when he moved to Kentucky, where he was among the pioneers. He followed farming there and was one of the prominent men in the county. He held a number of offices in Owsley County. When the Civil War broke out he enlisted in the Tenth Kentucky, Confederate army, and served in the Virginia army. Mr. Evans participated in a number of prominent engagements and was taken a prisoner of war in the latter part of 1863, being confined in the Rock Island Prison, Illinois, where he soon after died. He was always a strong Democrat and a prominent and influential man in the section in which he lived. Of the nine children born to his marriage, seven are still living. Mrs. Evans is living near Marshfield, Webster County, Missouri, and is in the enjoyment of comparatively good health. Judge W. N. Evans was third in order of birth of the above mentioned family. He and his two elder brothers, James A. and George S., enlisted in the Confederate Army in 1864, Twelfth Tennessee Cavalry, but our subject was later transferred to the Fourth Kentucky Mounted Infantry. James and George are now living at Thayer, Oregon County, Missouri, and are railroad men. The younger brothers are, John C. B., who is living in Webster County; T. E. G., a resident of Thayer, Missouri, and Grandville P., who is residing in Mt. Grove, Missouri, a druggist. The sisters are, Mary, now Mrs. Casteel of Webster County, Missouri, and Sarah, deceased, was the wife of Mr. Rice. One brother, Isaac, died when twenty-five years of age.
In his native State our subject passed his early life, on the waters of the Kentucky River, and there learned habits of industry that have remained with him through life. He had very little schooling before the war and became a soldier before he had gained any knowledge of figures. Judge Evans served from August, 1864, till July, 1865, and was in the battle of Cedar Gap, Tennessee, Cross Road, Bulls Gap, Strawberry Plain, Morristown, Tennessee, and Wytheville, Virginia From the latter place he was sent on a forced march to reenforce Gen. Lee, but while at Salem, Virginia, Lee surrendered. The Judge served as a private. He was between fourteen and fifteen years of age when he entered the army, and he was the youngest soldier in his command. After the war the Judge located at Tazewell, East Tennessee, and while there farmed for $8 per month. In 1869 he came to Missouri, and located in Webster County, where he remained until 1871. He then went to Arkansas and began teaching school in Pope County. He had but three months' schooling in Webster County, but he taught in Arkansas and Indian Territory. Not liking the profession, he, however, continued to teach at intervals, following the same in Lamar County, Tex., where he also raised a crop of cotton. In 1873 he returned to Missouri and taught school up to 1876. He studied law at the same time and was admitted to the Webster County bar in March, 1875. The following year he took up the practice of law and since then has followed the profession. In 1877 he was elected superintendent of public schools of Webster Country, but soon resigned the position and since then has practiced law. In 1878 he moved to Oregon County, located at Alton and practiced there until coming to Howell County in April, 1885. While a resident of Oregon County, the first year he was made prosecuting attorney of the county by a large majority above the three men in the field for the same office. He was reelected in 1880, but resigned the office. After coming to this county and settling in West Plains, he was on the ticket of President Cleveland's electors in 1888, in the Fourteenth Congressional District, and was also chairman of the Democratic County Central Convention.
He was appointed circuit judge of the Twentieth Judicial District by Gov. Frasier in 1891, was elected to the same office in 1892, and has held that position since. The Judge has a wide reputation as a criminal lawyer, and is well known as such in south Missouri. He has conducted a large number of noted criminal cases to a successful issue and has proved himself eminently worthy the confidence reposed in him by all classes. He is shrewd and quick in grasping points of law and his decisions are usually ready to be given when the arguments are given. Careful in the preparation of his cases, he has the ability to present them in a concise, logical and convincing manner. Judge Evans is a Mason and a Knight Templar. He has always affiliated with the Democratic party and has been a delegate to State and Congressional conventions. He is connected with the West Plains Bank, as a stockholder, and is interested in real estate in that city, Thayer and Alton. Judge Evans was married in August, 1875, to Miss Sarah A. Smith, daughter of W. H. Smith, of Webster County, Missouri, and they have four children: Ethel, Earl, Paule and Hazel. The two eldest are attending school. The family hold membership in the Methodist Episcopal Church South.
---