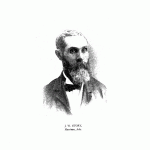 This able attorney at law has his office at Harrison, Arkansas, and in every branch of his profession he is meeting with marked success. He has a decided veneration for the law, and this, combined with the accuracy of his legal knowledge, lucidity of statement and felicity of illustration has given him the confidence of all his patrons. He is a native of Tennessee, and a son of N. W. and Katie Story, who lived and died in White County of that State. His father was a successful farmer, a man of pure and exalted character, who enjoyed in a high degree the confidence and esteem of his neighbors.
The subject of this sketch was one of a family of four sisters and three brothers. The other two brothers are now prominent lawyers of Sparta, Tennessee. The early life of Capt. J. W. Story was spent in his native State, and there he obtained his education. He graduated from the Law Department of Cumberland University at Lebanon, Tennessee, in 1868, and entered upon the practice of his profession in that city the same year. In 1873 he went to Sherman, Tex., but since 1885 he has been a resident of Harrison, Arkansas, and one of its most successful practicing attorneys. He has devoted himself exclusively to his profession and is justly considered one of the foremost attorneys of Boone County. Since locating here he has been connected with the most important cases that have come up in the courts of his section and has conducted them with dignity, discretion and ability. In politics he has always been a stanch Democrat. In religion he is a Cumberland Presbyterian. He is an active and interested worker in the cause of education. In the honorable order of Masonry he is a Knight Templar. Capt. Story was married in J876 to Miss Mollie Goree, a highly refined and accomplished daughter of Dr. J. L. and Mary E. Goree. Her parents settled in Arkansas County, Arkansas, in 1852, where they resided until the death of her father after the war. Her father was a prominent physician and planter. Mrs. Story's only surviving brother is Dr. J. L. Goree, who is now a leading physician of Pine Bluff, Arkansas Capt. and Mrs. Story have three children: Katie, Goree and John. Their residence is on Vine Street, in the northern part of Harrison, where they dispense a refined yet generous hospitality.
Capt. Story is a safe and successful business man and has accumulated considerable property. In 1861 Capt. Story enlisted in the Confederate Army and served in Company 1, Fourth Tennessee Cavalry, to the close of the war. He took part in the battles of Fishing Creek, Stone River, Chickamauga, Missionary Ridge, Resaca, New Hope Church, Bentonville, N. C., and many other important engagements. He served as a private until near the close of the war, when he was promoted to the command of his company for distinguished gallantry upon the field of battle.
---