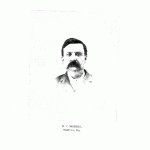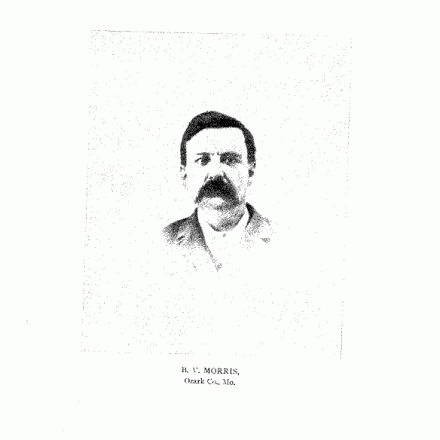 He whose name heads this sketch, B. V. Morris, is not only a gentleman in every sense of the word, but as a business man is shrewd, practical and far-seeing, well qualified to discharge the necessary duties of life and well adapted to the active life he has led. He was born October 4, 1848, a son of Isaiah and Mary A. (Vaughn) Morris, both of whom were born in the Buckeye State, the former being a native of Columbiana County, and a son of Abraham and Mary (Heisler) Morris. Abraham Morris was born in New Jersey, in which State the family settled during the days of the Revolutionary War, the great-grandfather being a Hessian soldier. From Ohio Isaiah Morris moved to Iowa in 1851, and after residing in Benton County until 1872 he came to Ozark County, Missouri, and for some time made his home at Rockbridge, taking up his residence in Jasper County the following year, where he is now living retired from the active duties of life. He followed various occupations throughout life, but was extensively engaged in the real estate business, at which he acquired a handsome competency. He served for some time in the Forty-seventh Iowa Volunteer Infantry. In 1856 his wife died, she having been a daughter of James and Rhoda Vaughn, who belonged to one of the old families of Virginia, in which State they were born.
B. V. Morris was the eldest of three children born to his parents, the other members being Harriette and William P., who died young, but he has one half brother, Oliver B., who is a resident of Joplin, Missouri His early days were spent in attending the common schools of Iowa, during which time he gained a good business education. At an early age he began serving an apprenticeship at the tinsmith business, but after locating with his father at Rockbridge, Missouri, in 1872, he turned his attention to merchandising, but two years later returned to Iowa. After remaining in that State one year he once more returned to Missouri and is now, in a modest way, engaged in merchandising, but as he is a man of determination, push and enterprise, coupled with the strictest honesty, he will without doubt make a success of his undertaking, for he is already being liberally patronized, and is doing the largest business of the kind in the county, amounting to about $30,000 per year. He keeps a general line of goods and is quite an extensive dealer in agricultural implements, making a specialty of the famous South Bend (Indiana) plow. He has just completed a commodious store building 48×90 feet. It is a splendidly finished two-story glass front building, and has one room 24×60 feet fitted up as a public hall, to be used by the public free of charge. He is the owner of a saw mill which has a capacity of 5,000 feet, and a grist mill which has a capacity of fifty barrels per day, the latter being fitted up with three sets of double rollers, which makes it a strictly first-class plant. His was the first roller mill put up in the county, and in connection with it he successfully operates a corn meal mill. His brands of flour are very popular and are known as the "Choice Family" and the "Gold Dust." He is the proprietor of an excellent cotton gin which has a capacity of seven bales per day, and considering the different occupations in which he is engaged he is doing the largest business of any one man in the county. He is the pioneer merchant of Rockbridge, is one of the most active business men in southern Missouri, and as his place of business is about eighteen miles from Gainesville, his patronage extends over a large tract of country. He has always been an active Republican in politics, held the office of county treasurer from 1880 to 1882, and has been the postmaster of Rockbridge for quite a number of years under both Republican and Democratic rule. Socially he is a member of Robert Burns Lodge No. 496, of the A. F. & A. M., at Gainesville, and has been a member of the I. O. O. F.
He was married in Iowa to Miss Alfaretta, daughter of Aaron and Sinah Shinn, natives of Ohio, the former being now deceased, and their union was celebrated in 1869. A year later his wife died, and in 1872 he married Eliza J., daughter of Joseph and Sarah A. (Putney) Shelley, the former of whom was born in the Old North State and was an early settler of Indiana, from which State he removed to Iowa County, Iowa, in 1855, where he and his wife both passed from life. Mrs. Morris was born in Indiana, but was reared in Iowa. Her grandfather, John Putney, as well as his wife, were natives of France, but were early emigrants to Virginia, and from that State he enlisted in the War of 1812. He was a first cousin of Commodore Perry. Mrs. Morris was the tenth of eleven children born to her parents, only four of whom survive: Mrs. Morris; William D., in California, was a "Forty-niner" as was also his father; Bartlet, also a resident of California, and Rebecca (Webster), of Nebraska. Mr. and Mrs. Morris have four children: Edgar, Frank, Alta and Allie. Edgar is now twenty-one years old and has charge of his father's flouring mill. In August, 1884, Mr. Morris lost heavily by fire, his property not being insured, after which he had to start anew, but owing to the confidence which the people had in his capability and honesty, he was encouraged to again engage in business, and the magnificent property of which he is now the owner testifies to his good judgment. From 1876 to 1889 he was associated in business with W. F. Dunn.
---