| | |
| --- | --- |
| Title: | First two hundred years of the Oldham family in America |
| Author: | Eddy, Ruth Story Devereux |
| Publication date: | 1939 |
| Publisher: | Self Published; Providence, R.I. |
| Digitizing Sponsor: | Internet Archive |
| Contributor: | Allen County Public Library Genealogy Center |
| Repository: | Internet Archive |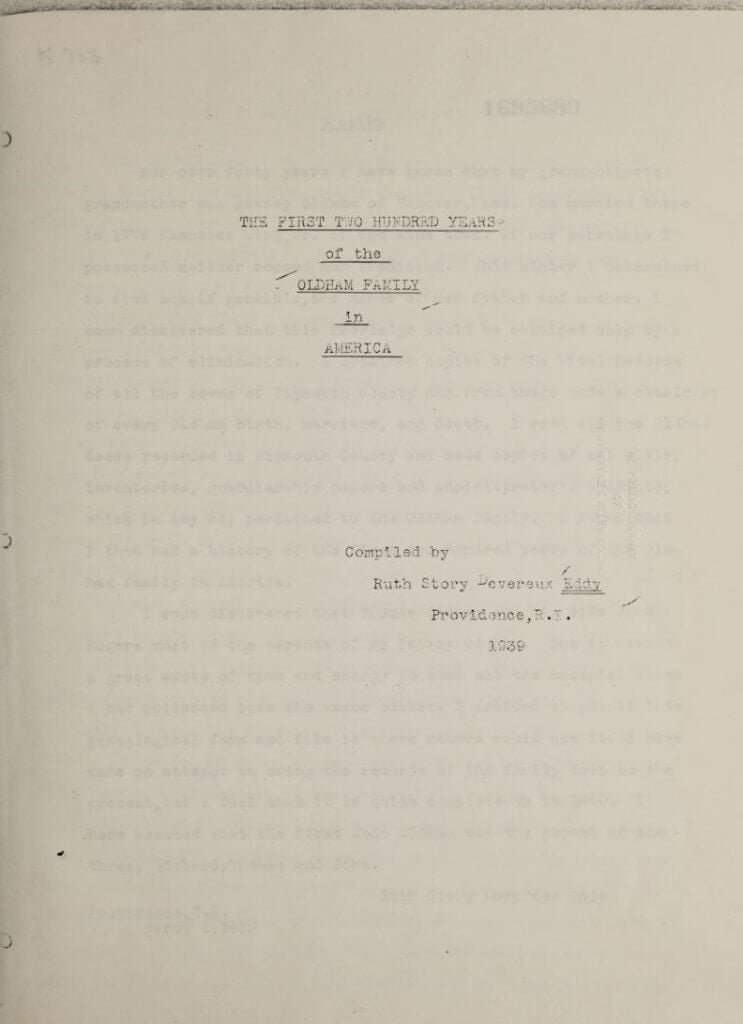 For over 40 years I have known that my grandmother's grandmother was Betsey Oldham of Hanover, Mass. She married there in 1776 Ebenezer Wing, Jr. of the same town. Of her parentage I possessed neither record nor tradition. This winter I determined to find out, if possible, the names of her father and mother. I soon discovered that this knowledge could be obtained only by a process of elimination. I obtained copies of the Vital Records of all the towns in Plymouth County and from those made a catalogue of every Oldham birth, marriage, and death. I read all the Oldham deeds recorded in Plymouth County and made copies of all wills, inventories, guardianship papers and administrator's accounts, which in any way pertained to the Oldham family. I found that I then had a history of the first two hundred years of the Oldham family in America.
I soon discovered that Thomas Oldham and his wife Jane Rogers must be the parents of my Betsey Oldham. But it seemed a great waste of time and energy to toss all the material which I had collected into the waste basket. I decided to put it into genealogical form and file it where others could use it. I have made no attempt to bring the records of the family down to the present, but I feel it is quite complete up to 1800. I would have assumed that the first John Oldham was the parent of the three, Richard, Thomas and John.
Ruth Story Devereux Eddy
Providence, R.I.
March 1, 1939
Notes About the Book
53 leaves 30 cm
Typewritten copy
No copyright page.
No table of content.
Photocopied book.
No page numbering.
Faint text.
Tight margins.
Text is skewed.
Surnames
Oldham, Rogers, Wing
---