Nautical chart of Zwaanendael ("Swanendael") and Godyn's Bay in New Netherland. Zwaanendael was a patroonship founded by Samuel Godyn, a director of the Dutch West India Company, in 1629. Godyn made his land claim to the West India Company under jurisdiction of the Charter of Freedoms and Exemptions. After a short time, the initial 32 inhabitants were murdered by local Indians and Godyn sold his land back to the West India Company. The West India Company kept the names of the local area, including Godyn's Bay, which eventually became Delaware Bay.
The text in Dutch at left side of the map reads: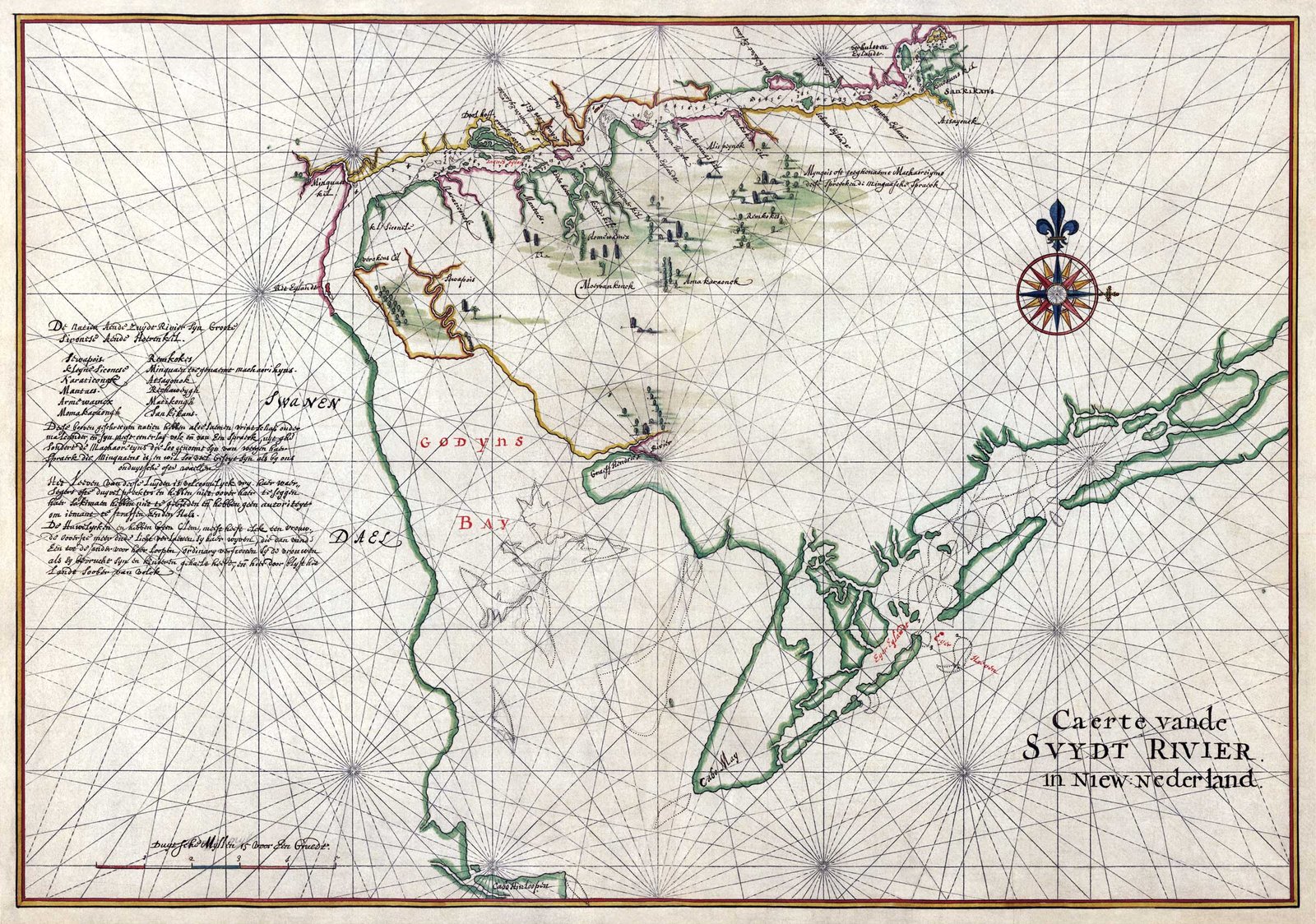 The nations at the South River are Great Sironese at the Hoerenkil, Sewapois, Remkokes, Small Sironese, Minquaen also named Machaorikyns, Naraticonck, Atsayonck, Mantaes, Rechaweygh, Armewamix, Matikongh, Momakavaongk, Sankikans.
These above described nations have friendships with each other. And are mostly one people with one language, with the exception of the Machaoretijns that are named like this because of their language that is Minquaens and is as much similar as with us old Dutch or Wallonian. The life of these people is totally free. Their soothsayers or devil preachers have nothing to say over them, their shamans can't order them and have no authority to give someone a death penalty.
The marriages are not fixed, most have one wife, the chief more than one. And they leave their women easily, and these will go from one to another like a whore, usually women are disowned after having a child and as a result the population remains low.
Translation of the tribal names:
Sironese – Ciconicine
Sewapois – Sewaposees, located on Maurice River
Remkokes – Rancocas Band of Delaware
Small Sironese – Ciconicine
Minquaen also named Machaorikyns – Mingwe
Black Minqua – Mohawk
White Minqua – Susquehanna
Naraticonck
Atsayonck – Atsayonck of Crosswicks Creek
Mantaes
Rechaweygh – Rockaway
Armewamix
Matikongh
Momakavaongk
Sankikans – Sanhican
---