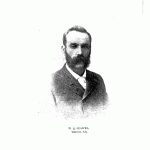 This gentleman has for years devoted his attention to mercantile pursuits, is a practical, experienced man, thoroughly conversant with the business in all its branches, and his establishment is a most reliable one at which to deal. He was born in Cannon County, Tennessee, January 3, 1844, and since 1869 has been a resident of Yellville, whither he came from Buffalo City, Arkansas, where he had located in 1867.
His parents were Francis M. and Anna E. (Bates ) Seawel, who were born, reared and married in Tennessee. They removed to Arkansas in 1856, and here the father engaged in tilling the soil and also in church work, becoming a minister of the Methodist Episcopal Church, and later of the M. P. Church. He lost his life in Prairie County, Arkansas, during the war, but the exact cause of his death was never known. He was at that time about forty-two years old. At the commencement of the war he was in sympathy with the Union and opposed to secession, but he became chaplain of a Confederate regiment. The paternal grandfather, Jesse Q. Seawel, was a Virginian and an early pioneer of Georgia and Tennessee, but died near Webb City, Missouri, about 1885, having been a manufacturer of tobacco. The founder of the family in this country was a Scotchman, who came thither during Colonial days. The maternal grandfather, William Bates, was for many years a resident of Cannon County, Tennessee, where he eventually passed from life. He was by calling a contractor and builder, and came West from Pennsylvania and became a wealthy man. The brothers and sisters of the subject of this sketch are as follows: William O.; John, who died some ten years ago, was a farmer of White County, and had been a soldier during the war; Thomas, who died about eight years ago, was a minister of the Methodist Episcopal Church; Francis M. died about six years ago, and was a farmer of White County; Sarah is the wife of George Morris of White County, Arkansas; Elvira is living at West Plains, Missouri, the wife of Daniel Stockman; Catherine is living in Marion County, the wife of William Sowell; Leonard is living in Yellville; Lavinia is the wife of H. A. Young of Yellville; and Samuel, who died some four years ago. The mother of these children is still living, and is a devout member of the Methodist Episcopal Church and is connected with the church at Yellville.
Mr. Seawel passed his early life in Tennessee, and was ten years of are when the family came to Arkansas. At the age of seventeen years he enlisted in the Confederate service in Company E, Tenth Arkansas Regiment, and served four years and three months, participating in many long and toil-some marches and engagements. He was at Shiloh and Port Hudson, was taken prisoner at the last mentioned place after which he was paroled and returned home to remain until exchanged. He stayed three months and helped to organize a company, then entered the cavalry service, with which he remained until the war closed, taking part in the engagement at Devall's Bluff, besides other engagements and skirmishes, a notable one being at West Point Landing. Just before the Price Raid, Mr. Seawel was sent with a dispatch from Batesville to Camden, and later joined his command, and eventually surrendered at Jacksonport in 1865. He was wounded in the left cheek and also in one ankle, but not seriously either time. A few months after the close of the war he went to Memphis, but after a short time began farming in White County, Arkansas, continuing for one year. He then clerked in a store until he came to Marion County to engage in business at Buffalo City. He has been a resident of Yellville for a quarter of a century, and has been a successful and honored merchant of the place since 1875. He keeps a stock of goods worth $10,000, and does an annual business of $30,000. In addition to this he is engaged in mining and the real estate business, and has farming and mineral land in this county to the amount of 2,000 acres. He is an influential Democrat, is a prominent member of the A. F. & A. M., and at one time was a member of the I. O. O. F.
After coming to this county he was married to Arkansas, the daughter of Thomas Wilson (deceased). To this union four children were given: George A., who is married to Bertie Jones; Thomas M., who graduated from an eastern law school before he was nineteen years of age, is now a successful attorney of Little Rock, and the youngest practitioner in the State; Walter L. and Augustus C. The death of the wife and mother occurred in 1887, at the age of thirty-seven years, she having been an earnest member of the Methodist Episcopal Church. Frances, daughter of Mr. Prudden, of New York State, became his second wife. She was born at Lockport, New York, and has borne her husband one child, Mabel. Mr. Seawel has a hand-some residence in Yellville, and he and his wife move in the highest social circles.
---