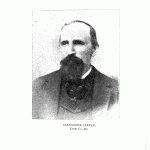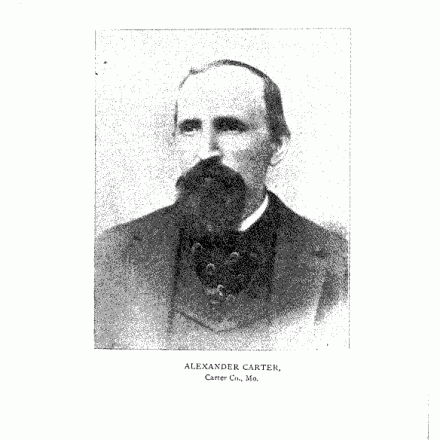 This gentleman was a pioneer in the fullest sense of the term, for he came to Carter County with his father, Benjamin F. Carter, in the year 1813, and settled with him on the land where Chilton is now located, nine miles south of VanBuren. The country was in a wild state at that time, Indians roamed the mead, and wild animals were numerous. The Carter family came from the Palmetto State and Benjamin Carter was about the first white man to settle in the county. He became a farmer and stock-raiser and met with unusual success in these occupations. His death occurred many years ago. His children, six in number, were named as follows: William Carter, resided in Reynolds County; Zimri A., subject; Henry died in Wayne County, Missouri; Mrs. John Chilton; Mrs. Mark Chilton and Benjamin F., Jr., who lived and died in Oregon County, Missour.
Zimri A. Carter was born in South Carolina March 30, 1794, and was a boy of thirteen years when the family moved to this county. He delighted in hunting, and as the forests abounded in game of nearly all kinds much of his time in youth was spent in seeking the haunts of the bear, panther, etc., and he was a well-known Nimrod. He selected his life companion in the person of Miss Clementine Chilton, daughter of Thomas Chilton, Sr., who died in Shannon County, where his grandchildren are still living. Mrs. Carter was born in Tennessee, April 4, 1802, but came to Missouri at an early day and located with her parents in Carter County. After marriage Zimri A. Carter located on Current River, about two miles south of where VanBuren now stands, and he became a prominent farmer and stock-raiser, and an extensive land owner. His death occurred February 3, 1872.
In politics he was a strong Democrat and held many offices in Carter County as well as other positions in the State. The county of Carter was organized in 1869 and named after Zimri A. Carter. He was a public-spirited man and took a deep interest in all enterprises that pertained to the welfare of the county. His wife died in 1873. They were the parents of an old-fashioned family of fifteen children: John, Perry, Nelson, Bailey, Serena, William, Belinda, Benjamin F., Thomas, Francis M. and Minering (twins), Henry, Charles T., Alexander and Sarah J. The family held membership in the Methodist Episcopal Church.
The sons, William and Francis M., live in St. Francois County, Missouri, and are prominent attorneys; Charles T. is a farmer of Henry County, Missouri; Sarah J., married Mr. Mabrey, an attorney of Ripley County, Missouri; and Alexander is living at VanBuren. They are the only ones now living. Benjamin F. was a soldier in the Civil War. Alexander Carter, the youngest son born to the marriage of Zimri A. Carter, first saw the light in this county January 4, 1845, and he grew to manhood on the old home place which he now owns. He attended the pioneer schools of the day, his father sending East for teachers, but the late war put a stop to his schooling. Like his father he delighted in hunting and he still enjoys that pastime almost as well as he does fishing. In 1870 he was elected circuit and county clerk and held the office for six years, resigning the two last years of his second term on account of the poor health and death of his wife in 1876. Her maiden name was Mollie Ake. daughter of John Ake, of Iron County. In 1881 Mr. Carter married Miss Lizzie Rose, daughter of Capt. A. D. Rose, of Carter County, and three children were born to this union: Bessie, Elsie and Luin A. Mr. Carter engaged in merchandising and milling for a number of years in Carter County and for some time has made his home in Van Buren. He owns the old home place near VanBuren and also the old home place of the Chilton family. He owns a large tract of farming land and several thousand acres of timber land. Politically he is a Democrat, and socially a Mason, a member of VanBuren Lodge. He and Mrs. Carter are members of the Baptist Church, and prominent citizens of the county. He is connected with the lumber and grist mill business in the city and is well and favorably known throughout the community.
---