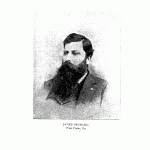 The judges of the various courts established in Howell County have always been noted for their character and ability, and one of the most popular of the many worthy men elevated to the bench in the history of the county's jurisprudence is Judge James Orchard, attorney at law at West Plains, where he has made his home for the past few years. Judge Orchard was born in Shannon County, Missouri, October 24, 1850, to the union of Jesse and Alcey (McCormack) Orchard. Jesse Orchard was a native Kentuckian, and the son of a Scotchman, who came to this country many years ago and settled in Kentucky.
About 1834 the grandfather moved to Missouri, settled in Washington County, and was one of the earliest pioneers of that section. There he passed the remainder of his days engaged in farming. He was a valuable and influential citizen. Jesse Orchard was but a boy when the family came to Missouri, and he attended the early schools of the county and grew to manhood there and in Shannon County. In the latter county he made his home, engaged in farming and stockraising until his death in 1876. During the Civil War he was captain of a company in the Confederate Army, McBride's regiment, and he was also with Col. Freeman. He took part in a number of prominent engagements, was at Wilson's Creek and was in Gen. Price's raid. Mr. Orchard fought bravely for the lost cause. He was a stanch Democrat, and held a number of prominent offices in Shannon County. For some time he was judge of the County Court, sheriff and collector two terms, and public administrator. He was well known in that and adjoining counties, and was universally liked. His widow, still living, was the daughter of James McCormack, an early pioneer of Shannon County, Missouri, coming to the county when the Indians still lived here. To Mr. and Mrs. Orchard were born five children as follows: James, subject; Alexander, a farmer in Texas; Jerry, is also a farmer; William died when nineteen years of age; and Mary E. became the wife of David Smith, of Texas County. The early members of the Orchard family hold to the Baptist faith.
In Shannon County Judge Orchard grew to manhood, but on account of the breaking out of the war he received but limited educational advantages. After that eventful period he worked on the farm of his father, and a number of years later entered a store at Summersville, where he remained until 1873. He was then appointed deputy sheriff of Shannon County under his father, and held the position until 1884, when he was elected county clerk. That position he held four years, and was then elected circuit clerk. Three years later he resigned. During the time he held the office he took up the study of law, and was admitted to the bar in 1883. He began practicing at Eminence, Missouri, in 1884, and was elected prosecuting attorney and reelected in 1886. Three years later he came to West Plains, and has since practiced in all the courts of the district. He defended Peter Renforth, of Texas County, in 1890, for murder; also John Barrett, of Ozark County, for murder; William Kile, of Shannon County, for murder, and many other prominent cases. He is classed among the leading attorneys of Missouri. He is attorney for the Fisher Lumber Company, of Shannon County, and attorney for the West Plains and the Howell County Bank. Fraternally he is a Knight Templar of the Masonic order, and a member of all the lodges at West Plains. He is also an Odd Fellow and represented his lodge in the Grand Lodge of the State. Politically he is a Democrat, is a leader in his party, and has been a delegate to the State conventions. Judge Orchard was married in Shannon County to Miss Susan E. Woolsey, daughter of J. M. Woolsey, formerly of that county, but who died during the war. To Judge and Mrs. Orchard have been born five children: Jesse, Arthur E., Ella, Mabel and Fannie. The Judge is a stockholder in the Howell County Bank as well as the Willow Springs Bank. He is one of the most prominent and influential citizens of the county.
---