Michigan began requiring divorce records to be recorded on a county level in 1897, however, some counties began recording them as early as 1892.There are two sets of information for this database. The first, comprises images, and an index to those images, of Michigan divorce records for the years of 1897-1938; the second contains only an index of records from 1939-1952. In total, however, you have access to divorce records issued in Michigan for the years 1897-1952, and a few earlier then that.
Michigan divorce records are not available free online. This database is only available online in one location, and unfortunately, while this collection includes court returns of divorces, as well as divorce records created by the Michigan Department of Health, Bureau of Records and Statistics, they have chosen to have it placed online by Ancestry. In order to access this database, you will need to have access to an Ancestry membership. While we at AccessGenealogy attempt to show you how to do your genealogy online for free, as we say, not all information is available for free. This is exactly that type of information. If you're new to Ancestry you can try their 14 day free trial; as long as you cancel within 14 days, you will not be billed.
Michigan Divorce Records Index
The amount of detail you have available for each record differs depending on whether or not you have access to the images, and the year of the divorce request. The index for the database provides the standard information:
Name (the one seeking the marriage)
Date of Marriage
Place of Marriage
Decree Date
Decree Place
Spouse Name
State File Number
Docket Number
Number of Children in Family (after
Divorce Status (Granted, Refused, or Withdrawn)
Images of Michigan Divorce Records
The index is a factual account of the divorce record. It doesn't relate the whole story. When accessing the images, you are given more of the story behind the reason for the divorce request.
Cause for Which Divorce was Requested (Remember that there were always two sides to the story. You will want to access the court records, if available, for more specific information about the divorce.)
Was the divorce case contested?
Was the divorce being requested, absolute or conditional?
Names of the children. (These will appear on the backside of the divorce image if given)
Was Alimony Granted?
Also, after 1924 the data image includes only the minor children of the couple who still remained in the home.
Sample Images of Michigan Divorce Records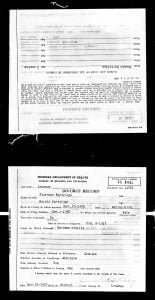 ---