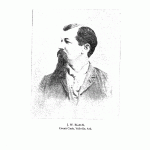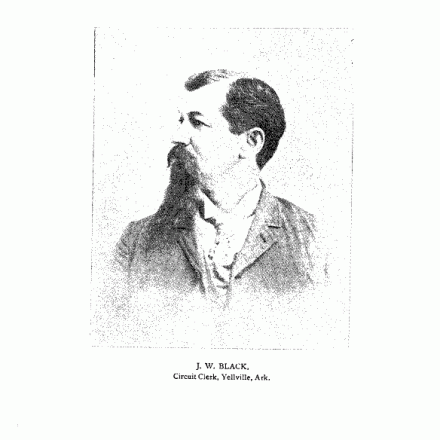 Notwithstanding the fact that Marion County, Arkansas, is well known for its efficient, faithful and energetic county officials, none deserves more honorable recognition than J. W. Black, who is the present incumbent of the county recorder and circuit court clerk's office. He has made his home in Marion County since 1861, but owes his nativity to the Old North State where he first opened his eyes on the light March 16, 1857.
His parents being James and Nancy (Burleson) Black, both of whom were born in North Carolina and came to Arkansas in 1861, locating in Marion County. The father was a soldier in the Union Army during the war, was stationed at Batesville and was there called from life in 1863. He was a Democrat politically and a farmer by occupation. His widow survived him until 1893, when she, too, passed away. They were the parents of six children: Andrew H., who died at the age of two years; Mary L., who is the wife of John B. Milum, of Powell; Jesse, who is a farmer of this county; Joseph W.; John C. is also a farmer of the county, and Martha J. is the wife of John H. Smith, of this county. The grandfather, Jesse Black, was of Scotch descent, a North Carolinian by birth, and about 1856 became a resident of Marion County, Arkansas, but died during the war in Newton County. He was the first of the family to come to this section and was followed thither by other members of the family later.
J. W.Black was educated in Marion and Boone Counties and completed his scholastic education in a college at Salem, Iowa,in 1880, after which lie became a pedagogue, an occupation he followed with success for four and a half years in this and Boone Counties, being an instructor in the college at Valley Springs for one year. In 1884 he was elected on the Democrat ticket to the office of county surveyor and for six years discharged the duties of this position very acceptably. He was then elected to the office of justice of the peace and also for some time followed farming and mining. He was honored by an election to the office of circuit clerk and recorder in 1892 and is still filling this position to the satisfaction of all concerned, and especially to that of his constituents. He has always been a faithful Democrat, has attended the various county conventions and was elected chairman of the same in 1890. He has proven himself an ideal public officer, efficient, accurate, reliable and courteous and genial with all. He is a Master Mason in Yellville Lodge, and is a local preacher of the Methodist Episcopal Church South, with which his wife is also connected. He has for several years been secretary of the Educational Board of Yellville and cannot fail to be recognized as a public-spirited citizen and a useful member of society. Although he makes his home in Yellville, he has a good farm of 200 acres in the western part of Marion County, and seventy-five acres near the village of Eros. In this county he was united in marriage with Miss Anna Spillers, a daughter of Alexander and Elizabeth (Hedgpeth) Spillers who are deceased. Mrs. Black was born in this county and her union with Mr. Black has resulted in the birth of four children: Oscar C., who died at the age of twenty months; Jewell H., Ernest H., and Aeolus B.
---