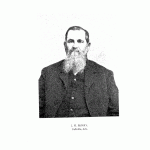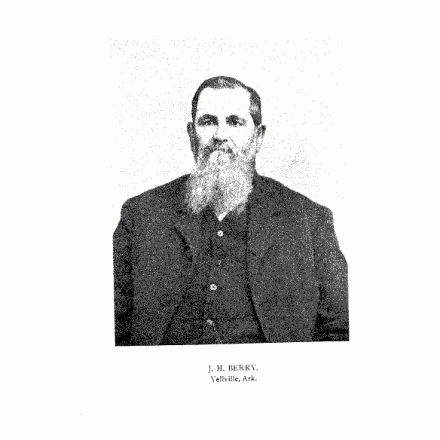 This gentleman is one of the oldest residents of Marion County, Arkansas, and through his enterprise, energy and push he has done much to make that section the prosperous region that it is. He was born in Washington County, Virginia, April 26, 1824, being the third of eight children born to Samuel and Sarah (Hickey) Berry, the former of whom was born in Washington County, Virginia, in 1796, his parents being William and Elizabeth (Duff) Berry.
William Berry was a Virginian also, but his father, John Berry, was a native of the State of New York, and in his day was in many engagements with the Indians. Elizabeth Duff was born on the ocean when her parents were on their way to this country. In 1843 Samuel Berry emigrated to Missouri, the journey thither bring made in a wagon which he himself had made, and a location was made in what is now Webster County, the father taking up a tract of Government land. In tilling the soil and raising stock he acquired a good property and became a highly-respected and honored citizen. He was a stanch Democrat, a member of the Methodist Episcopal Church, and in 1844 was called to that bourne whence no traveler returns.
The maternal grand-parents of the subject of this sketch were William and Rachael Hickey who spent their lives in Virginia, in which State Mrs. Berry was born in 1794, her death occurring in Missouri in 1856. The children she bore were named as follows: William E., who died in 1880, was a soldier in the Confederate service, was circuit clerk of Taney County, Missouri, for a number of years before the war, was at one time postmaster at Forsythe, and became well known in south-west Missouri and northern Arkansas; John B., died when five years old; James H.; Robinson D. is living near Mansfield, Wright County, Missouri, of which he is a prominent citizen; Carson M. was killed by bushwhackers during the early part of the Civil War; Patrick C. is a farmer of Stone County, Missouri, and for six years was circuit clerk of that county, and has been a member of the Missouri Legislature two terms, and Margaret E. is the wife of Hiram Crider, of Wright County, Missouri; John B., who died in Virginia, and an infant that died in that State.
J. H. Berry was educated in the schools of his native State and later those of Tennessee, in which he gained a liberal education for a youth of his day. In 185i he started out for himself, and upon his arrival in Yellville he engaged in business under the firm name of J. P. Vance & Co., but from 1854 until the opening of the war the business firm of Vance & Berry was in existence. After remaining in Yellville for a short time Mr. Berry went to Izard County, where he remained until the war closed, after which he returned to this place and was in business with L. Ellenburg. Four years later this partnership was dissolved and the business was carried on under the name of J. H. Berry & Co., John S. Cowdrey, his son-in-law, being a partner. In 1886 the name became J. H. Berry & Son, and still continues as such. Mr. Berry has been one of the progressive merchants of this section for forty-two years and has become well and favorably known throughout northern Arkansas. He has been successful in the accumulation of worldly goods and has abundant means to keep him in comfort the remainder of his life.
He is a strong Democrat in politics, is a member of the Methodist Episcopal Church South. He was first married in this county to Miss Eliza Wilson, a daughter of I. C. Wilson, her birth occurring in North Carolina in 1839, and her death in Arkansas in 1862, having become the mother of three children: Martha H., wife of John S. Cowdrey; Bell, wife of J. N. Griffin, of Oakland, Arkansas; Harriet L. who died in infancy. Mr. Berry's second marriage took place in 1863 and was to May I . Milam, daughter of James Milam, who died in Johnson County, Arkansas, in 1845. The second marriage resulted in the birth of six children: James C., who is associated in business with his father, was born December 1, 1863, was educated in the public schools of Yellville and State University at Fayetteville, in 1885 became associated in business with his father and is married to Miss Edna E. Layton, daughter of A.S. Layton, and by her has three children: Augusta H., Eula, and Lelia, who died at the age of one year; James C. Berry is a wide-awake young business man, is a member of the Knights, of Yellville, and he and his wife attend the Methodist Episcopal Church South; Ewaldus L. was born April 12, 1866, was educated in the schools of Yellville, Quiman College and Emery and Henery College, Virginian, he was appointed to the office of private secretary to Senator Berry of Arkansas at Washington D.C. , after which he secured a position in the United States Navy,and is now clerk in the House of Representatives at Washington. He is a man of family and has two children: Fred and Madaline M ); Virgie is the Wife of J.C. Floyd of Yellville, by whom she has two children: Nina and Rector; Mary is the wife of W.I. Gear, who is engaged in the manufacture of pressed brick at Springfield, Missouri, and by whom she has two children: Idris and Sarah and Robert L.,who is attending the Yellville Institute. One child died in infancy. Mr. Berry has seen much of the progress that has been made in Marion County, and has been one of its most substantial, law-abiding and progressive citizens.
---