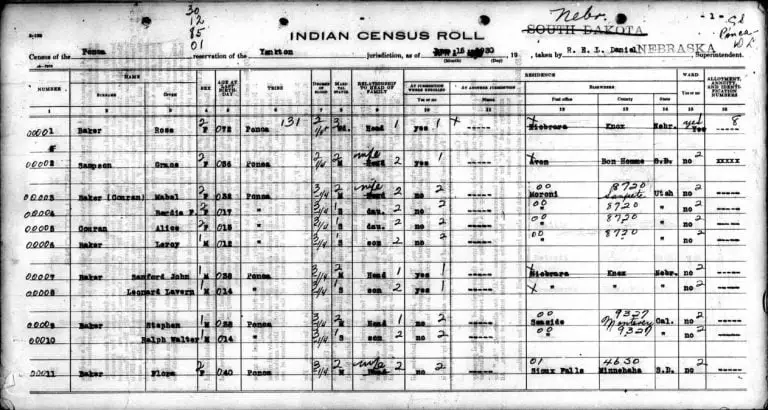 In 1930 there were 398 members of the Ponca Tribe that fell under the jurisdiction of the Yankton Agency. Most of them still resided within the Ponca Reservation in South Dakota, but some had moved elsewhere and are so indicated within the actual census images. What I have extracted for you are a list of names, sex, and ages of each enumerated Ponca Indian. This census was taken from on June 1, 1930. For the most part I was able to read the names well. Since the government used old typewriters the e would often become filled and look more like an o then an e. I used best guess judgement in these cases, but welcome correction within the comments at the bottom of this page. Reading dates was a different matter. A filled in 5 could easily be transposed as a 6. In each case I tried my best to decipher, and in one (Frederick Baker) annotated my doubts in the notes.
Complete Ponca families were often not listed within the rolls, as a spouse of a tribal member did not gain tribal membership, and as such would not be listed, their children did. Often, children are listed by themselves and I can only deduce that their parent(s) by which they claimed descent were no longer alive.
A few notes about the transcription from R. E. L. Daniel, the enumerator:
Wardship indicated on this census is based on ownership of individual property held in trust.
Numbers 17, 134, 176, 177 and 378 omitted.
Numbers 93a replaced 17, 215a replaced 134, and 215b replaced 176, therefor the last number on this roll should be 398.
1929 census gave total as 390 which is in error. The correct number is 389, and 389 is used in the Census Recapulation Sheet
This transcription came from the images of the free US Indian census rolls. Specifically it came from:
1930-1931 Yankton Agency Census
You will want to search or scroll through the table below to see if your ancestor is listed before running off and viewing the image. If your ancestor is listed below, then you will want to use the images to find your ancestors as what I have below is only a portion of the information available in the actual census. Other items include blood quantum, address, and marital status.
Ponca 1930 Census
| Page | Number | Surname | Given | Middle | Sex | Age | Tribe | Notes |
| --- | --- | --- | --- | --- | --- | --- | --- | --- |
| 1 | 1 | Baker | Rose | | F | 72 | Ponca | |
| 1 | 2 | Sampson | Grace | | F | 36 | Ponca | |
| 1 | 3 | Baker | Mabel | | F | 32 | Ponca | Couran |
| 1 | 4 | Baker | Berdie | F | F | 17 | Ponca | |
| 1 | 5 | Couran | Alice | | F | 13 | Ponca | |
| 1 | 6 | Baker | Leroy | | M | 12 | Ponca | |
| 1 | 7 | Baker | Sanford | John | M | 38 | Ponca | |
| 1 | 8 | Baker | Leonard | Lavern | M | 14 | Ponca | |
| 1 | 9 | Baker | Stephen | | M | 38 | Ponca | |
| 1 | 10 | Baker | Ralph | Walter | M | 14 | Ponca | |
| 1 | 11 | Baker | Flora | | F | 40 | Ponca | |
| 2 | 12 | Baker | Frederick | | M | 62 | Ponca | age could be 32 |
| 2 | 13 | Baker | Winifred | | F | 22 | Ponca | |
| 2 | 14 | Baker | Bernice | | F | 18 | Ponca | |
| 2 | 15 | Baker | Melvin | B | M | 14 | Ponca | |
| 2 | 16 | Baker | Marvin | | M | 11 | Ponca | |
| 2 | 17 | Baker | Alice | Uhler | F | 53 | Ponca | Lined Through |
| 2 | 18 | Barrel | Rose | B | F | 44 | Ponca | |
| 2 | 19 | Bear | Minnie | | F | 29 | Ponca | |
| 2 | 20 | Bear | Lena | | F | 27 | Ponca | |
| 3 | 21 | Bear | Gilbert | | M | 27 | Ponca | |
| 3 | 22 | Bear | Mary | Ann | F | 1 | Ponca | |
| 3 | 23 | Bear | Milford | | M | 17 | Ponca | |
| 3 | 24 | Bear | Evelyn | M | F | 15 | Ponca | |
| 3 | 25 | Bear | William | Harrison | M | 12 | Ponca | |
| 3 | 26 | Birdhead | Otto | John | M | 35 | Ponca | |
| 3 | 27 | Birdhead | Theresa | Yellowhorse | F | 32 | Ponca | |
| 3 | 28 | Birdhead | Otto | | M | 4 | Ponca | Jr |
| 3 | 29 | Birdhead | Dean | W | M | 3 | Ponca | |
| 3 | 30 | Birdhead | Joseph | | M | 74 | Ponca | |
| 3 | 31 | Picotte | Ruth | Hare | F | 43 | Ponca | Blaine |
| 3 | 32 | Bungy | Esther | S | F | 18 | Ponca | |
| 4 | 33 | Bungy | Ramona | | F | 1 | Ponca | |
| 4 | 34 | Borton | Ida | M | F | 53 | Ponca | |
| 4 | 35 | Boyd | Irma | B | F | 35 | Ponca | |
| 4 | 36 | Boyd | Lavern | H | M | 16 | Ponca | |
| 4 | 37 | Boyd | Ralph | Howard | M | 13 | Ponca | |
| 4 | 38 | Boyd | Jean | | F | 11 | Ponca | |
| 4 | 39 | Boyd | Warren | | M | 8 | Ponca | |
| 4 | 40 | Brokenjaw | Edward | | M | 50 | Ponca | Buffalo Chief |
| 4 | 41 | Brokenjaw | Lorena | M | F | 22 | Ponca | |
| 4 | 42 | Brokenjaw | Luther | | M | 18 | Ponca | |
| 4 | 43 | Brokenjaw | Lula | May | F | 10 | Ponca | |
| 4 | 44 | Brokenjaw | Lewis | | M | 75 | Ponca | |
| 4 | 45 | Brokenjaw | Lucy | G | F | 67 | Ponca | |
| 5 | 46 | Brokenjaw | Mary | Jones | F | 58 | Ponca | |
| 5 | 47 | Becker | Winnie | Mabel Eva | F | 24 | Ponca | Clements |
| 5 | 48 | Becker | Virginia | | F | 2 | Ponca | |
| 5 | 49 | Clements | Clem | N | M | 22 | Ponca | |
| 5 | 50 | Clements | Hattie | | F | 47 | Ponca | |
| 5 | 51 | Clements | Thelma | | F | 18 | Ponca | |
| 5 | 52 | Clements | David | | M | 16 | Ponca | |
| 5 | 53 | Clements | Irene | | F | 14 | Ponca | |
| 5 | 54 | Clements | Robert | D | M | 6 | Ponca | |
| 5 | 55 | Cole | Gods | Provision | F | 77 | Ponca | Mrs |
| 5 | 56 | Cole | Albert | | M | 48 | Ponca | |
| 6 | 57 | Cole | Delbert | | M | 26 | Ponca | |
| 6 | 58 | Cole | Gilbert | | M | 31 | Ponca | |
| 6 | 59 | Cole | Herbert | | M | 45 | Ponca | |
| 6 | 60 | Cole | Robert | | M | 29 | Ponca | |
| 6 | 61 | Cole | Marvin | | M | 4 | Ponca | |
| 6 | 62 | Conway | Cora | R | F | 45 | Ponca | |
| 6 | 63 | Christensen | Rosalie | S | F | 45 | Ponca | |
| 6 | 64 | Christensen | Raymond | | M | 17 | Ponca | |
| 6 | 65 | Christensen | Wayne | | M | 14 | Ponca | |
| 6 | 66 | Christensen | Francis | J | M | 12 | Ponca | |
| 6 | 67 | Coulter | Hazel | Provision | F | 35 | Ponca | |
| 7 | 68 | Coulter | Evelyn | J | F | 12 | Ponca | |
| 7 | 69 | Coulter | Lavern | N | F | 7 | Ponca | |
| 7 | 70 | Dacelle | Rosa | | F | 45 | Ponca | Lessor |
| 7 | 71 | Davis | Minnie | | F | 45 | Ponca | |
| 7 | 72 | Davis | Catherine | M | F | 7 | Ponca | |
| 7 | 73 | Drappeau | Susan | Lavern | F | 42 | Ponca | |
| 7 | 74 | Drippo | Zallie | R | F | 65 | Ponca | |
| 7 | 75 | Ducker | Daniel | R | M | 24 | Ponca | |
| 7 | 76 | Ducker | Erwin | | M | 23 | Ponca | |
| 7 | 77 | Ducker | Opal | J | F | 21 | Ponca | |
| 8 | 78 | Ducker | Rebecca | H | F | 43 | Ponca | |
| 8 | 79 | Ducker | Opolla | | F | 19 | Ponca | |
| 8 | 80 | Ducker | Theodore | | M | 17 | Ponca | |
| 8 | 81 | Ducker | Violet | E | F | 16 | Ponca | |
| 8 | 82 | Ducker | Richard | M | M | 14 | Ponca | |
| 8 | 83 | Clute | Ethel | Lavern | F | 37 | Ponca | Eckley |
| 8 | 84 | Eckley | Erma | A | F | 19 | Ponca | |
| 8 | 85 | Eckley | Charles | T | M | 17 | Ponca | |
| 8 | 86 | Eckley | Leonard | E | M | 16 | Ponca | |
| 8 | 87 | Eckley | Edith | Ethel | F | 13 | Ponca | |
| 8 | 88 | Eckley | Rachael | June | F | 12 | Ponca | |
| 8 | 89 | Eckley | William | Lloyd | M | 9 | Ponca | |
| 8 | 90 | Eckley | Tellford | B | M | 7 | Ponca | |
| 8 | 91 | Eckley | Otto | M | M | 21 | Ponca | |
| 9 | 92 | Engen | George | R | M | 25 | Ponca | |
| 9 | 93 | Engen | Newman | N | M | 23 | Ponca | |
| 9 | 17 | Engen | Oden | | M | 22 | Ponca | Handwritten |
| 9 | 94 | Feather | Millie | E | F | 33 | Ponca | |
| 9 | 95 | Feather | Lamont | M | M | 15 | Ponca | |
| 9 | 96 | Feather | Thelma | Louise | F | 13 | Ponca | |
| 9 | 97 | Finetalk | Elisabeth | K | F | 21 | Ponca | |
| 9 | 98 | Fisher | Alice | B | F | 49 | Ponca | |
| 9 | 99 | Fisher | Edna | B | F | 20 | Ponca | |
| 9 | 100 | Fisher | Alice | Rosalie | F | 15 | Ponca | |
| 9 | 101 | Franklin | Elsie | Sherman | F | 34 | Ponca | |
| 9 | 102 | Franklin | Gordon | Curtis | M | 12 | Ponca | |
| 9 | 103 | Franklin | Maxine | | F | 7 | Ponca | |
| 10 | 104 | Franklin | Harold | | M | 3 | Ponca | |
| 10 | 105 | Frazier | Hannah | | F | 67 | Ponca | |
| 10 | 106 | Frazier | Lizzie | H | F | 64 | Ponca | |
| 10 | 107 | Garneaux | Dora | P | F | 42 | Ponca | Roy |
| 10 | 108 | Glick | Dale | H | M | 25 | Ponca | |
| 10 | 109 | Glick | Jennie | E | F | 53 | Ponca | Barker |
| 10 | 110 | Glick | John | O | M | 46 | Ponca | |
| 10 | 111 | Glick | Lorena | G | F | 22 | Ponca | |
| 10 | 112 | Glick | Marvin | S | M | 25 | Ponca | |
| 11 | 113 | Glick | Merl | V | M | 25 | Ponca | |
| 11 | 114 | Glick | Pharis | | M | 41 | Ponca | |
| 11 | 115 | Glick | Wilfred | M | F | 18 | Ponca | |
| 11 | 116 | Glick | Taylor | W | M | 17 | Ponca | |
| 11 | 117 | Glick | Neoma | D | F | 15 | Ponca | |
| 11 | 118 | Glick | Elizabeth | Edith | F | 12 | Ponca | |
| 11 | 119 | Glick | Robert | Pharis | M | 7 | Ponca | |
| 11 | 120 | Glick | Sanford | | M | 42 | Ponca | |
| 11 | 121 | Grant | Alice | Rose | F | 22 | Ponca | |
| 11 | 122 | Grant | Wallace | | M | 20 | Ponca | |
| 11 | 123 | Grant | Jesse | | M | 18 | Ponca | |
| 11 | 124 | Grant | Ada | R | F | 16 | Ponca | |
| 12 | 125 | Hamilton | Arthur | | M | 28 | Ponca | |
| 12 | 126 | Hamilton | Earl | | M | 32 | Ponca | |
| 12 | 127 | Hamilton | George | H | M | 23 | Ponca | |
| 12 | 128 | Hamilton | Gertrude | A | F | 26 | Ponca | |
| 12 | 129 | Hamilton | Jay | L | M | 31 | Ponca | |
| 12 | 130 | Hamilton | Owen | J | M | 4 | Ponca | |
| 12 | 131 | Hamilton | Rachel | J | F | 52 | Ponca | |
| 12 | 132 | Hanson | Emily | M | F | 31 | Ponca | |
| 12 | 133 | Hanson | Lorraine | W | F | 8 | Ponca | |
| 14 | 135 | Hanson | Savesta | F | F | 33 | Ponca | |
| 14 | 136 | Hanson | Rule | | M | 14 | Ponca | |
| 14 | 137 | Hanson | Oscar | | M | 11 | Ponca | |
| 14 | 138 | Hanson | Bonelda | | F | 8 | Ponca | |
| 14 | 139 | Hanson | Wilma | | F | 7 | Ponca | |
| 14 | 140 | Howe | Arnold | | M | 54 | Ponca | |
| 14 | 141 | Howe | Benjamin | | M | 52 | Ponca | |
| 14 | 142 | Howe | Cora | L | F | 48 | Ponca | |
| 14 | 143 | Howe | Lovane | Vernon | M | 18 | Ponca | |
| 14 | 144 | Howe | Vivian | Vesta | F | 12 | Ponca | |
| 14 | 145 | Howe | Clifford | | M | 28 | Ponca | |
| 14 | 146 | Howe | Donald | | M | 24 | Ponca | |
| 15 | 147 | Howe | Edward | H | M | 58 | Ponca | |
| 15 | 148 | Howe | Emily | K | F | 61 | Ponca | |
| 15 | 149 | Howe | Viola | E | F | 18 | Ponca | |
| 15 | 150 | Howe | Marvin | C | M | 12 | Ponca | |
| 15 | 151 | Howe | Loretta | M | F | 11 | Ponca | |
| 15 | 152 | Howe | Edward | W | M | 26 | Ponca | Jr |
| 15 | 153 | Howe | Elmer | E | M | 29 | Ponca | |
| 15 | 154 | Howe | Evelyn | | F | 22 | Ponca | |
| 15 | 155 | Howe | Gail | | M | 24 | Ponca | |
| 15 | 156 | Howe | George | | M | 48 | Ponca | |
| 15 | 157 | Howe | John | | M | 45 | Ponca | |
| 16 | 158 | Howe | Lee | B | M | 22 | Ponca | |
| 16 | 159 | Howe | Milford | Zotque | M | 25 | Ponca | |
| 16 | 160 | Howe | Gloria | L | F | 2 | Ponca | |
| 16 | 161 | Howe | Oliver | | M | 37 | Ponca | |
| 16 | 162 | Jones | Lizzie | L | F | 75 | Ponca | |
| 16 | 163 | Kealear | Lillian | | F | 42 | Ponca | |
| 16 | 164 | Kealear | Winfred | S | M | 4 | Ponca | Decota |
| 16 | 165 | Knudson | Alexander | S | M | 39 | Ponca | |
| 16 | 166 | Knudson | Lucy | Laravie | F | 40 | Ponca | |
| 16 | 167 | Knudson | Caroline | | F | 16 | Ponca | |
| 16 | 168 | Knudson | Dorothy | | F | 14 | Ponca | |
| 17 | 169 | Knudson | Melvin | | M | 13 | Ponca | |
| 17 | 170 | Knudson | Joy | Haney | F | 11 | Ponca | |
| 17 | 171 | Knudson | Ormar | L | M | 8 | Ponca | |
| 17 | 172 | Knudson | Glenora | | F | 7 | Ponca | |
| 17 | 173 | Knudson | Alex | H | M | 6 | Ponca | |
| 17 | 174 | Knudson | Alice | F | F | 28 | Ponca | |
| 17 | 175 | Knudson | Bertha | | F | 33 | Ponca | |
| 17 | 176 | Knudson | Cecilia | | F | 23 | Ponca | Lined Through |
| 17 | 177 | Knudson | | | | | Ponca | Lined Through |
| 17 | 178 | Knudson | Gena | | F | 20 | Ponca | |
| 17 | 179 | Knudson | Geneva | | F | 22 | Ponca | |
| 18 | 180 | Knudson | Mabel | F | F | 31 | Ponca | |
| 18 | 181 | Knudson | Starling | | M | 10 | Ponca | |
| 18 | 182 | Knudson | Berlin | G E | F | 9 | Ponca | |
| 18 | 183 | Knudson | Otto | | M | 52 | Ponca | |
| 18 | 184 | Knudson | Elenora | | F | 17 | Ponca | |
| 18 | 185 | Knudson | Bernice | F | F | 15 | Ponca | |
| 18 | 186 | Knudson | Linda | Ethel | F | 12 | Ponca | |
| 18 | 187 | Knudson | Otto | | M | 10 | Ponca | Jr. |
| 18 | 188 | Knudson | Mildred | | F | 8 | Ponca | |
| 18 | 189 | Knudson | Margaret | | F | 7 | Ponca | |
| 18 | 190 | Knudson | Verna | | F | 4 | Ponca | |
| 18 | 191 | Knudson | Thomas | | M | 53 | Ponca | |
| 18 | 192 | Knudson | Eliza | R | F | 56 | Ponca | |
| 18 | 193 | Knudson | Ella | E | F | 20 | Ponca | |
| 18 | 194 | Knudson | Amelia | D | F | 14 | Ponca | |
| 19 | 195 | Knudson | Thomas | | M | 26 | Ponca | |
| 19 | 196 | Knudson | Nancy | | F | 16 | Ponca | White Coat |
| 19 | 197 | Knudson | William | | M | 47 | Ponca | |
| 19 | 198 | Laravie | Alfred | | M | 50 | Ponca | |
| 19 | 199 | Laravie | Fannie | B | F | 45 | Ponca | |
| 19 | 200 | Laravie | David | | M | 19 | Ponca | |
| 19 | 201 | Laravie | James | | M | 18 | Ponca | |
| 19 | 202 | Laravie | Helen | | F | 17 | Ponca | |
| 19 | 203 | Laravie | Benjamin | | M | 21 | Ponca | |
| 19 | 204 | Laravie | Jacob | | M | 24 | Ponca | |
| 19 | 205 | Laravie | Rebecca | R | F | 23 | Ponca | |
| 19 | 206 | Laravie | Melvina | C | F | 1 | Ponca | |
| 19 | 207 | Laravie | Madeline | M | F | 1 | Ponca | |
| 20 | 208 | Laravie | Joseph | | M | 25 | Ponca | |
| 20 | 209 | Larson | Ladas | | M | 34 | Ponca | |
| 20 | 210 | Larson | Lloyd | V | M | 31 | Ponca | |
| 20 | 211 | Larson | Nora | E | F | 36 | Ponca | |
| 20 | 212 | LeClaire | Charles | | M | 49 | Ponca | |
| 20 | 213 | LeClaire | Peter | | M | 48 | Ponca | |
| 20 | 214 | LeClaire | Silas | | M | 39 | Ponca | |
| 20 | 215 | LeClaire | Victoria | | F | 32 | Ponca | |
| 20 | 134 | LeClaire | William | | M | 72 | Ponca | Handwritten |
| 20 | 176 | LeClaire | Gladys | G | F | 11 | Ponca | Handwritten |
| 21 | 216 | Lenmkuhl | Cora | | F | 40 | Ponca | |
| 21 | 217 | Lenmkuhl | Lloyd | | M | 19 | Ponca | |
| 21 | 218 | Lenmkuhl | Leslie | | M | 18 | Ponca | |
| 21 | 219 | Lenmkuhl | Marl | | M | 10 | Ponca | Merl |
| 21 | 220 | Lenmkuhl | Virgil | Duane | M | 6 | Ponca | Not previously reported |
| 21 | 221 | Lenmkuhl | George | | M | 22 | Ponca | |
| 21 | 222 | Lenmkuhl | Taylor | | M | 22 | Ponca | |
| 21 | 223 | Lassor | Bernice | L | F | 22 | Ponca | |
| 21 | 224 | Lassor | James | A | M | 35 | Ponca | |
| 21 | 225 | Lassor | Zelma | B | F | 16 | Ponca | |
| 21 | 226 | Lassor | Alex | Hale | M | 7 | Ponca | |
| 21 | 227 | Lassor | Robert | A | M | | Ponca | |
| 21 | 228 | Lassor | Jesse | | M | 49 | Ponca | |
| 21 | 229 | Lassor | Nina | V | F | 18 | Ponca | |
| 22 | 230 | Lassor | Norman | | M | 25 | Ponca | |
| 22 | 231 | Loomer | Barnard | L | M | 22 | Ponca | |
| 22 | 232 | Loomer | Clarence | B | M | 26 | Ponca | |
| 22 | 233 | Loomer | Ernest | | M | 22 | Ponca | |
| 22 | 234 | Loomer | John | H | M | 37 | Ponca | |
| 22 | 235 | Loomer | Nellie | M | F | 17 | Ponca | |
| 22 | 236 | Loomer | Wayne | Loval | M | 7 | Ponca | |
| 22 | 237 | Loomer | Mamie | | F | 24 | Ponca | |
| 22 | 238 | Mackey | Alice | Y | F | 24 | Ponca | |
| 22 | 239 | Mackey | Leonard | Edward | M | 4 | Ponca | |
| 22 | 240 | Mackey | Donaville | C | F | 3 | Ponca | |
| 23 | 241 | Medicinehorn | Mary | B | F | 54 | Ponca | |
| 23 | 242 | McBride | Grace | Bear | F | 54 | Ponca | |
| 23 | 243 | McGraw | Goldie | M | F | 30 | Ponca | |
| 23 | 244 | McGraw | Vernon | Earl | M | 14 | Ponca | |
| 23 | 245 | McGraw | Calvin | Donald | M | 12 | Ponca | |
| 23 | 246 | McGraw | Loretta | May | F | 11 | Ponca | |
| 23 | 247 | McGraw | Berneta | | F | 9 | Ponca | |
| 23 | 248 | McGraw | Dormand | Claire | M | 7 | Ponca | |
| 23 | 249 | McLamore | Myrtle | | F | 30 | Ponca | |
| 23 | 250 | McLamore | Katherine | | F | 8 | Ponca | |
| 23 | 251 | Miller | Elsie | J | F | 35 | Ponca | |
| 23 | 252 | Miller | Frederick | | M | 16 | Ponca | |
| 24 | 253 | Morris | Hazel | H | F | 41 | Ponca | |
| 24 | 254 | Papan | John | | M | 71 | Ponca | |
| 24 | 255 | Papan | Linda | M | F | 57 | Ponca | |
| 24 | 256 | Papan | Goldie | | F | 20 | Ponca | |
| 24 | 257 | Papan | Ruby | | F | 18 | Ponca | |
| 24 | 258 | Papan | Rosalie | | F | 16 | Ponca | |
| 24 | 259 | Papan | Julia | Ellen | F | 13 | Ponca | |
| 24 | 260 | Peniska | Andrew | | M | 22 | Ponca | |
| 24 | 261 | Peniska | Cecil | | M | 24 | Ponca | |
| 24 | 262 | Peniska | Edward | | M | 45 | Ponca | |
| 24 | 263 | Peniska | Grace | | F | 25 | Ponca | |
| 25 | 264 | Peniska | Henry | | M | 39 | Ponca | |
| 25 | 265 | Peniska | Jennie | L | F | 49 | Ponca | |
| 25 | 266 | Peniska | Joseph | | M | 29 | Ponca | |
| 25 | 267 | Peniska | Lea | | M | 41 | Ponca | |
| 25 | 268 | Peniska | Mabel | P | F | 38 | Ponca | |
| 25 | 269 | Peniska | Clara | | F | 20 | Ponca | |
| 25 | 270 | Peniska | Leo | | M | 18 | Ponca | |
| 25 | 271 | Peniska | Irene | | F | 18 | Ponca | |
| 25 | 272 | Peniska | Vera | | F | 13 | Ponca | |
| 25 | 273 | Peniska | Lora | | F | 11 | Ponca | |
| 25 | 274 | Peniska | Laramie | | M | 8 | Ponca | |
| 25 | 275 | Peniska | Paul | | M | 5 | Ponca | |
| 25 | 276 | Peniska | Mark | | M | 2 | Ponca | |
| 25 | 277 | Peniska | Elwood | | M | 1 | Ponca | |
| 26 | 278 | Hightower | Elsie | R | F | 30 | Ponca | |
| 26 | 279 | Hightower | Doan | E | M | 10 | Ponca | |
| 26 | 280 | Peniska | Margaret | | F | 22 | Ponca | |
| 26 | 281 | Porter | Esther | Rose | F | 33 | Ponca | |
| 26 | 282 | Porter | Myrtle | Esther | F | 9 | Ponca | |
| 26 | 283 | Porter | Markeeta | LaSalle | F | 3 | Ponca | |
| 26 | 284 | Post | Clyde | V | M | 33 | Ponca | |
| 26 | 285 | Post | Helen | Morice | F | 13 | Ponca | |
| 26 | 286 | Post | Nellie | May | F | 10 | Ponca | |
| 27 | 287 | Post | Dora | H | F | 22 | Ponca | |
| 27 | 288 | Post | Emma | M | F | 71 | Ponca | |
| 27 | 289 | Young | Catherine | L | F | 16 | Ponca | |
| 27 | 290 | Post | Frank | T | M | 39 | Ponca | |
| 27 | 291 | Post | Lavon | L | M | 10 | Ponca | |
| 27 | 292 | Post | Mildred | | F | 7 | Ponca | |
| 27 | 293 | Post | Kenneth | T | M | 1 | Ponca | |
| 27 | 294 | Premeaux | George | | M | 24 | Ponca | |
| 27 | 295 | Premeaux | Pearl | | F | 39 | Ponca | Ramsey |
| 27 | 296 | Ramsey | Edith | | F | 17 | Ponca | |
| 27 | 297 | Premeaux | Mitchell | | M | 57 | Ponca | |
| 27 | 298 | Rhodd | Viola | B | F | 22 | Ponca | |
| 27 | 299 | Rhodd | Luther | P | M | 19 | Ponca | |
| 27 | 300 | Rhodd | Amos | M | M | 13 | Ponca | |
| 27 | 301 | Roe | Cornelia | G | F | 46 | Ponca | |
| 28 | 302 | Ross | Harriet | F | F | 41 | Ponca | |
| 28 | 303 | Roy | Belle | | F | 33 | Ponca | |
| 28 | 304 | Roy | Ethelyn | | F | 11 | Ponca | |
| 28 | 305 | Roy | Joseph | | M | 10 | Ponca | |
| 28 | 306 | Roy | Delia | | F | 56 | Ponca | |
| 28 | 307 | Roy | Josephine | | F | 17 | Ponca | |
| 28 | 308 | Roy | Grover | | M | 36 | Ponca | |
| 28 | 309 | Roy | James | | M | 13 | Ponca | |
| 28 | 310 | Roy | Tresse | | F | 10 | Ponca | |
| 28 | 311 | Roy | Ruby | | F | 9 | Ponca | |
| 28 | 313 | Roy | Ida | | F | 42 | Ponca | Ada |
| 28 | 312 | Roy | Hannah | | F | 27 | Ponca | |
| 29 | 314 | Roy | John | | M | 29 | Ponca | |
| 29 | 315 | Roy | Joseph | | M | 36 | Ponca | |
| 29 | 316 | Roy | Leonard | | F | 11 | Ponca | |
| 29 | 317 | Roy | Louis | | M | 8 | Ponca | |
| 29 | 318 | Roy | Logan | | M | 37 | Ponca | |
| 29 | 319 | Roy | Susette | | F | 14 | Ponca | |
| 29 | 320 | Roy | Louise | | F | 45 | Ponca | |
| 29 | 321 | Roy | Lulu | | F | 33 | Ponca | |
| 29 | 322 | Roy | Pearl | | F | 39 | Ponca | Erroneously omitted from rolls |
| 30 | 323 | Roy | Stephen | | M | 19 | Ponca | |
| 30 | 324 | Roy | Marie | | F | 18 | Ponca | |
| 30 | 325 | Roy | Albert | | M | 17 | Ponca | |
| 30 | 326 | Roy | Thomas | | M | 40 | Ponca | |
| 30 | 327 | Rulo | Amelia | P | F | 33 | Ponca | |
| 30 | 328 | Rulo | Byron | | M | 15 | Ponca | |
| 30 | 329 | Saunders | Myrtle | | F | 36 | Ponca | |
| 30 | 330 | Saunders | Raymond | Leroy | M | 9 | Ponca | |
| 30 | 331 | Saunders | Thomas | | M | 7 | Ponca | |
| 30 | 332 | Saunders | Ruby | E | F | 5 | Ponca | |
| 30 | 333 | Selle | Irma | M | F | 48 | Ponca | |
| 31 | 334 | Sherman | Cecil | | F | 23 | Ponca | |
| 31 | 335 | Sherman | David | | M | 60 | Ponca | |
| 31 | 336 | Sherman | Leona | | F | 20 | Ponca | |
| 31 | 337 | Sherman | David | L | M | 18 | Ponca | |
| 31 | 338 | Sherman | Leo | | M | 15 | Ponca | |
| 31 | 339 | Sherman | Wilma | | F | 10 | Ponca | |
| 31 | 340 | Sherman | Howard | Orval | M | 7 | Ponca | |
| 31 | 341 | Sherman | Virgil | R | M | 6 | Ponca | |
| 31 | 342 | Sherman | Edgar | Erwin | M | 37 | Ponca | |
| 31 | 343 | Sherman | Frank | | M | 97 | Ponca | |
| 31 | 344 | Sherman | Joseph | G | M | 58 | Ponca | |
| 31 | 345 | Sherman | Male | | M | 25 | Ponca | |
| 32 | 346 | Sherman | Philo | | M | 36 | Ponca | |
| 32 | 347 | Sherman | Evelyn | F | F | 17 | Ponca | |
| 32 | 348 | Sherman | Vivian | G | F | 16 | Ponca | |
| 32 | 349 | Sherman | Daisy | Esther | F | 12 | Ponca | |
| 32 | 350 | Sherman | Mark | T | M | 9 | Ponca | |
| 32 | 351 | Sherman | Frank | F | M | 6 | Ponca | |
| 32 | 352 | Sherman | Raymond | R | M | 15 | Ponca | |
| 32 | 353 | Sherman | Ruth | | F | 36 | Ponca | |
| 32 | 354 | Bernhart | Sally | C | F | 12 | Ponca | |
| 32 | 355 | Hocking | Corinnie | | F | 2 | Ponca | Not previously reported |
| 32 | 356 | Sherman | William | | M | 36 | Ponca | |
| 33 | 357 | Sherman | William | | M | 49 | Ponca | |
| 33 | 358 | Sherman | Williard | L | M | 16 | Ponca | |
| 33 | 359 | Sherman | Edna | Esterbrook | F | 15 | Ponca | |
| 33 | 360 | Sherman | William | Alberta | M | 13 | Ponca | |
| 33 | 361 | Sherman | May | | F | 12 | Ponca | |
| 33 | 362 | Smith | Bertha | | F | 54 | Ponca | |
| 33 | 363 | Smith | Earl | | M | 18 | Ponca | |
| 33 | 364 | Smith | Beulah | | F | 16 | Ponca | |
| 33 | 365 | Smith | Naomi | Mary | F | 13 | Ponca | |
| 33 | 366 | Smith | Raymond | R | M | 28 | Ponca | |
| 33 | 367 | Smith | Mary | L | F | 2 | Ponca | |
| 33 | 368 | Smith | Raymond | | M | 1 | Ponca | Jr. |
| 33 | 369 | Smith | William | E | M | 23 | Ponca | |
| 34 | 370 | Spottedwood | Henry | | M | 33 | Ponca | |
| 34 | 371 | Spottedwood | Evelyn | | F | 9 | Ponca | |
| 34 | 372 | Stabler | Pearl | | F | 38 | Ponca | Roy |
| 34 | 373 | Standing Elk | Belle | | F | 36 | Ponca | |
| 34 | 374 | Swanson | Alice | Weston | F | 56 | Ponca | Engen |
| 34 | 375 | Engen | Dorothy | | F | 15 | Ponca | |
| 34 | 377 | Engen | John | | M | 13 | Ponca | |
| 34 | 376 | Engen | Alice | | F | 14 | Ponca | |
| 34 | 378 | Engen | Oden | | M | 22 | Ponca | Lined Through |
| 34 | 379 | Taylor | Alex | | M | 24 | Ponca | |
| 34 | 380 | Taylor | Cecelia | | F | 23 | Ponca | Knudson |
| 34 | 381 | Taylor | Oscar | Leroy | M | 1 | Ponca | |
| 35 | 382 | Thayer | Alfred | Weston | M | 41 | Ponca | |
| 35 | 383 | Thayer | Edith | A | F | 51 | Ponca | |
| 35 | 384 | Uhler | Alice | Baker | F | 53 | Ponca | |
| 35 | 385 | Walker | Marie | | F | 39 | Ponca | LaClair |
| 35 | 386 | Walker | Ethelyn | Blanche | F | 8 | Ponca | |
| 35 | 387 | Waterman | Mary | S | F | 18 | Ponca | |
| 35 | 388 | Whitecoat | | | M | 79 | Ponca | |
| 35 | 389 | Whitecoat | George | | M | 56 | Ponca | |
| 35 | 390 | Whitecoat | Lucy | | F | 57 | Ponca | Premeaux |
| 35 | 391 | Premeaux | Eva | Eva | F | 9 | Ponca | |
| 36 | 392 | Premeaux | Mary | | F | 22 | Ponca | |
| 36 | 393 | Wolfe | Jennie | B | F | 36 | Ponca | |
| 36 | 394 | Wolfe | Irene | | F | 20 | Ponca | |
| 36 | 395 | Wolfe | Julia | | F | 73 | Ponca | |
| 36 | 396 | Yellowhorse | Frank | | M | 53 | Ponca | |
| 36 | 397 | Yellowhorse | Julia | A | F | 53 | Ponca | |
| 36 | 398 | Yellowhorse | Louis | H | M | 26 | Ponca | |
| 36 | 399 | Youker | John | | M | 26 | Ponca | |
| 36 | 400 | Youker | Darline | | F | 9 | Ponca | |
[box]Source: National Archives Microfilm Publications, Microcopy Number 595. Roll 688, Indian Census Rolls, 1930, 1931, Yankton Agency (Ponca, Santee, and Yankton Sioux Indians).[/box]
---