My mother is of Irish/German and Italian ancestry. Her father is a 1st generation Italian, the family is from Abruzzo Italy. The colonial line, her mother who is partially Irish/German was from Roane, TN. Her (grandmother) father's family is from Old Fort McDowell NC. They moved to the Tennessee area.
My father's maternal line, his mother was Black American and born NJ. Her father (my great grandfather), I don't know his origins other than he was Black. Her mother (my great grandmother) was born in Washington DC and moved to NJ. My grandmother's birth was the result of an extramarital affair and the family knows little about her father's detailed ancestry.
My grandmother's mother's father (my 2nd great grandfather) has ancestry that goes back to Virginia/Washington DC/New Jersey area. My grandmother's mother (my great grandmother), her family is from NJ and are known as Black.
My father's paternal line is from Hendersonville NC. His father (my grandfather) was Black via his mother (my great grandmother). She was from north western South Carolina. American Indian via his father (my great grandfather) who was from Hendersonville, NC. I think I shown a picture of him to you, he was adopted before the age of 2, and living with a foster family along with several other children. I don't know the circumstances behind his adoption. This was back in 1868. He never went to school and was working at the age of 10.
My dad's grandfather (Indian), from what I was told to by my Aunt, his mother (my 2nd great grandmother) has ties to the Eastern Band of Cherokee. His father (my 2nd great grandfather), I am told is Indian ancestry but I don't know what extraction or have any tribal connections documented that way.
My father's known heritage is predominately Black American with American Indian ancestry which I can identify with the ancestral DNA testing. Looking at his DNA profile from 23andMe, has European ancestry as well. According to the known referenced populations is Northern Euro and clusters with English. Unfortunately, I cannot pinpoint who any of his European ancestors were and may be more from multi-generational mixing.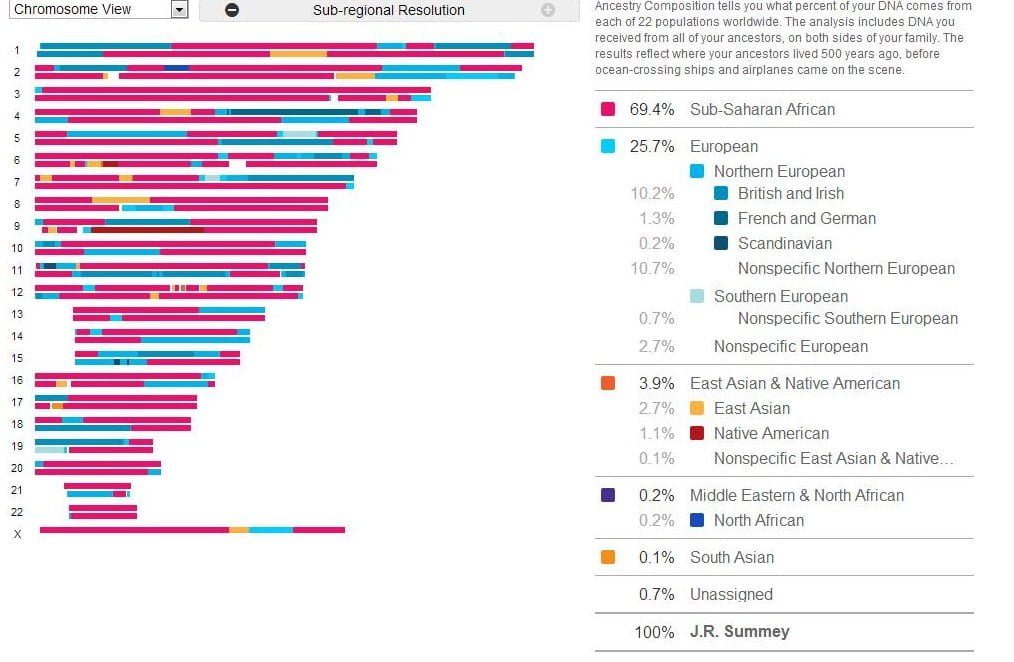 The X chromosome on his (Dad's) Ancestry Composition represents only the female line his mother's maternal lines. It is a mixture of predominately African, European with some East Asian, perhaps she had some distant Native American ancestry we are not aware of but we don't know of any. 23andMe still has empty spots on his Ancestry Composition, those are usually Native/East Asian. I am told due to the lack of samples, Native American ancestry tends to be underestimated still.
---