Mary "Polly" Beck was born about 1820 in Georgia. She was the last child of Jeffrey Beck, III and Susannah Buffington. Mary was my 2nd great grandmother. Jeffrey died when Mary was a young child and Susannah then married Surry Eaton on 11 March 1824 in Hall Co., GA.
Mary married Aaron Downing, date unknown. When she received subsistence money for moving west to Indian Territory in 1838 she was listed as Polly Downing. This leads me to believe that by this time her and Aaron were no longer married. Her Mother (Susannah Buffington Beck Eaton), stepfather (Surry Eaton), their children and their slaves are listed with her so it is probable they all traveled together on the Trail of Tears. I have not found records showing what wagon train unit they were on but since they had slaves they were, at the very least, well to do. It is possible they formed their own unit with other relatives and moved west on their own outside of the main units. Conditions were poor on the forced march and they may have reached Indian Territory before the forced marched units arrived.
Mary married her third (2nd husband was probably James Chrittenden, according to Emmet Starr, but cannot find records to prove this.) husband, Stephen Hildebrand, who was from east Tennessee before 1851. Stephen came over the Trail of Tears with his first wife, Mary Potts, and their daughters. His first wife died about 1848. Mary Beck and Stephen were listed on the Drennen Roll (census) in 1851 but his two daughters are not listed with them. On 20 July 1852, when Mary was about 32, they had their first child, Julia Ann Hildebrand, my Great Grandmother. On 12 December 1859 they had another daughter, Susan Cherokee Hildebrand.
They bought a flour and wood saw mill in Goingsnake District on Flint Creek in the 1850s from Mary's Aunt and Uncle Towers. Jeremiah Clinton Towers was married to Elizabeth Buffington the sister of Susannah Buffington, Mary's mother. Jeremiah was wealthy and moved his slaves west with his family. He built the mill with slave labor and he and his wife are buried in the mill graveyard. During the Civil War the mill was taken over by Union Troops and used as a prison for Confederate Troops. It is not known if Mary, Stephen and their children stayed at the mill during the war or left the area like many other Indians.
Stephen died on 10 Jan 1867. In 1869, two years after Stephen's death; Mary was given permission by District Court Judge, George Washington Whitmire, to hire a white man, James Kesterson, to help her run the mill. Goingsnake Marriages show that on 18 May 1871, James married Mary. James now was subject to the laws of the Cherokee Nation. Mary died 13 February 1872 at the mill where she is buried in an unmarked grave near other family members. Her death set off a chain of events that changed the future of Indian Territory.
Indian Territory did not have counties. It was divided up into several districts. My family mainly lived in Goingsnake district witch is now Delaware County. OK. My grandmother (Willora Cleora Josephine Bee daughter of Julia Ann Hildebrand and grand daughter of Mary Beck) and her husband (Benjamin Calvin Neel) later moved to Cherokee Co., OK and that was Tahlequah District before statehood. That is the county where my mother (Jewell Neel Van Osdol) was born.
Mattie Dial Hughes is a half sister to Willora.  She married Roy Anderson Hughes 28 August 1906.  They have 3 daughters, Sevola and Bonnie pictured here.
Benjamin Calvin and Willora Cleora Josephine Bee Neel married 31 August 1907.  They met at the Flint Creek School.  His family rented a house on the Beck property.  He was born in Mountain View, Howell County, Missouri 30 March 1888. He was a cattleman and farmer.  He also liked to race horses in the 20's and 30's.  You can read about his brother Walter in Reflections of My Life on this site. This is a very dear picture to Glee because they were so young and she never saw them at this age.  They used to hold hands in the nursing home at the end of their long life together.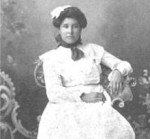 Willora Cleora Josephine Bee Neel is the grand daughter of Mary Beck Hilderbrand Kesterson. This photograph was taken about 1905 at the Female Seminary in Tahlequah. A person was allowed to go the the female seminary if there was no school in the area where they lived. Willora married August 31, 1907 to Benjamin Calvin Neel. The mother of Jewell Neel Van Osdol, and grandmother of Glee Krapf who provided these stories and information.
Mary Ellen Bee is the sister of Willora, born 13 April 1894, Flint, Goingsnake District, Indian Territory, now Delaware County, Oklahoma. Grand daughter of Mary Beck Hildbrand and the child of Julia Hildebrand Bee and Jasper Bee.
John was the son of Jesse "Black Sut" Beck and Julia Hildebrand.  Jesse was killed at the shoot out at the Proctor trial 15 April 1872.  John never married.
---