These 68 volumes of Augusta Montana High School Yearbooks range from the years of 1921-1923 and 1950-2014. Included are also a manuscript of early one-room schoolhouses around Augusta, and a history of Augusta High School covering the years of 1921-1971.
Brief History of Augusta, Montana High School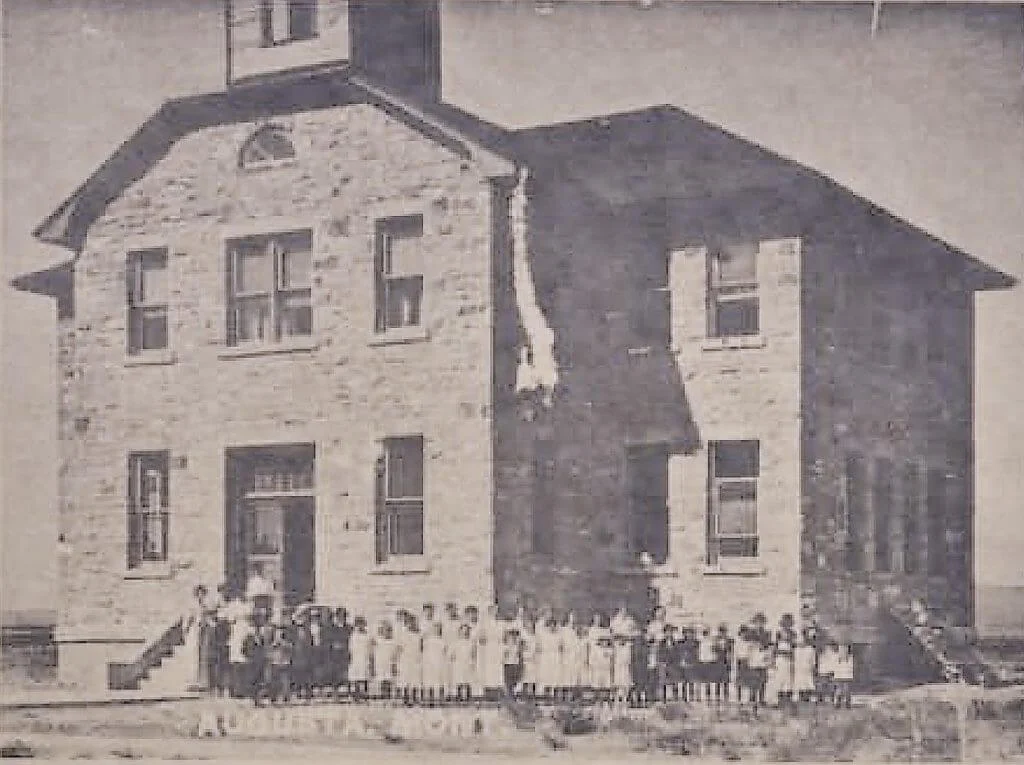 The first high school in Augusta, Montana was composed of three students. This was back in 1907 and only one year's work was given. Mr. Henry N. Lewis was the first and only teacher of the high school subjects at that time. It was the actual commencement. A Miss Hubbard was added to the staff of teachers, and she taught her pupils in the old Christian Church.
There followed a pause until 1909 before any more students appeared for branches above the eighth grade. This time it lasted from 1909 to 1911. Peggy Rogers piloted the eager students over the thorny paths of Latin, etc., mostly the latter. The name Peggy stemmed from the fact that he had a peg leg.
From 1911 to 1913, higher education suffered another relapse but was aroused before Rip Van Winkle was imitated. In 1913, one year was taught. From this time on, Washington Irving's hero never had a look-in.
Miss Cecilia V. Hayes was the guardian of the high school's destinies from 1914 to 1915.
During the year following, Mrs. Mabel Brown was the sole instructor.
Mrs. Veronica Piepho was principal of the high school and grade school in 1917. She was assisted by Miss Raudabaugh in the high school.
Miss Elizabeth Hershey was the principal in 1918 and 1919. This year Miss Esther Drenckhahn and Miss Annette Brown also taught in high school.
In the summer of 1919, the most important step ever made in the school took place when five districts voted to consolidate into one large district. Augusta, Clemons, Mountain, Riebling and joint districts formed the new school unit, known as Consolidated School District No. 45. Messrs. Brandt and Ogden and other public-spirited men were responsible for this school union. The Board consisted of Dr. O. A. Kenck, G. H. Gonser, Fred Eder, Malcolm Chisholm and C. C. Covington.
In 1922, Mr. Ogden replaced Mr. Covington; otherwise the personnel of the Board was the same.
In the summer of 1919, Mr. Charles P. Troyer was elected Superintendent of the District. At the same time, Miss Mary Stewart was made High School Principal, and the Misses Norine Murphy and Esther Drenckhahn were teachers. All were brought under the supervision of the superintendent.
In 1920, Mr. Troyer acted again as superintendent and Miss Drenckhahn as principal. Miss Wall, Miss Starz, Mr. Mauer and Mr. Tomlinson, were all teachers.
In 1921-22, a new corps of teachers was on the roster, except Miss Wall. F. F. Sparks was Superintendent, Ole Moe, Principal; Adaline Johnson and H. R. Callahan were teachers.
In 1922-23, only F. F. Sparks and H. R. Callahan returned.
The stone school building was built in 1909 and the students moved in there in January of 1910. 1
Augusta Montana High School Yearbooks
---

Citations:
The Anniversary Committee, Then Now 1921-1971, Anniversary Booklet. 1971.[↩]