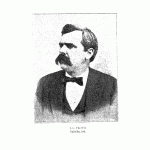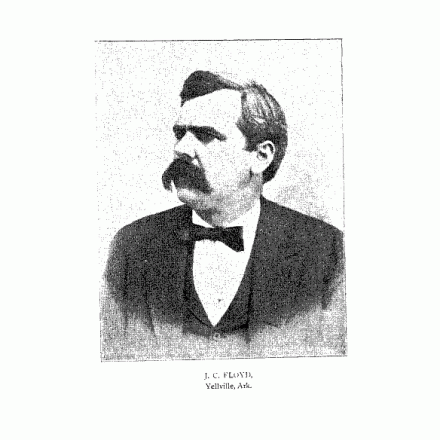 The profession of law is a branch of human endeavor which brings into play the most brilliant talents, the most extensive knowledge, the strongest sentiments, moral, spiritual and material, and its power for good or evil is vast and invincible. In the hands of mean men its practices often become as shameful and despised as its adaptions and usefulness are made, by those inspired with noble principles and generous emotions, sublime and admired. As a legal practitioner whose honor is above criticism, whose ability places him in the front rank of the Arkansas bar, and whose name is widely known and highly respected, is Hon. J. C. Floyd, who is admirably adapted to prosecute this most exalted of professions. He is the able prosecuting attorney of the Fourteenth Judicial District, and is a resident of Yellville, Marion County, Arkansas.
He was born in Sparta, Tennessee, April 14, 1858, a son of John W. and Eliza J. (Snodgrass) Floyd, both Tennesseans by birth and bringing up. During Colonial times several brothers of the name of Floyd came to this country from Wales, one settling in Virginia, another in North Carolina and the other in Georgia, the first mentioned being the immediate ancestor of the subject of this sketch. John W. Floyd was in the Confederate service during the war, and was quartermaster of his regiment. In 1869 he came with his family to Benton County, Arkansas, and is now living in Bentonville, retired from the active duties of life. He is a member of the Methodist Episcopal Church, South, and is a son of William Floyd, who was also a Tennessean.
Hon. J. C. Floyd was one of a family of seven children, the other members being: William S., who is an able attorney of Bentonville, was formerly a resident of Marion County, and held the office of county judge; J. R. is a graduate of the Memphis Medical College, took the first honors in the class of 1885, and is now a successful medical practitioner of Texas; Frank F. is a successful groceryman of Bentonville; Carrie is the wife of William Maxwell of Bentonville; Maggie died at the age of twenty-one years; and Birdie, who died in infancy. The maternal grandfather of the subject of this sketch, James Snodgrass, was of Scotch descent, and removed to Tennessee from Virginia, and there followed the calling of a merchant. His wife was a Miss McKinney. The early life of Hon. J. C. Floyd was spent in farm labor and in attending the schools of Bentonville, after which he finished his education in the Arkansas Industrial University at Fayetteville, Arkansas, graduating in the class of 1879, after which he engaged in teaching, and while fol-lowing this occupation pursued the study of law in the office of E. S. McDaniel, at Bentonville, and in 1882 was admitted to the bar. He came at once to Marion County and opened an office at Yellville, where his ability and comprehensive knowledge of his profession placed him among the foremost lawyers of the section. In 1888 he was elected to represent Marion County in the State Legislature, in which body he served with distinguished ability, and in 1890 he was elected to the office of prosecuting attorney of the Fourteenth Judicial District, without opposition, and was reelected in 1892, in the same way. He has been the prosecuting attorney in seven murder trials, has con-ducted his cases ably and with the utmost judgment, but has made no specialty of criminal practice. He has always been a Democrat in politics, was a delegate to the State Conventions in 889 and in 1892, and has had more or less to do with the public affairs of Marion County ever since he has resided here. He has held the office of county examiner of teachers in this and Benton Counties, and he has ever been interested in the work of the public schools. In the accumulation of worldly goods he has met with success, and besides his pleasant home in Yellville he owns some fine farming land in different parts of the county. He was married in 1887 to Miss Virginia Berry, a daughter of J. H. Berry, the oldest pioneer of Yellville, in which place she was born, reared and educated. Her union with Mr. Floyd has resulted in the birth of two children: Nina B. and Rector H. Mr. and Mrs. Floyd are attendants of the Methodist Episcopal Church South.
---